Toyota subsidiary Hino to partner with REE on electric commercial mobility solutions
The companies will first work to develop hardware prototypes by 2022, while evaluating business models, engaging potential customers, and conducting demonstrations in parallel
REE Automotive, which develops modular platforms for electric vehicles, has announced yet another agreement with a global auto manufacturer on the back of its recent SPAC merger at a valuation of $3.1 billion.

The company announced on Tuesday that it has signed a strategic business alliance agreement with Hino Motors, a subsidiary of Toyota Motor Corporation. Hino had already exhibited concept vehicles built on top of REE's platform in the 2019 Tokyo Motor Show and the parties will now move forward with developing prototypes to be presented during 2022.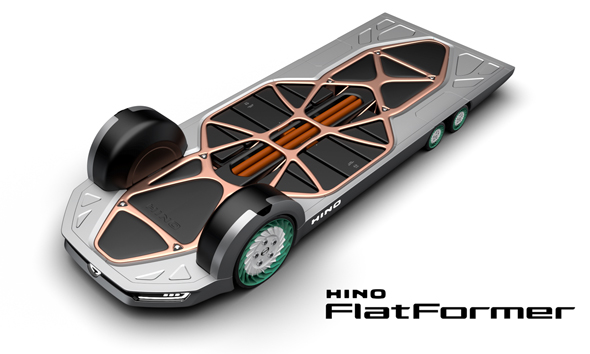 REE platform. Photo: REE

REE, founded in 2013 by CEO Daniel Barel and Ahishay Sardes, has over 60 patents in the auto sector. It has developed an industry-unique technology that offers a choice of REEcorner modules, each sized differently based on platform weight, dimensions, and targeted applications. The REEcorner integrates all traditional vehicle components (steering, braking, suspension, e-motor) into the wheel's arch and the REEboard which is a completely flat and modular chassis platform. That clears more room for passengers or cargo, with the unique structure also making maintenance and repairs easier to conduct.

Over the past two weeks, REE has also signed agreements with Magna International Inc., a Canadian-headquartered mobility technology company, and French company Navya, which develops self-driving solutions.

According to the announcement, the commercial mobility solution to be jointly developed by Hino and REE will be comprised of a modular platform that will carry a customized Mobility Service Module on top. The Mobility Service Module - which will carry passengers, goods, and deliver services – would address a wide variety of current and future applications aligned with customer requirements.

The companies will first work to develop hardware prototypes by 2022, while evaluating business models, engaging potential customers, and conducting demonstrations in parallel.

"The starting point of this collaboration is the FlatFormer concept we showcased at the 2019 Tokyo Motor Show," said Hino CEO Yoshio Shimo. "It received an excellent response, and I am delighted to see this FlatFormer concept come closer to reality. REE is a visionary company, and I am confident that this business alliance will become a driving force for Hino as we take on the challenge of generating new value in commercial mobility to harmonize with future society."

"The FlatFormer unveiling at the 2019 Tokyo Motor Show proved to be a turning point in future electric mobility and set the stage for this exciting alliance with the visionary team at Hino. We see this alliance as a unique opportunity to fulfill our shared mission of improving quality of life for people around the world by developing and bringing to market revolutionary next-generation EVs," said Daniel Barel, co-founder and CEO of REE.