Placer.ai raises $50 million series B led by Product Hunt CEO
In the last year, the Israeli startup continued to expand its presence in core markets like Commercial Real Estate, Retail, Municipal governments, and Hospitality while advancing into new segments like CPG and Hedge Funds
Placer.ai, a leader in location analytics and foot traffic data, announced on Tuesday the close of a $50 million series B funding round. The round was led by the CEO of website Product Hunt Josh Buckley, Todd Goldberg and Rahul Vohra, with participation from Fifth Wall, JBV Capital and Aleph VC. The funding will be used to grow the company's R&D, expand sales and marketing teams, introduce additional reports and data sets, and grow the recently announced marketplace.

Despite the disruption brought on by the Covid-19 pandemic, Placer co-founder and CEO Noam Ben-Zvi told Calcalist that physical shopping is here to stay. "Despite the surge online, 80% of sales and business is still done in the physical world and the need for quality data in the physical world has become crucial," he explained. "We create data that is significant for retailers, realtors and others. If a giant retail chain wants to open a new store they can receive from us the data on where it would be best for them to open it, the potential shoppers in the area and what competition they will face."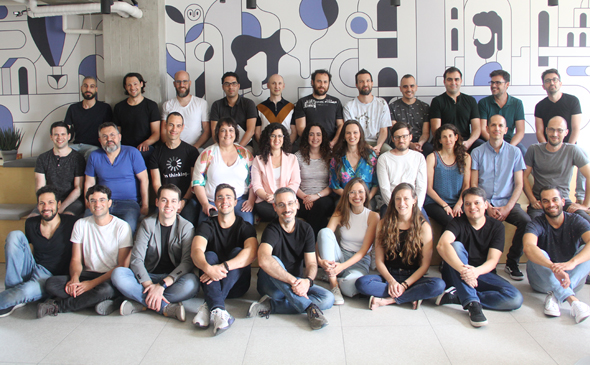 Placer.ai team. Photo: Placer.ai

"We chose to bring in a line of private investors and fewer funds. We currently have around 100 private investors who are all helping us," noted Ben-Zvi. Among those private investors is American actor Jared Leto. "We will use the money we raised to significantly increase our activity in Israel and double our number of employees here."

Placer currently employs 160 people, 80 of them in Israel. Since launching in November 2019, Placer.ai has been adopted by over 500 customers including industry leaders in Commercial Real Estate and Retail like JLL, Brixmor, Taubman, Planet Fitness, and Dollar General. Yet, the recent upheaval caused by Covid led to widespread adoption among a series of new categories including Hedge Funds and CPG leaders.

"As a business deeply rooted in offline retail, we expected Covid to present a unique challenge. Yet, adoption actually increased as a result of our ability to introduce certainty into such an uncertain environment. The result has been a clearer and deeper understanding by the market of the absolute imperative of location data to improve the decision-making process," said Ben-Zvi. "But our current offering is just the beginning, and we are fully focused on expanding the capabilities both through the development of a range of new features and tools, and the integration of a wide range of data sets through our marketplace. Placer.ai is rapidly becoming the market intelligence platform for anyone with a stake in the physical world."

In the last year, Placer.ai continued to expand its presence in core markets like Commercial Real Estate, Retail, Municipal governments, and Hospitality while advancing into new segments like CPG and Hedge Funds. The result has been growing market adoption and an increasingly large and diverse reach.

"Fifth Wall has some of the largest owners and operators of real estate as our limited partners and several were customers of Placer.ai, giving us a unique perspective on the company's growth and potential. We saw firsthand the impact that the data is already having in reimagining the way business is done in retail and real estate broadly," said Kevin Campos, Partner on the Retail & Consumer Investment team at Fifth Wall. "Yet, what's even more exciting is that we're still only seeing a piece of the puzzle and know that there are so many other sectors where the data can be applied. We're thrilled to help grow and execute this vision alongside this exceptional team."

"Placer allows businesses that operate offline to make data-driven decisions, fundamentally improving the way they operate," said Josh Buckley. "This is the same type of tooling that online businesses have used to grow, moving from hunches to definitive answers. I'm excited to be partnering with the company's next phase of growth and product development."