AiVF receives European CE Mark for its AI-based IVF treatments
The platform is now seeking approval in the U.S. where IVF treatment can cost as much as $20,000
AiVF, a company that provides AI technology for digitizing IVF clinics, has announced that it has received the European stamp of approval in the form of a CE Mark for the use of its AI-based digital embryology management platform, EMA. Following the approval, the platform will be able to get deployed in IVF fertility clinics across Europe. The company also announced that Professor Dan Ariely has joined the company as Chief Behavioral Officer.

"Some 30% of all IVF treatments take place in Europe, and clinics have difficulty meeting the demand for treatment," said Daniella Gilboa, AiVF's co-founder and CEO. "AiVF's unique solution has created an automated lab that, through its remarkable digital capabilities, is

able to perform many of the embryologist's tasks rapidly, accurately, and objectively."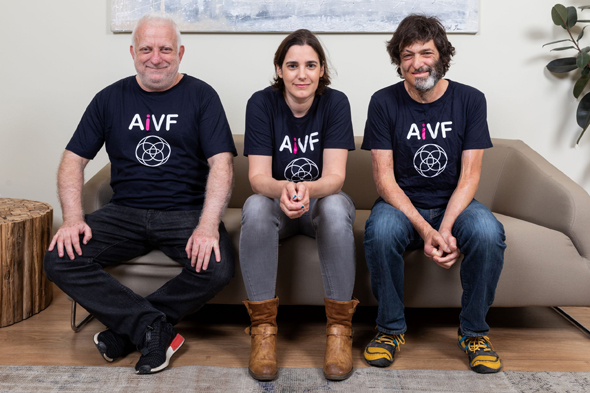 Daniel Seidman, Daniella Gilboa, and Dan Ariely. Photo Eyal Toueg

EMA by AiVF is a multi-module integrated platform that combines AI, computer vision, and big data to improve the success rates in patients undergoing IVF treatment. Its genetic evaluation tool can determine if the given embryo is genetically suitable for transfer by avoiding an invasive biopsy. AiVF has the largest embryo database in the world and the platform offers objective and automatic tools that are now seeking FDA approval for its deployment in the U.S., where the average woman can undergo five attempts costing $20,000 each.

"CE approval gives us an excellent starting point to operate as one of the leading companies in the European IVF market, which is the largest in the world with more than 1 million treatments performed annually in 1,200 clinics, and a market estimated at $4.5 billion," Gilboa continued. "AiVF's solution could dramatically improve the chances of successful

IVF treatments and lower their cost in the EU, thus reducing the suffering of those going through the IVF process and enabling millions of others to fulfill their dream of having a baby."

Alongside news of the CE Marking, the company has also announced that it has welcomed behavioral economics expert Dan Ariely as its Chief Behavioral Officer. Currently, he is helping AiVF develop social and behavioral strategies that will help in the next stage of IVF treatment, such as reproductive choices and family priorities.

"Traditional embryo evaluation technique is performed manually and is not AI data-driven," added Professor Daniel Seidman, MD, co-founder and Chief Medical Officer at AiVF. "AiVF's studies show remarkable accuracy, proving that a digital system can outperform an embryologist in making IVF decisions. With AiVF technology now commercially available in Europe and soon in the U.S, we can offer the first in class product to improve the chances of pregnancy and of delivering a healthy baby to the world."

AiVF was founded in 2018 by Gilboa and Seidman to help doctors and clinics support the dreams of adults who wish to become parents or expand their families. It is currently backed by private equity and scientific grants from European and Israeli sources. Its Tel Aviv R&D center has 12 people.