Intel to hire 1,400 new employees, establish $200 million campus in Haifa
Israel's largest private employer will hire 1,000 new employees for its various R&D centers and another 400 for Habana Labs
Intel, the largest private employer in Israel, announced on Wednesday that it plans on recruiting an additional 1,000 new employees in 2021 for its various R&D centers, while hiring another 400 employees for its artificial intelligence operations at Habana Labs, which it acquired in 2019 and is still being run independently. In addition, the company announced that it will establish a new campus in Haifa, investing $200 million in the project. Pat Gelsinger, the new CEO of Intel Corp. is set to visit Israel next week to announce the building of the new center as well as additional company announcements.

Intel said in its announcement that it plans on hiring the additional employees over the first three quarters of the year to support and implement key projects it has received from global headquarters. Intel will hire hardware engineers, who will be at the center of the recruitment drive, as well as software and AI-engineers from the fields of electrical engineering, software, and computer science for a variety of positions, beginning from student roles to those for experienced engineers with advanced degrees.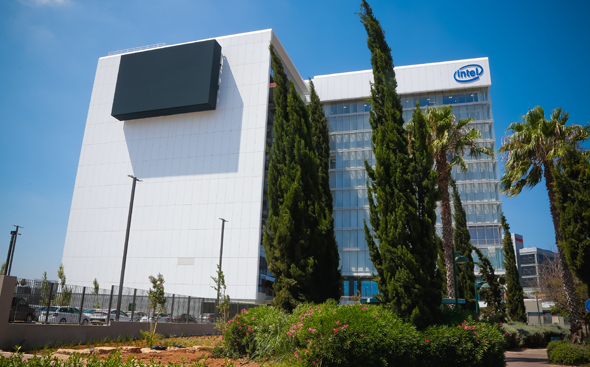 Intel plans on expanding its Haifa campus. Photo: Intel

Karin Eibschitz-Segal, the CEO of Intel-Israel's Development Center told Calcalist: "During 2021 we will recruit 1,000 people for Intel's Development Center. We are already deep into the recruitment process, which includes hiring for a wide range of positions from student roles to more senior experienced positions. It's very important for us to recruit students in order to build leading human capital."

Regarding the numerous difficulties companies face today in recruiting new employees in the industry, Eibschitz-Segal noted, "I think this number is realistic. We are investing and working hard on this recruitment. I believe that we will succeed in recruiting because the positions - as well as what we offer - are an advanced technological challenge and we are a significant part of Intel's bottom line, and work on many leading projects. We are working very closely with academia to empower our surroundings. The hybrid-work model that we have embraced will allow revolutionary flexibility, which will appeal and open doors for hiring those from peripheral communities. We are using this model today, and it is a significant advantage for every employee. We have already hired many people. I am glad to see the Israeli ecosystem grow, and the competition over talent. I feel it and know it, but think that competition is what will bring us continuous growth. Competition no doubt exists and it isn't easy to earn employees' trust, but we are continuing to invest and improve so that our employees will want to join and remain here."

"We feel the new CEO's energy. Pat is an amazing technologist with a strong vision and the new model that he is representing is quite revolutionary," added Eibschitz-Segal regarding Intel Corp.'s incoming-CEO Pat Gelsinger. "I am very happy that he has decided early on to visit Israel, and it shows his commitment to Israel. Although it will be a short visit, it will be significant and demonstrate his commitment to the country. Israel is a very central location, and the announcement of the new campus' construction is just one example of Gelsinger's commitment to Intel-Israel's importance. Since he came onboard, we have embraced his strategy and it has received very positive feedback from all our customers and the entire ecosystem."

Intel's new building will be constructed next to the company's existing offices in Haifa and will be used by 6,000 employees. The new building is expected to be completed by 2023.

Intel is the largest employer in Israel with 14,000 employees: 7,000 work in the company's R&D centers, 4,900 work in production, and 2,100 work at the company's affiliates, Mobileye, Habana Labs and Moovit. The company has three R&D centers based in Haifa, Petah Tikva, and Jerusalem, as well as a microprocessor facility in Kiryat Gat.