Locusview raises $64 million series A to accelerate growth of DCM platform
The Israeli startup has managed within two years of the launch of its first product to integrate it in over 20 of the biggest energy infrastructure companies in the U.S.
Locusview, which develops a Digital Construction Management (DCM) platform for energy, telecom, and water industries managing infrastructure capital projects, announced on Wednesday a $64 million series A funding round. The investment was led by Israel Growth Partners (IGP), a $600 million Growth Investment Fund focused on Israeli-based growth-stage technology companies. Existing investors, Leumi Partners, Clal Insurance and Discount Capital, all also participated in the round, bringing total investments in Locusview to $80 million.

Locusview was founded in 2015 by Shahar Levi and unlike other companies announcing growth rounds over recent weeks, has been profitable almost from its founding, registering annual revenue of tens of millions of dollars.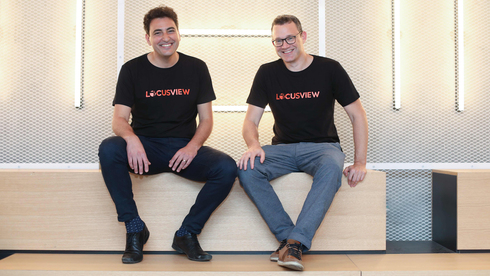 Locusview founder Shahar Levi (left) and Assaf Harel, General Partner at IGP. Photo: Moti Vagman

Locusview was founded thanks to help from The Israel-United States Binational Industrial Research and Development (BIRD) Foundation. The company's solution focuses on the field crews, inspectors, and back office management, enabling a streamlined data flow and simultaneous mobile and web access to manage the three crucial phases of infrastructure construction projects: Planning, Construction, and Close-Out. Planning and design data is received via Locusview Web to form a digital job packet. A work order is scheduled and digitally assigned to specific field crews or contractors. The field crews use Locusview Mobile to collect digital as-built data and create material traceability with high accuracy GPS locations. Simultaneously, back office management uses Locusview Web to gain real-time visibility, ultimately enabling complete operational awareness of construction work. During Close-Out, a digital closing package is created, significantly reducing bottlenecks and cycle time. Labor and materials are reconciled and custom reports are generated to complete the project.

Locusview has managed within two years of the launch of its first product to integrate it in over 20 of the biggest energy infrastructure companies in the U.S., serving over 5,000 crews working on tens of thousands of projects.

CEO Levi told Calcalist that Locusview's technology also has an environmental impact as it helps companies significantly reduce emissions.

"After we raised the money from the BIRD Foundation I went to the U.S. and understood how complex energy infrastructure installations are. Instead of returning home I went to visit the American Gas Association in Chicago and offered them to create an end-to-end platform," Levi told CTech. "We built a prototype and offered it to other gas institutions as well. Between 2015 and 2018 the company received $15 million from giant U.S. companies to build the product. I didn't have to raise money or dilute shares because from the first moment we had the biggest gas companies using our platform."

Levi said that in 2018 he was offered to sell the platform, but choose to turn it down. "I went to Brian Cooper, one of the co-founders of Retalilx, and told him that I need to raise $5 million for the company. I completed that round and a year later we raised another $7 million from a Swedish family office involved in the energy market," said Levi. "This round will go entirely to the company and won't be used to acquire shares from employees or investors. We have 120 employees in two offices in Herzliya and another 60 employees in Chicago. We have been a profitable company since we were founded, including during Covid-19. We won tenders from the Indian and Mexican governments during the pandemic and I understood that this was our chance so we decided to raise more money as the demand from our clients is greater than what we can currently provide.

"With the series A round, our intention is to further expand our platform capabilities as well as our team to support the growing demand from existing and new customers parallel with an aggressive acquisition strategy of complementary companies," added Levi.

Assaf Harel, General Partner at IGP, said: "Nearly $500 billion is invested annually into energy and telecom infrastructures, spotlighting the massive market potential for Locusview. In less than three years, Locusview has been able to become a trusted partner for over 20 of the largest utility companies in the U.S. and to support them with the digitization of the most critical aspects of their business. We believe that the company is at the right position and time to lead the digital revolution of critical infrastructure construction, globally, using a powerful cloud-based SaaS platform to manage this massive opportunity."