20-Minute Leaders
"It's a revolution ... it's really changing the way women are perceived in our industry because the balance is slowly changing"
Qualcomm Ventures' Merav Weinryn joins Michael Matias to discuss how to present the perfect pitch - in the first 45 minutes - to convince people to invest in new technologies
Practicing your pitch a lot is the top tip Merav Weinryb, managing director at Qualcomm Ventures, has for new entrepreneurs. After 12 years in the venture capital business, she knows not every successful CEO is a good presenter, but being able to explain your startup well in 45 minutes is key to successful funding. She says it is worth enlisting help to get your pitch just right. Assisting others is something she is also passionate about, as she helped start the Women Founders Forum to match new women founders with more established female mentors. Weinryb sees this effort as the start of a revolution to bring equal numbers of women into the startup community. Her favorite part of being a VC is the variety involved. She learns new things every day and enjoys working with a variety of companies in different stages.
Click Here For More 20MinuteLeaders
Take me all the way from the beginning. How do you even enter the investment world?
When I graduated from business school, I was exposed to many of the next positions. Venture capital was one of the exciting things I looked up to. It took me some years because I thought I needed more business experience. So, after INSEAD, I went to some smaller companies and bigger companies, but when there was an opportunity at Pitango, I just jumped on it and joined Pitango as a principal. From then, I'm doing VC, which is something I really like. I have done it for the last 12 years at Pitango, Intel Capital, and then for the last six years in Qualcomm Ventures, and I have to say that I really like the job.
What is it about venture capital that really attracts you?
At a business school, you get to study a lot of different areas. You look at finance and at product and product positioning and strategy; you look a little bit at M&A and strategies of big companies and startups. Business school is all about diversity and many things you do and learn. VC is a lot of the same. You get to see so many different domains, and you have to learn them first when you do the diligence and then when you invest and you're on the board of the companies, and then during the diligence you have to understand people; that's very important. You have to understand products and technology and markets and strategy and business. So it's very diversified, and this is what I liked about it. Every day, you do something different, you learn different things, you're on different modes with different companies, and you meet very extraordinary people.
A lot of companies you've backed are leveraging some incredible technology, but really in their core, they're all solving different problems and keep changing worlds. That's part of what you get excited about, right?
Right, exactly. In the last year, I have done cybersecurity investment and a digital health one and a 5G investment, and these investments all are very very different. It's exciting to be on the boards of those as well as my previous companies.
Tell me a little bit about specifically the attraction to deep technology companies. It's really critical technology that is not easy to understand. It's not easy to implement. Why specifically go that route as an investor?
As Qualcomm, we're a technology company, and it's known as a technology leader that actually invented many of the technologies we're using today. So as an investor from a technology company, obviously, I'm looking for the technologies, but I think that if you look back, technologies solve a lot of real-world problems. I think the best and easiest example today is one of my companies, TytoCare, which I invested in a year ago. Historically you would need to go to a doctor for a simple ear, eye, or throat check. With that technology, it allows a person to check his child without any medical background and be able to diagnose all kinds of simple things. Now without the technology, this problem wouldn't have been solved. Technology is underlying a lot of revolutions in the world. Without Zoom, I don't know how the world would have looked in Covid. So, all this in Covid, I think that technology really proved itself as something that could really really help and change worlds.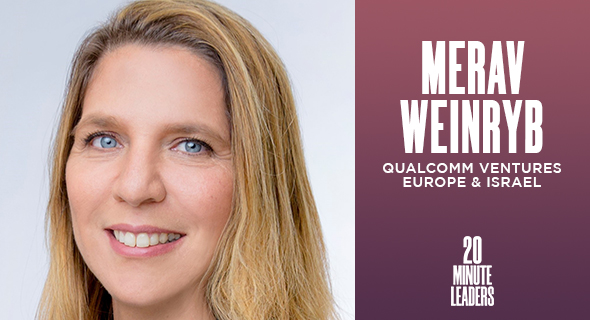 Merav Weinryb, managing director at Qualcomm Ventures. Photo: Inbal Marman
Merav, tell me a little bit about your process, as you're coming into new technologies and new entrepreneurs, getting to know them. What are some big blocks that are occupying your mind as you're going through that process of figuring out "Are these people that I want to partner with"?
Really you have the first 45 minutes to win a meeting. You really need to understand as many things as you can. People is the first one, but then the technology: how much it would change the world and is it doable at all? During the first meeting, I would want to understand the size of the market, competitive landscape, how disrupting it really is, and how easy it is to copy that technology. In a lot of cases, especially in consumer electronics, you have really innovative products, but it would be very easy to copy them once they're in the market, and that's really important.
What I get most fascinated by and inspired by in the work that you're doing is having that ability to quickly absorb information and to process it to make a quick decision.
Here is one tip, based on several meetings I had in the last weeks. Not only in Israel but especially in Israel, you get less presentation skills than other geographies. This is what I experienced. On one hand, a good CEO doesn't have to be necessarily a good presenter. But when we see them for an hour, he or she has to be excellent in this 45 minutes. In some cases, I'm seeing people that could be maybe good CEOs but didn't practice enough on the pitch, and then they're missing out big time because we wouldn't even get to the next page. You might say, "It's not fair. Maybe they're good CEOs." But the thing is that if they failed to present to us, we always think, "Okay, what would be next?" They would go to a tier one VC, and they have to be perfect because this is what tier ones are looking for. One tip and it's very very relevant to Israeli founders, really really learn your pitch, and go to practice it. There are very many people who can help you practice it. It's more important, in some cases, than the technology or other things. I mean technology is important, but you can have a great startup and a lousy pitch, and it's a pity this is what I'm getting in the first 45 minutes.
One of your passions is also empowering women in tech. Why are you excited about working with other women?
The Women Founders Forum is something I initiated with a partner around five years ago. When I started ten or 12 years ago, out of the 300 companies we would meet every year there would be maybe one or two female founders. Even today actually, there's not too many women founders. Five years ago, my partner and I thought that we needed to do something about it, and we founded this initiative. It's a mentoring program for women founders that have already got the seed round or have a company, and we help them through the fundraising by getting them to the right mentors from the VC community as well as mentors from the tech community. This is exciting because I like working with women, although most of my life, I've worked mainly with men because I did a career in tech. This is exciting because it's a revolution; it's really changing the way women are perceived in our industry because the balance is slowly changing. It's a lot of fun because our program participants already raised more than two hundred million dollars. We had one exit. We're creating a new generation of female founders that are role models to the next generation of founders. So, there will be more women that will start their own startups and the equality will start happening. And so that's what we're aiming at.
What are three words you would use to describe yourself?
It's people and working with them, and technology. The third I still need to think about.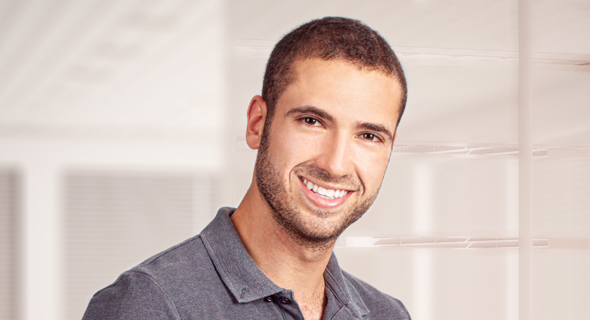 Michael Matias. Photo: Courtesy
Michael Matias, Forbes 30 Under 30, is the author of Age is Only an Int: Lessons I Learned as a Young Entrepreneur. He studies Artificial Intelligence at Stanford University, while working as a software engineer at Hippo Insurance and as a Senior Associate at J-Ventures. Matias previously served as an officer in the 8200 unit. 20MinuteLeaders is a tech entrepreneurship interview series featuring one-on-one interviews with fascinating founders, innovators and thought leaders sharing their journeys and experiences.
Contributing editors: Michael Matias, Amanda Katz