HoneyBook reaches unicorn status with $155 million series D
The Israeli online business management startup raised funds at a $1.1 billion valuation after registering an estimated $50 million in revenue in 2020
Israeli fintech company HoneyBook, founded by husband and wife Oz and Naama Alon, announced on Tuesday the completion of a $155 million series D equity round led by Durable Capital Partners LP with participation from Tiger Global Management, Battery Ventures, Zeev Ventures, 01 Advisors, as well as existing investors Norwest Venture Partners, OurCrowd, and Citi Ventures. The company became the newest Israeli member of the unicorn club, with the round being conducted at a $1.1 billion company valuation. The company's revenue in 2020 is estimated to have been around $50 million and it expects to reach $80 million annually in 2021.

HoneyBook develops an online business and financial management platform that allows small business owners to streamline all aspects of their business, automating workflows, contracts, and invoices. Most of HoneyBook's users are creative entrepreneurs like photographers, graphic designers, interior designers, life coaches, and architects.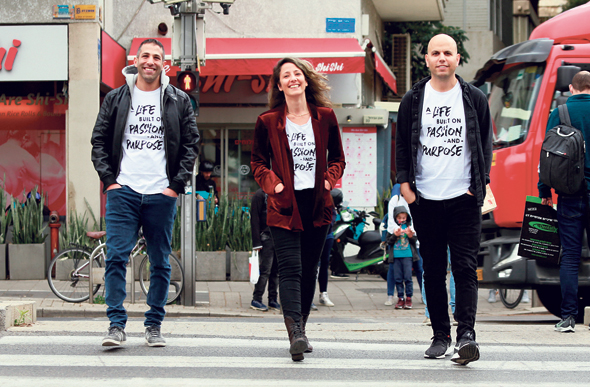 HoneyBook co-founders Oz Alon (right), Naama Alon (center) and Dror Shimoni. Photo: Amit Shaal

Honeybook was founded in 2013 by Oz Alon, who serves as the CEO, his wife Naama (Chief of Product), together with Dror Shimoni (CTO). The company employs around 100 people, half of them in its R&D center in Israel and the rest in the U.S. According to the company, most of the funds will enter the company's account while a small portion, estimated at 10% of the round, will go toward secondary deals for all employees, but not investors. HoneyBook has raised $248 million to date.

Oz Alon spoke to Calcalist about the challenging year the company experienced and how it ultimately helped it grow. "No one was ready for a crisis like Covid-19 and I wasn't sure we would overcome it. We managed to do so because our customers and employees displayed resilience and determination and that is also the reason investors invested in the company when the going got tough," said Alon. "We didn't plan to raise money at this time, but we experienced really accelerated growth at the beginning of 2021 and many investors identified that."

"Our market has grown both on the macro and micro levels. Our investors understood that on the macro level many people left their previous jobs and became self-employed, and not only did they open businesses, but they also began providing services to clients far from their own location," added Alon. "The clients told us that they wanted more products and we encountered types of businesses we didn't even know existed. We understood that there was a massive opportunity to raise money and invest in the core of our product, as well as financial services, allowing customers to receive money faster, take loans, and more."

Michael Eisenberg, a partner at the Aleph VC fund and one of the investors in HoneyBook, told Calcalist that one of the results of the pandemic was that people felt an urge to express their creativity. "HoneyBook's activity expanded into additional professions and it is riding what is a Tsunami, not just a wave," said Eisenberg. "HoneyBook provides the business and financial services this clientele truly needs. HoneyBook can be the Shopify of services for the self-employed world."

The company noted that over the past year, the pandemic accelerated two existing macro trends: the growth of the independent workforce and the digitization of small businesses. The changes in the way consumers interact with small businesses necessitated the increased adoption of digital tools to support their growth. This shift drove immense momentum for HoneyBook, and the company tripled annual recurring revenue (ARR) in just 12 months.

At the same time, people continued leaving the traditional workforce to pursue their passion. In 2020, sweeping corporate layoffs driven by the pandemic resulted in an even greater surge in entrepreneurship, as more new business applications were filed in the U.S. than at any other time since 2005. New HoneyBook subscribers more than doubled in the past year, and members booked more than $1 billion in business on the platform in the past nine months alone.

HoneyBook also continued to expand its market as those businesses whose work was unimpeded by Covid-19 restrictions—such as web and graphic designers, business coaches, and consultants—experienced a surge in demand for their services. New HoneyBook subscribers in these industries grew more than four times in the past year.