20-Minute Leaders
"I'm always looking at the intersection of what I know to do and what I desire to do."
When speaking with Michael Matias, managing director of 8200 Impact Chen Shmilo discusses various leadership roles that led him to help entrepreneurs make an impact
Social activism has been a theme for Chen Shmilo since childhood. He took leadership positions in high school, the military, and at law school because he always wanted to use his skills to help change whatever needed to be fixed. He has worked in the public sector as well as the private as he has found opportunities to help create change. He currently is the managing director of 8200 Impact. This organization helps entrepreneurs who want to make a social or environmental impact with their companies by providing workshops, mentorship, and plans for growth. While Shmilo says that making a profit remains important to these ventures, they also need to be intentional about making an impact and having a way to measure it. He says impact founders also need to have a passion for entrepreneurship that will carry them through the difficulties involved in creating a startup.

Click Here For More 20MinuteLeaders

I have to ask you about yourself and your upbringing.

I've always wanted to be socially involved and lead social activism wherever I was. Starting in high school, I was the head of the student council, then through a special project during my military service at 8200 unit, and when I went to law school at Haifa University, I was the head of the student board there. It was always about using my skills, knowledge, and passion to make things happen and change whatever there is to change and fix. This is basically who I am. Whenever I need to choose my next step in my career path, I'm always looking at the intersection of what I know to do and what I desire to do, and I hope to find the right intersection between these two elements. This has led me through pretty diverse positions.

Tell me about this motivation to effect change and your transition from the public to the private sector.

I did my legal internship with one of the biggest law firms in Tel Aviv. But I didn't really feel connected to the mission; it was defending and providing legal services to really big corporations. I said, "Okay, this is not my destiny," and I was fortunate enough after finishing my internship to be a legislative aide at the Knesset. Even though it was quite a short period of time, I learned a lot and I really liked it. After the elections in 2013, I started to work at the Israeli Medical Association as public policy director. You have opportunities to promote things that you believe in, and that was the right place for me. I was a Fulbrighter in the US and spent almost a year in Virginia, focusing on public health policy management. I came back and was the CEO of a nonprofit in the healthcare system. I also realized that there's something broken in the system. It takes so much time, you have to pull so many strings. I think COVID-19 pandemic has actually highlighted what I started to realize even before the pandemic started, that there has to be some kind of a game-changer in this world. This is where I started to aim at working in the private sector.

I hear a lot of people going from the private sector to the public sector to effect change. Yet you're saying, "I want to make the biggest impact I can. I'm actually transitioning from my work in the public to the private sector."

I think the role of the government, the role of the state, varies from one situation to another, and sometimes the only thing the government needs to do is not to intervene. Sometimes it can really be the catalyst for helping other organizations to make the change. We can be a partner sometimes. They can be the regulator, but I truly believe that the pandemic has highlighted this notion that they're not as strong as I used to think. The balance and their role are shifting.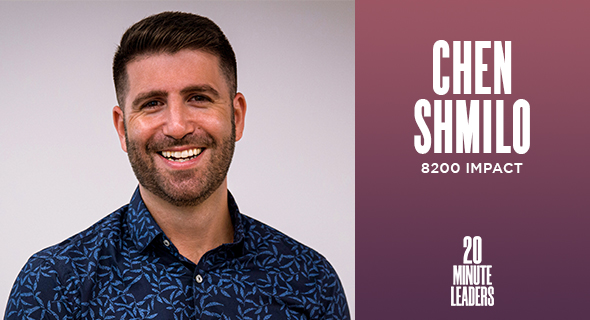 Chen Shmilo, managing director of 8200 IMPACT. Photo: Chen Shmilo
Talk about making an impact through the 8200 Impact project. What is it? What's happening today?
We are affiliated with the 8200 Alumni Association, and that's part of our goal to harness the human capital of the alumni of the unit for the sake of the economy and society. We've created several acceleration programs. I run the 8200 Impact acceleration program, which supports technological ventures or what we call impact tech startup, which has three criteria points. The first one is the intentionality test, which is whether they have initiated the whole venture startup company in order to make a significant change to solve significant social or environmental problems.
How do you measure that?
Usually by their statements. Usually by the way they stick to their intention throughout the process, even though it is harder to be an impact entrepreneur. In many cases, your beneficiaries are not your clients; your beneficiaries cannot afford to pay for your products, and then it becomes more complicated. They have to make profit, of course, but they're talking about measuring their social impact, and it has to be embedded within the product.
Walk me through some of the other criteria.
The second one is whether they intend, and have the ability, to measure it. We look at the social or environmental impact, usually with the sustainable development goals (SDG) of the UN. It's not a perfect method. The third one is the financial revenue, whether they can be a good fit for mainstream VCs or impact VCs, whether they can come up with a really good idea.
When you accept people into this cohort, what actually happens? How do you help these impact entrepreneurs?
It's a five-month program. We usually select, each year, between 10 to 12 entrepreneurs or ventures. Some of them are already operating as a company; some are not at that stage. We provide them with a weekly day of workshops and lectures and a very intensive mentorship program. We tailor-make a specific services plan for each entrepreneur. At the end, we have a really big showcase event and our annual demo day, in which investors are being exposed to our portfolio companies.
Tell me about the impact that 8,200 Impact is making. How do you measure it? Are you a shareholder in these companies?
Our model is a philanthropic one. We don't charge anything with this or get any equity. We do have a board of partners, who are actually our sponsors, and they create budgets that we work with. We're nearing the end of six batches so far. In the survey that we conducted very recently, we have the figures of the accumulated investment sum of money for our companies is a little bit more than $45 million. Our startups have created more than 100 jobs in Israel. We also asked them about whether they measure their social impact, and we do see some progress in relating to SDGs. Also, adopting other methods of management within the startup company of diversity and accessibility for people with disability and other criteria that are more common in impact tech ventures.
What are some of the lessons that you've learned along the way that make up a successful impact venture?
First, being an impact tech entrepreneur starts with being an entrepreneur. It starts with the notion that you want to be an entrepreneur, you're courageous enough, sometimes people maybe say you are crazy enough to start this amazing journey. In many cases, our entrepreneurs that we support have a very strong connection between the product and their personal life. Sometimes it's really an interesting advantage; sometimes it could be very challenging. I think that can really strengthen your passion along the way, but you have to realize that it's not enough and you have to be very much conscious of not getting in love too much with your idea, especially with your solution.
Just because you're making a social impact, it doesn't mean that you should allow yourself to not measure your process. Maybe you don't need to measure sales, but you do want to measure whether the impact you're making is growing.
You actually want to measure both. That's what makes it more complicated for someone to measure sales. We want to show attraction, and we want to show that you're moving the needle in terms of a specific social challenge.
What are three words you would use to describe yourself?
It's passionate, genuine, and social activist. Even being now in this intersection of business and making an impact, I truly believe that we're doing social activism in innovative ways.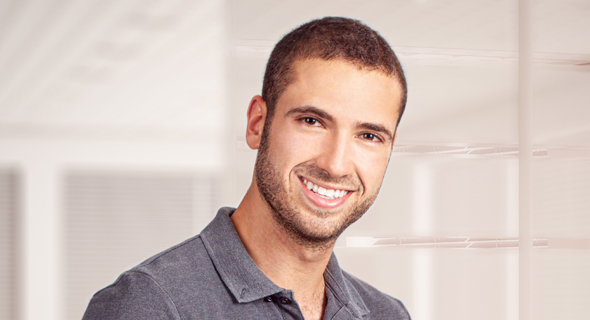 Michael Matias. Photo: Courtesy
Michael Matias, Forbes 30 Under 30, is the author of Age is Only an Int: Lessons I Learned as a Young Entrepreneur. He studies Artificial Intelligence at Stanford University, while working as a software engineer at Hippo Insurance and as a Senior Associate at J-Ventures. Matias previously served as an officer in the 8200 unit. 20MinuteLeaders is a tech entrepreneurship interview series featuring one-on-one interviews with fascinating founders, innovators and thought leaders sharing their journeys and experiences.
Contributing editors: Michael Matias, Amanda Katz