Innovating for the largest brewery in the world: Israel's WeissBeerger serving millions of customers under the radar
WeissBeerger became the big data, analytics, and innovation arm of Anheuser-Busch InBev after being acquired in 2018 and is helping lead the development of its BEES B2B digital ordering platform
They may never know it, but five years from now there will be millions of convenience stores, restaurants and bars across the world using software developed in Israel, that is assuming everything goes according to the plan envisaged by co-founder and CEO of WeissBeerger Omer Agiv. WeissBeerger, founded in 2011, is the big data, analytics, and innovation arm of the largest brewery in the world – Anheuser-Busch InBev, after being acquired in 2018 for an undisclosed sum. AB InBev's digitization process, which also included the development of its B2B digital ordering platform, known as BEES, hit overdrive together with the rest of the world due to the Covid-19 pandemic, further strengthening WeissBeerger's significance within BEES and the entire conglomerate. "What used to be a pipeline where our products would go and cash would come back, now it's beginning to be more and more a platform where we can offer not only our products and other products in a marketplace format, but also a digital wallet and other services," said AB InBev's CEO Carlos Brito, who announced last week that he will be leaving the company this summer after 15 years at the helm.

Agiv told CTech that AB InBev took a strategic decision to not only be a beer manufacturer but to also act as a logistics back end for convenience stores, bars and restaurants across the world.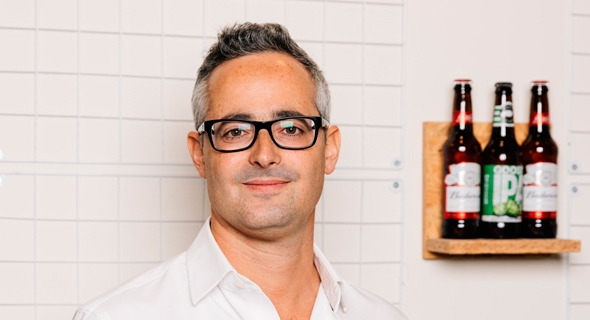 WeissBeerger CEO Omer Agiv. Phoro: Irad Netzer

"The digitization big bang which AB InBev was a part of previously was significantly accelerated due to Covid-19. Instead of having tens of thousands of salespeople physically visit points of sale, AB InBev decided that it will build technology that will allow all these points of sale to order many products through it and not just beer," said Agiv. "AB InBev has six million points of sale. A convenience store might have 5,000 different products and only 50 of them belong to us. But we have a very expansive logistics channel so why not allow grocery stores, pubs and restaurants who use that channel to order beer, to also order anything else they need? This has made us one of the biggest e-commerce platforms in the world. This provides a huge advantage from a convenience standpoint. Instead of dealing with 20 different suppliers they can work opposite a single person. We are capable of doing that because we are a big enough and sophisticated enough company to provide this service both from a logistic and technological standpoint."

WeissBeerger had initially developed a beverage consumption analytics application used by breweries and points of sale, such as pubs and bars, to access consumer behavior analytics in real-time. The WeissBeerger app tracks consumption via smart-taps and aggregates data that is shared with the restaurant or pub owner and the beverage manufacturers.

The company currently employs around 60 people and according to Agiv is aiming to increase its workforce by around 50% this year.

"WeissBeerger has become the innovation and special projects arm aimed at helping grocery stores, pubs and restaurants to manage themselves more effectively," explained Agiv. "It isn't enough just to provide a platform that makes it easier for them to buy a lot, you also need to help them sell a lot. We can provide them with tools that make their lives easier. For example, how do you price a product? Most convenience stores price products without much data and somehow that works, but it is far from optimal. We provide them with data-based tools that allow them to make better decisions. How to price products, how to improve inventory management, and what products might be best-sellers elsewhere. We are making all these insights accessible to simple merchants."

BEES is provided for free. "AB InBev is what's known as a category champion, meaning that if you have 100 beers on the shelf in the shop around 30 are ours and that means we have an interest in all beer sales increasing. We also realized as a company that we have a responsibility for the GDP of entire countries and that if we can increase the life-expectancy of grocery stores by 5% we could impact a country's GDP," said Agiv. "We don't want to charge $5 but rather for them to make $500 more a month and then they might also purchase more. There is a deep understanding here of the psychology behind the development of the industry. This goes beyond just the financial aspect."

Agiv noted that WeissBeerger operates independently within BEES and is allowed to develop solutions from start to finish, from the pilot stage, through a proof of concept and all the way until it is integrated in millions of points of sale.

"We want to extend the lifespan of private businesses and this must be data-based. In order to realize our vision and help businesses become more efficient we want to provide them with a set of data-based solutions that will allow them to make better decisions and optimize their business," said Agiv. "I believe that five years from now our solution will be integrated at millions of points and we will be one of the Israeli companies with the broadest distribution across the world when it comes to B2B users."

Agiv explained that there is often a misperception of what happens to startup founders after their company is acquired, saying that rather than being viewed as a chance to exit with a big payday it should be treated as an opportunity to enter a big company and be part of its success.

"Our goal was to realize our plans and thanks to the acquisition that is exactly what we are doing. It would have been a crime had we abandoned the company after it was bought," he said. "It is amazing to see now how we are realizing everything we had planned 3-4 years ago. We might not operate the biggest chain of convenience stores in the world, but we have managed to integrate Israeli technology at millions of businesses across the world and helped the world of low tech to operate more efficiently to the benefit of everyone."