Birthright circumvents security and health travel restrictions
Young Jews, who will visit Israel through Birthright, will enjoy a separate set of restrictions to those agreed on by the Tourism and Health Ministries
The escalating security situation between Israel and Gaza and the Jewish-Arab wave of violence have hit the Israeli tourism industry at a fragile point of cautious recovery. Only two weeks ago, the Israeli Tourism and Health Ministries published a preliminary outline, which is set to begin on May 23, for tourist groups to enter Israel.

However, one exception to the outline is Birthright, which is expected to bring dozens of groups of young Jews from the U.S. to Israel starting May 24 within a separate outline, coordinated with the Israeli Prime Minister's Office (PMO).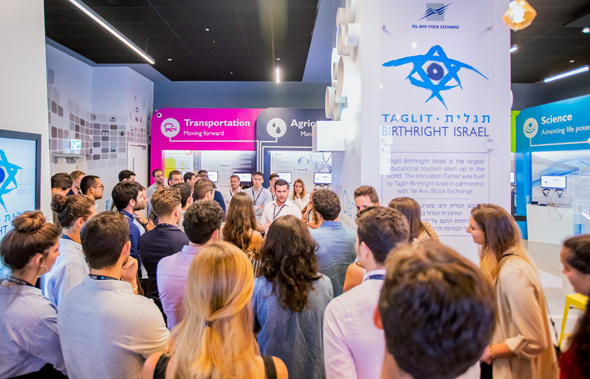 A Birthright group visiting Israel. Photo: Jane Peimer

Birthright, or "Taglit" in Hebrew, is a project co-financed by the Israeli government and Jewish philanthropists such as Charles Bronfman, Michael Steinhardt, and Miriam Adelson. As part of the project, young Jews from around the world between the ages of 18 to 30 visit Israel on a ten-day, free, educational tour. In a conversation with Birthright's CEO Gidi Mark, it was made clear that the project will return to limited operation, bringing about 1,000 young Americans to Israel, starting on May 24 thanks to the special arrangement with the PMO. Furthermore, Birthright claims that the organization has been coordinating with coronavirus czar Prof. Nachman Ash, although Ash's office said that he is unfamiliar with the matter.

The special arrangement is particularly jarring since the Health and Tourism Ministries have been working at length on an outline that will allow tourists to enter the country, and so far, only a more limited outline than Birthright's has been approved.

The Tourism and Health Ministries' outline, which will be launched as a pilot in about two weeks, will allow 600 tourists to enter the country during a period of three to four weeks, unlike the Birthright outline, which is said to allow 1,000 visitors. Additionally, Birthright groups are not expected to have the same restrictions as the regular tourist groups, rather a different set, which Birthright referred to as "more stringent."

According to the Tourism and Health Ministries' outline, to enter Israel, tourist groups will have to obtain prior approval from the Health Ministry and will be required to undergo a PCR test before boarding the plane, and another PCR test along with a serological test upon landing in Israel. Other strict restrictions include the use of "dedicated reception desks" in hotels and guest houses, eating at isolated dining areas, and commuting with exclusively used buses.

The first groups expected to enter thanks to the Tourism and Health Ministries' outline are those of Christian pilgrims. Tourists will enter Israel in groups of between 5 and 30 with a designated tour guide.

If the pilot is deemed successful, the Health Ministry is expected to allow tourist groups in without restrictions. It remains unclear as to when individual tourists will be allowed into the country.

The Health Ministry said in response: "The Prime Minister's Office, in collaboration with the Ministry of Health, has formulated a very meticulous outline to allow youth from the Diaspora, who are vaccinated or recovered from the coronavirus only, and who underwent a serological test upon entering Israel, to attend educational activities in Israel, due to the educational importance of the visit."