Interview
The Dutch boy entrepreneur revolutionizing the podcast world from his student apartment
A Jewish, Dutch boy moves to Israel by himself, joins the navy, gets seasick, and develops the podcasts platform Riverside.FM. He starts a company with his brother, competes with Zoom and Google, and catches Hilary Clinton's eye. That's only the beginning of Gideon and Nadav Keyson's story.
The walk towards Gideon Keyson's student apartment goes through a rundown block in the southern city of Beersheba. Inside, two electric scooters with helmets hanging from them are parked next to a bicycle, greeting the guests walking into the living room of this roommates apartment. "They're mine, I am Dutch," Keyson (23) explains smiling, he came to Israel four years ago and served as a lone soldier in the military. The minimal decor, if you will, continues in Keyson's room: naked walls, a bed, and a desk with photos of family and friends from the army.
Only a microphone placed on the desk gives away the fact that Keyson is the technological mind behind Riverside.FM, the podcast platform that has been making big waves. Keyson is Riverside's co-founder, alongside his brother Nadav, and just recently raised $12 million.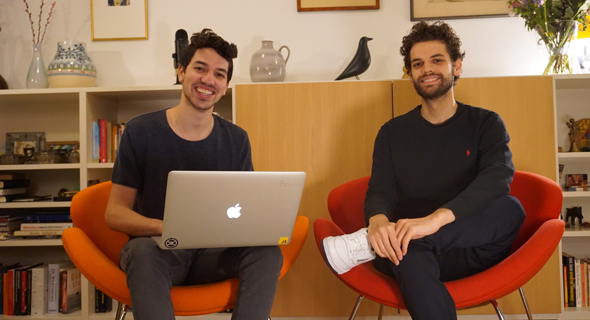 Gideon (Left) and Nadav Keyson, founders of Riverside.FM
The Covid-19 pandemic forced social distancing on the world, but it also catapulted remote conversation tools across the globe, and the small Riverside team has been able to grab its seat between industry giants like Zoom, Microsoft Teams, and Google Meet. It astonishingly succeeded, thanks to its high-quality conversation technology, and more so, thanks to identifying and securing its niche.
"Our focus is completely different from that of all the companies in the field," Nadav (26), the company's CEO, explains on a call from the Netherlands. "Zoom focuses on creating a stable conversation that can include 100 people. For us, the focus is on podcasts, and it's all about recording, editing, and publishing."
In a nutshell, Riverside allows two people (or more) to record a podcast, including high-quality video, remotely. It also provides convenient online editing and advertising tools, eliminating the need for studio editing systems. The basic principle sounds so simple that it falls into the category of 'how come we did not think of it ourselves?'
"When you and I chat online, the conversation between us is dependent on connection quality. But when you record a podcast with Riverside, the recording - video, and audio - is done separately. My part of the conversation is saved on my computer, and your part on your computer. Once we are done, the platform we developed puts all the material together and edits it into one conversation, which allows high video and sound quality."
One of the first people to identify Riverside's potential was none other than the former presidential candidate Hillary Clinton. "It was a crazy moment," Gideon, who also serves as the company's VP of technology, recalls. "I was sitting in Torah class, and suddenly Nadav wrote to me that Hillary Clinton is recording on our platform. Back then, we could see everyone who was recording, and so I sat in class and saw Clinton recording on the platform I built. I showed my partner, I said 'Oh my god!', and I continued in class." The former U.S. Secretary of State is not the only big name using Riverside, others include the World Trade Organization head Ngozi Okonjo-Iweala, American lawyer Alan Dershowitz and even Dutch soccer club Ajax Amsterdam.
So, what's next for you?
"Our vision is to be for podcasts and video what Wix is for websites, making their creation and editing easy. I want everyone to be able to produce a cool video that will look as good as a CNN video, and be able to spread his or her message. We saw it happen during the Black Lives Matter protests, for example, when people used our platform to convey their messages." Gideon explains, "our challenge is to keep things simple while we improve the software."
And improving they are, with a long list of new features they hope to add such as new editing commands, improving their speaker view mode, noise cancelation, and better audio synchronization. "We live in an age where everyone is creating content, video, audio, podcasts - and we're in a good position to be the number one player in content creation," Nadav adds.
From tech boot camp to the navy
Rewind four years, the Keyson brothers, Gideon, Nadav, and their two siblings, live in Amsterdam. However, the family has a strong Israeli connection - their parents met while studying at Tel-Aviv University, before building their home in the Netherlands. "When I graduated from high school I wanted to come to Israel but also wanted to learn programming," Gideon recalls. "The solution was a six months boot camp program organized by Masa and Israel's Innovation Authority. It was meant for college graduates from abroad who were having trouble finding a job in Israel. I worked as a programmer for six months before joining the Israeli Navy."
Why the navy?
"I liked the idea of 12 people on a boat for four days with no phones. I figured if I am not going to the Intelligence Corp I might as well have a meaningful experience.
And how did your parents react?
"My mom said 'you are not going to be a combat soldier,' but in the end she accepted it. I wanted to be there. It is a very active unit that works no matter the weather or the waves. The only problem was discovering I get seasick and throw up.
Some discovery, what did you do?
"I took pills, but they made me sleepy which created other issues. You don't want to be sleepy while patrolling the Gaza shoreline. I used a special patch and even tried eating ginger. It took me three months to be able to function.
Did you think of quitting?
"No, you can't quit. You throw up and carry on."
And when did you start writing the code for Riverside?
"It was towards the end of the tech boot camp, it was my final project. I worked on it for six months and continued after I was drafted. I was a lone soldier, and when everyone in the unit wanted to go home, I said 'what home? this is home!' So when everyone goes home for the weekend you can stay on the boat, pretty much by yourself, with plenty of time. So there was time to sit and work."
"Holly F**K, the NFL"
Riverside was born out of "Debater.tv," a political debate platform the brothers started five years ago. "The idea was to bring people with different opinions to debate online and provide a stage that is not one-sided," Nadav recalls. "Gideon would program every weekend, especially when he stayed on base, and I reached out to Dutch politicians. We got senior ones and by October 2019 we had a crazy platform."
They scheduled the official launch for April 2020, and a week later the first quarantine was announced while the world grappled with the new reality. "We had great timing," says Gideon. "We were the first company to offer a smart way to record audio on the computer itself so that the sound quality did not depend on internet connection quality. It quickly became clear that people needed our platform because they could not meet to record their content."
"We thought we shouldn't linger, that this was our time and once we realized how much potential the platform has, we added video capabilities," says Nadav. "Then we said, 'Why not become the internet of podcasting?' We could not launch a free version because we did not have any funding, so we set a price. We built a subscription-based model, where you immediately saw who was willing to pay. We hoped to reach a hundred customers and earn $4,000 a month so that we could both live ok. When we had our first paying customer we said 'Wow, it works! A little more and we will be able to live off of it!'"
When did you realize the business potential here?
"I sent a few emails to some Dutch media outlets, and when Nu.nl, The Netherlands' leading news website told us 'yes' we said 'Holly F**K,'" Nadav says. "The second 'Holly F**K' was the NFL. We did not have any capital at the time, the entire company was the two of us."
The humble project, which charges private users about $30-$40, soared with thousands of paying customers including Disney, BBC, Spotify, Marvel, and others. And all of that is accomplished by a company with no offices and 20 employees who have never physically met.
"We want to pay taxes in Israel"
Just like their story so far, the Keysons' fundraising was not typical. When venture capitalist Oren Zeev approached the two, they did not have any employees or even a registered company. Zeev, one of the long-standing investors in Israeli companies, led in early 2020 a $2.5 million investment in the brothers' venture, as they began to realize that their platform had far more to offer than only podcasts and that it was time to take this project more seriously.
A year later, the two raised another $ 9.5 million. This time alongside Zeev, a few leading figures in the American market joined, with Alexis Ohanian's 776 investment fund leading the round. Ohanian is the founder of Reddit and has been dubbed the "mayor of the internet." "When we started we did not have all these amazing connections," Nadav says. "It worked because it's a real product that people need. We let the product speak for itself. When investors arrived, we did not have a presentation. So, we showed them the payment system and said 'here's what the product does. Do you like it or not?'"
Ohanian liked what he saw, so much so that the brothers say he wanted to invest in the first round. But after that did not happen, he led the second round and brought with him a long line of internet celebrities and YouTubers with tens of millions of followers, they were joined by angel funders such as Guy Raz and Elad Gil.
Did you know you would become an Israeli startup?
"Before Oren Zeev invested in us, we weren't a company. We were just two guys," Gideon says. "We figured we should start a company, but where? We have American, Dutch, and Israeli citizenship, but in the end, we decided on Israel."
"We want to pay taxes in Israel. When I visit, I can't wait for them to let me on the plane. We brought back a software engineer, a friend of mine who worked with us in the Netherlands. We are on a mission," Nadav explains.
Gideon, you mentioned your professional dream is to be like Wix, what is your personal dream?
"My father's dream was that we all live together in Israel. My grandfather's dream was that we would all start a business. Now I'm making both dreams a reality with my brothers."