Interview
PatenSee's imaging device spots health abnormalities with the touch of a button
The medical device startup's product scans kidney dialysis patients' arms, using artificial intelligence to detect risks to fistula
Developing niche technologies to treat specific medical disorders may not be the most obvious source of innovation. PatenSee is an Israeli medical device company and an early stage startup which developed a way to treat kidney patients receiving dialysis treatments.

"It all started at a hackathon challenge for raising awareness and looking for solutions for unmet medical needs in the industry," PatenSee CEO Gal Goshen told CTech. Goshen is an experienced entrepreneur in the medical device field. "Typically companies develop a technology to solve a certain issue, but for PanetSee it was the other way around. We saw an unmet need, understood what the problem we needed to solve was, and came up with a technology all on our own."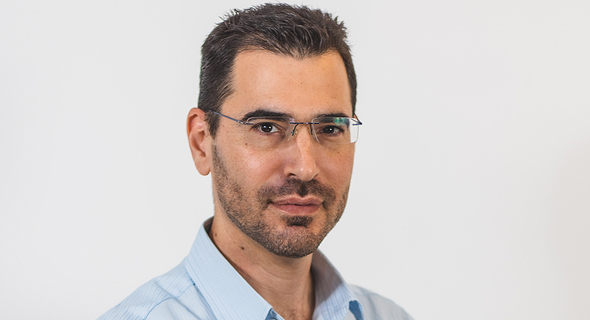 PatenSee CEO Gal Goshen. Photo: PatenSee

The company's proprietary technology is still in the development stages, and is participating in two separate clinical studies in Israel. It treats those suffering from end-stage renal disease, or those whose kidneys are not working or low functioning, and must be hooked up to a dialysis machine every couple of days for a few hours at a time. Some of those patients are awaiting a transplant, while others are unsuitable candidates and need this treatment to survive since their kidneys have already failed.

The company's device helps vascular stenosis in hemodialysis patients, whose blood must be circulated and filtered through these machines to be cleared of toxins, since their kidneys are unable to perform that process. Unlike a simple blood test or IV injection, in order for patients' to be attached to such a machine, an artery located in the arm is artificially attached with a thick needle to enable robust blood flow. Since regular veins cannot withstand such pressure, medical practitioners then create a fistula - or superficial access via an artery - which expands as blood fills the abscess like a balloon.

"The fistula appears as a bulge on patients' lower arm. The easiest way for nurses to attach patients to these machines is by puncturing that superficial vein, but over time the area either gets restricted or blood flow is blocked since it is unused to such a high volume of blood," Goshen said. In medical terms, such a situation is defined as a stenosis or blockage, and can include a variety of medical risks including blood clots or thrombosis. PatenSee's technology is able to detect when there is an issue or predict a problem ahead of time via an artificial imaging medical device that is contactless simply via the push of a button.

"PatenSee's device conducts simple optical imaging, doesn't cause any harm or radiation to the patient, and takes a photo of arm, using imaging to discover patterns that are related to early development of stenosis issues," he explained.

"Later, nurses can refer patients to the next level of treatment. It's also contactless, so there's no need to touch the skin around the fistula and risk an infection. It also protects medical personnel, especially during the Covid-era, so they needn't be exposed to excess risks," he said. The entire process takes under two minutes, where patients put their hand under a box, are scanned, and medical professionals can monitor whether or not they are at risk. "It's harmless, simple to use, and doesn't interfere with dialysis. Other methods, such as ultrasounds, require patients to deal with hospital bureaucracy and obtain a special referral to get them, but our method doesn't require that; it is already integrated into these dialysis centers' treatment processes."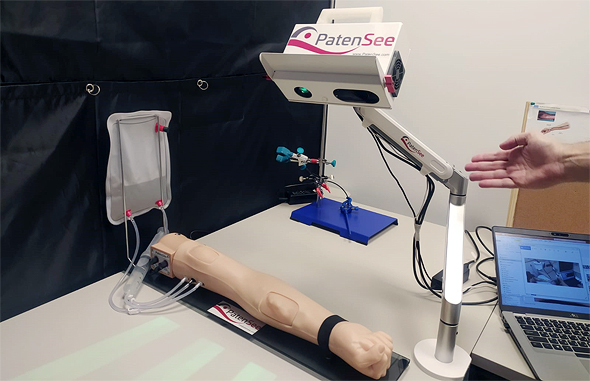 PatenSee's innovatie device "scans" an artifical arm. Photo: PatenSee

How much is this market expected to grow by? Why is there a need for treatments in this area?

"The dialysis market is expected to grow to $100 billion by 2024, and it is constantly growing since people's kidneys are failing. This has only been exacerbated by the coronavirus (Covid-19) pandemic."

Goshen also noted the growing trend of at-home patient care, where in order to minimize the risk of infections, patients prefer to receive at-home treatment. PatenSee's device can also be installed and monitored in homes with proper medical oversight.

So far, the company has deployed its technology at Beilinson Hospital and the Sharon Medical Center, both in Petach Tikva. Currently, it is aiming for FDA approval as well as of its European counterpart, the CE. It is also waiting to receive the full results from the clinical trials prior to commercializing its technology. The company was founded in 2019 and is based in Or Yehuda. PatenSee employs four people, and has plans to expand over the coming year after the next funding round. As of now, it raised a seed round of NIS 2.5 million ($750,000) from the Israel Innovation Authority, medical device startup accelerator MedX Xelerator, MEDX Ventures, the investment arm of Sheba Medical Center, Boston Scientific, and Intellectual Ventures. Some of MEDX's other portfolio companies include Append Medical, Exero Medical, Swift Duct, Dimoveo, and Synchrony.