Rafael investing NIS 250 million to court employees
The company raised NIS 805 million from institutional investors in April and plans to use more than 25% of it to upgrade working conditions and recruit additional tech employees
At the end of April, defense giant Rafael Advanced Defense Systems Ltd., the manufacturer of the Iron Dome system, raised NIS 805 million ($250 million) through bonds sold to institutional investors. Calcalist has learned that more than a quarter of that sum has been set aside for an extended plan to upgrade employees' working conditions at the government defense company, and keep up with increasing competition for engineers.

According to the IDF Spokesperson's Office, the Iron Dome missile defense system shot down 1,000 rockets that were fired at Israel during the most recent escalation in Gaza, termed "Operation Guardian of the Walls," although some rockets managed to penetrate the air defense system and damage populated areas. The Israeli Air Force conducted several targeted attacks, using bombs developed by Rafael, and Israeli military ground forces harmed Hamas terror cells with Rafael's spike missiles.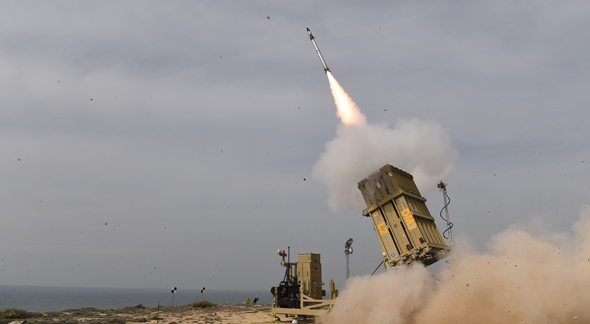 Rafael's Iron Dome missile defense system in action during the recent Israeli military operation. Photo: Israeli Ministry of Defense

Despite the sense of patriotism created by these achievements, they aren't enough to entice new employees, especially during a period defined by a lack of technological manpower.

Therefore, Rafael will invest NIS 250 million ($75 million) in constructing new offices in the Galil region, building new clean rooms in its offices in the Krayot area, and renovating its outdated buildings on the company's two central campuses.

In addition, Rafael plans on building a second story on its campus in Har Hotzvim high tech park in Jerusalem, expanding its branch in Beer Sheva, and continuing to design its newest branch in Tel Aviv. Each branch will be equipped with a cafe, fast food restaurants, and other employee amenities.

Everything aside from stock options

The company, which employs 8,000 people, recruits about 600 people every year, including for student positions. Although the company is government-owned, its employees' salaries are anything but low. In 2019, it employed 4,900 people at the lowest rung, who earned an average salary of NIS 20,022 ($6,100). Above them in the salary pyramid were 1,179 employees earning an average income of NIS 44,555 ($13,600) and at the highest rung another 1,719 people classified as high earners, but actually earned slightly less at NIS 35,506 ($10,900).

With most of the company's manpower in engineering or technological areas, it directly competes with Israeli high tech companies and local branches of international big tech companies who are searching for talent in similar fields.

Since 2000, the company has operated according to a salary agreement that was updated in 2012, and grants Rafael more flexibility in terms of salary compared to other government companies. However, it doesn't offer monetary incentives like stock options the way other high tech companies currently do.

"People who worked here during the past two weeks were reminded how meaningful a job at Rafael can be," said Sarit Selah Gal, who is the company's VP of Human Resources.

"But Rafael is still a high tech defense company and like other companies in the aerospace and defense industry, is facing fierce competition for employees in artificial intelligence, algorithms, and engineering," she added. "There is a global shortage due to the digitalization trend and the transition to the cloud, and we offer an internal coding bootcamp to train our employees in those professions. However, we are still competing with Intel, Elbit, Amazon, and Facebook for quality employees, and want to recruit those looking for interesting and rewarding work alongside the same perks that high tech companies offer."

Adding a food court on campus

The company's largest facilities are located in remote areas and not in typical civilian high tech campuses, making finding food amenities difficult. Rafael is making significant efforts to replace its traditional cafeterias with "food courts," whose plans include accommodating hummus restaurants, a local hamburger branch, pasta offerings, and coffee stations.

Lately, Rafael added a food court to some complexes where employees can easily order takeaway. It also recently began extending additional benefits to its employees, such as shuttles, and 2,500 of its employees drive company leased vehicles, and have the option to obtain free car washes via a valet service, which later returns their cleaned cars to the company's facilities.