Interview
Stopping infection spread in the office with a simple click
Israeli medical device startup Canario's offering allows managers to keep the chain of infection under control, limiting further Covid-19 cases
In order to help stop the chain of infection during the Covid-19 (coronavirus) era, Israeli medical device startup Canario developed a wearable device which tracks employees' movements, and using artificial intelligence detects possible pollutants and air particles, allowing managers to monitor which employees were in close proximity to infected individuals. The device was recently tested in two facilities in Israel with plans for a third, proving successful in all scenarios.

Currently, the company is developing two similar products. One is being used to detect pollution and other harmful airborne particles as well as radiation, while the Canario Proximity is designed to help company management keep track of infected persons with Covid-19 and other diseases to cut back on sending people home, ensuring that as few team members as possible are forced to isolate.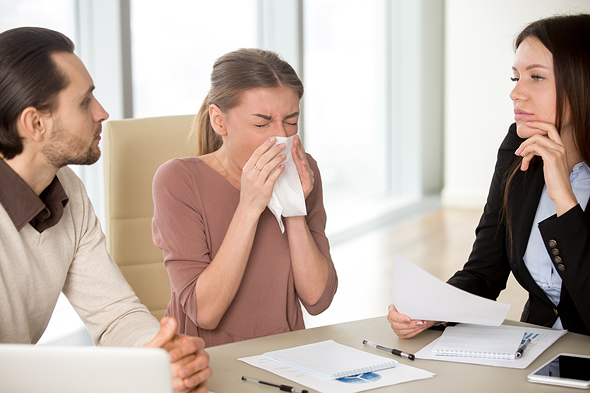 Canario's device is able to halt the spread of infection in the office (illustration). Photo: Shutterstock

"It looks like a small device you can wear around your neck, and functions like an electronic nose. As air goes inside the device, it measures the particles," Dovik Barkay, who is the CEO of Canario, told CTech.

In doing so, the device helps reduce the rate of infection and cut down on disease spread. "If there are 50 people in an office and one person is sick with Covid-19, you don't necessarily want to send everyone home," Barkay said. "It's difficult to decide who should be isolated, or to spot whoever was in close proximity to the sick person. Many businesses refused to take risks, and shut down their entire offices."

Employees can sport the wearable device, which sends an alert once per minute to the server, detailing the proximity between persons. It can calculate the distance between all of the wearable products nearby, and stores that data for up to two weeks. "If someone is infected, then a team manager can access a tablet equipped with back office software, simply plug the infected person's name into the system, and see any person less than six feet away. It's much easier to isolate those exposed, and not send home an entire team. It's an epidemiological investigation in one click," he said.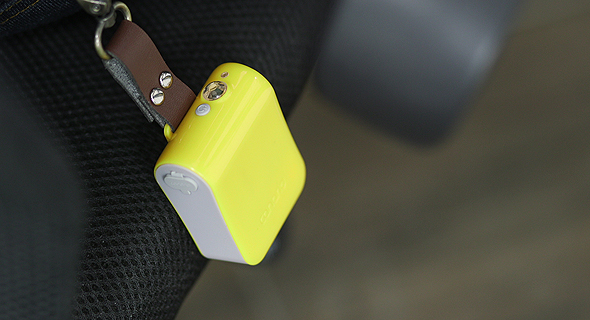 Canario's device. Photo: Canario

Designed for Covid-19 and more

The Canario Pro was designed with Covid-19 in mind, but the company plans to use it for other pandemics in the near future. "There are so many variants out there," Barkay noted, "and the pandemic raised the issue of social distancing which is important, not only for Covid-19, but from anything from influenza to a runny nose. It's important to social-distance from other people who are contagious."

Canario's device differs from other products on the market since it uses AI, but doesn't track employees' locations. "Our device complies with regulations from the Israeli Department of Justice, because it doesn't have any location tracking or GPS, but merely measures the distance between two devices on different people."

He noted that other products or applications installed on phones like Google Cloud Trace rely on GPS, and this has been outlawed in Israel. All of the data stored on the device is safe and protected, and is non-traceable. It doesn't save personal information, and the device itself is only identifiable via a product code.

"When two people are too close, the device vibrates and lights up to alert and warn the wearer to take a step back, but this feature can be turned off. All of the data goes to the cloud without any human involvement, and is only used if there is an issue with a sick person in the office," he added.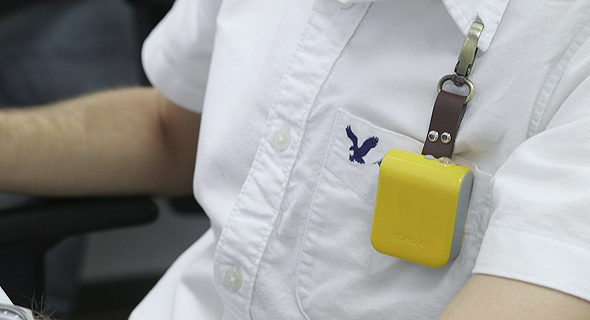 Canario's device can is wearable and can be worn in the office. Photo: Canario

Is your company riding the Covid wave like so many other medical device companies?

"We have already received an investment of about $1.5 million in a seed stage round from a private investor, and now are beginning a series A round. Our product is now ready to market. Although the risk for Covid-19 in Israel is minor, we hope to expand to the European market and the rest of the world, and are looking for a strategic partner to help us promote our product worldwide."

Some of those non-clinical trials include collaborating with the Israeli National Insurance Institute, or Bituach Leumi, who Canario has sold 12,000 such devices, which were distributed and tested for the course of one month by one of its branches in Kiryat Ata. In the same town as well, Canario tested its device at the Fermet Steel & Metal Works facility, where one person was infected with Covid-19, and in an office of 50 people, only two had to be isolated. In the southern town of Sderot, it plans to start offering its devices at the Strauss Group food facility in the coming weeks, which has around 150 employees.