Contentsquare lands $500 million series E led by SoftBank Vision
In 2019, the French company acquired Israeli firm Clicktale, which specializes in digital analysis of the user experience
Digital experience analytics company Contentsquare announces on Wednesday that it has completed a $500 million series E funding round. The investment is led by SoftBank Vision Fund 2, which joins existing investors Eurazeo, Bpifrance, KKR, Canaan, Highland Europe, and funds and accounts managed by BlackRock. Contentsquare will take advantage of SoftBank's depth of expertise in scaling companies and networks in Asia, and Michel Combes, President of SoftBank Group International, will join Contentsquare's Board of Directors.
In 2019, Contentsquare acquired Israeli company Clicktale, which also specializes in digital analysis of the user experience. Since the acquisition, the merged company has doubled its workforce from 300 to more than 800, with over 150 of its employees located in Israel. In the coming year, the Israeli Development Center will double its local workforce.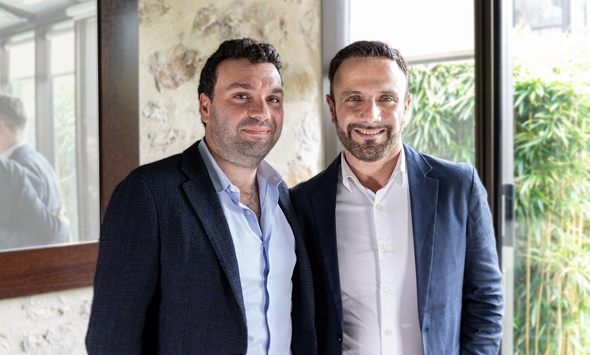 Contentsquare CFO Shomi Hagai (right) and CEO Jonathan Cherki. Photo: Contentsquare
Shlomi Hagai, Contentsquare's Chief Financial Officer (GLOBAL CFO) and former CEO of Clicktale, said that "the past year has led to tremendous growth in global company activity due to the accelerated digitization processes we have experienced around the world. The current investment is an expression of trust in the activity and vision of the company and will help us to aggressively penetrate the world markets in general and the Asian market in particular. "
"Innovation is in Contentsquare's DNA and today's investment is a result of the tremendous hard work of our passionate and ambitious team. Our growth has been accelerated by the world's shift towards digital, and our technology answers many of the digital transformation challenges brands face today," said Jonathan Cherki, CEO and Founder of Contentsquare.
"By democratizing access to actionable customer insights, Contentsquare empowers businesses in every sector to build better digital experiences for everyone," said Yanni Pipilis, Managing Partner for SoftBank Investment Advisers. "We're excited to partner with Contentsquare on its journey as one of the global leaders in UX optimization."
Contentsquare will use the capital to further develop its platform and advance AI innovation to accelerate its market vision: to empower brands to create exceptional digital experiences at scale. The newly secured funding will also support Contentsquare's rapid growth and geographic expansion, M&A activities, and go-to-market strategy.
This latest round comes one year after Contentsquare's $190 million series D raise, bringing the total funding to date to $810 million and valuing Contentsquare at $2.8 billion.