Interview
PayMe discreetly powering an SMB revolution
After helping over 60,000 small-and-medium-sized businesses in Israel realize their potential, the startup is taking its white-label fintech platform to Europe
Adam Kima was certain he had found a winner. With a partnership with Real Madrid and revenue beginning to stream in, Kima's startup QualiPic looked to be on the road to great success. QualiPic offered sports fans virtual face painting, allowing them to select a logo of their favorite clubs and upload a photo of themselves to receive a picture with their face 'painted' with the logo that they could then share on social media. The early signs were very promising, but one email from PayPal would derail all of Kima's dreams. PayPal notified Kima out of the blue that they had suspended his account due to QualiPic infringing copyrights. Kima tried to convince them that was not the case and that he had an agreement with the likes of Real Madrid, but it would be three months until his account was finally reactivated.

"QualiPic failed even though we had an amazing product and everything was going perfectly," Kima told CTech. "PayPal shut me down. They said we were infringing on rights even though we weren't. A long process ensued and after three months they reopened our account, but by then the business was screwed. I didn't have any real knowledge of the payment world or of the copyright and legal world and that ended up resulting in our entire startup failing."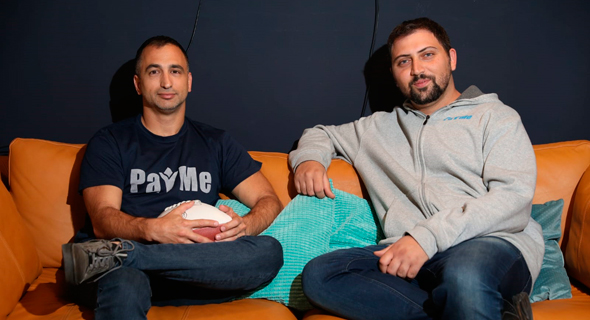 PayMe co-founders Adam Kima (left) and Adam Kogan. Photo: Ofer Vaknin

QualiPic may have folded, but it ended up leading to Kima's current venture, named PayMe, which he co-founded with Adam Kogan.

"My personal motivation is to help small businesses. I failed in my previous startup because I lacked knowledge regarding things that weren't part of my core business. Both Adam and I carry these scars and are trying to heal them one at a time," explained Kima.

PayMe has developed a platform that provides companies of all sizes white-label fintech services, offering a comprehensive suite of financial services via an API that can be integrated under any brand, addressing the needs of SMBs while also allowing PayMe partners to generate new revenue streams from these channels. These services include instant digital on-boarding, credit card processing, alternative payment methods, pre-integrated services needed to run and manage a business, online and offline POS solutions, automatic invoicing, credit card reconciliation, and anti-fraud protection, to name a few.

PayMe processed over $150 million in 2020, generating revenue of over 3% on its payment volume which represents a premium of over 350% compared to revenue generated by traditional payment companies like acquiring banks and PSPs on their payments volume.

"The dream is to take the many technologies that every business needs and make them readily accessible," explained Kima. "There is a big gap between the rich and the poor in the business world. Someone rich can afford to focus on his core business and if he needs help with finances he hires a CFO and if he needs help with marketing or on the tech side he'll bring in specialists that will take care of all the details which he doesn't know much about. A small business can't afford to do that and that is the gap I'm aiming to close."

Kima said PayMe is planning on going public on the Tel Aviv Stock Exchange later this year, admitting that the boom in company valuations in the tech market has become too alluring to resist.

"We are aiming to go public because we simply cannot ignore the current valuations in the market. Had you told me a year ago that I would be doing an IPO this year I would have said no way, but because of the valuations in the tech world at the moment, this has become a good alternative to raising funds from a VC. Going public also requires a far more structured business. I like that PayMe is growing in a steady and stable manner. If the company is organized there really isn't any reason not to go public. The questions you are being asked before going public are really all quite legitimate."

PayMe is essentially bootstrapped, raising an initial $150,000 when it was founded in 2013 but nothing else since. Kima explained that even though PayMe is focused on the finance sector, it is for every intense and purpose a technology company.

"All of our competitors are focused on a particular niche. We have 29 employees at PayMe of which 23 are either developers or product staff. We have just a single salesperson. In other companies, there is an opposite ratio. We aren't really a financial company. We are a tech aggregator. We have competition in every sector, but no one else is combining all of these services and offering them as a brandless API," said Kima. "Our platform is an API that is provided via distributors such as Wix and Isracard, and we are also in the midst of negotiations with one of the biggest banks in Europe and one of the biggest banks in Israel. We provide our platform as a white label that they can integrate into their systems which allows them to also increase their revenue from their clients as well as the stickiness," said Kima.

"20% of small businesses shut down after one year. Of the remainder, 30% close in the second year. Some 50% of those that survived the first two years close within five years. That means that 90% of small businesses don't survive more than five years," added Kima. "Our hypothesis is that many of these businesses don't survive due to the fact that a small business owner needs to not only be an expert in his own profession but also needs to have an understanding in many other fields like finance, payment, HR, and marketing. Research shows that 70% of businesses close because they have a cash flow problem and not necessarily because they aren't creating revenue."

Some 95% of PayMe's clients are currently Israel-based, but the company is now ready to expand further afield, with Europe being its next target market.

"We ended up doing a little too well in the Israeli market. As an entrepreneur who doesn't want to raise money but rather build up his business in an organic fashion, I couldn't just pass on the revenue that the Israeli market was creating, even though initially it was only supposed to be a beta site. Now we are in a situation in which we either go public or raise money and then the Israeli market can become that beta site while we try to enter the European market," said Kima. "We are intentionally targeting the European market as it is far more fragmented than the U.S. market and there are far more banks to work with."

Kima broke down the company's strategy in Europe. "We will offer businesses a very low transaction commission, almost zero because we know that in the long-run they will use at least an additional two services that we offer, and that will cover the commission we aren't charging on transactions," said Kima. "This way we will be able to realize our vision of giving SMBs all the tools they need to fulfill their potential."