U.S. Army to buy remote-controlled weapons from Rafael for $150 million
The Israeli defense company, along with its American partners, will supply the U.S. Army with APC "lethal" weapons positions. Meanwhile, a deal with the U.S. Marines for Iron Dome interceptors is in the works
The U.S. Army chose American company Oshkosh Defense and Israel's Rafael Advanced Defense Systems to provide it with remotely operated weapons positions, in a deal worth $942 million. Rafael's share of the deal is estimated at $150 million.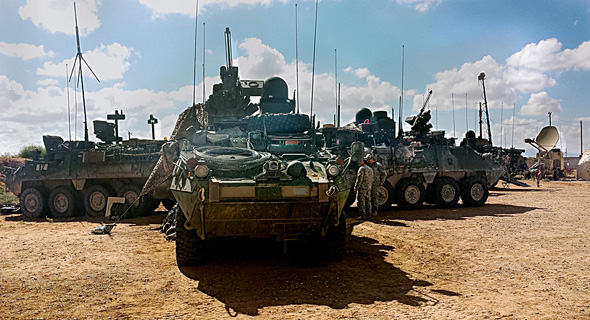 A Stryker APV Photo: U.S. Army

The positions are a Rafael development and are referred to in the IDF as "lethal" positions. They are used by the IDF's ground forces on Armed Personnel Carriers (APC), as well as on navy ships. The U.S. Army is expected to equip three brigades with about 900 APCs in total, with the new positions carrying a 30mm cannon.

The positions will provide the APCs with stronger firepower, and better protect soldiers thanks to their remote control operation that will allow the crew to shoot while remaining inside the APC.

Meanwhile, it appears that Rafael is also on its way to seal another deal for the Iron Dome defense system. The U.S. Marine Corps has announced it is looking into combining the Iron Dome's Tamir interceptors with an American-made radar and operation system to protect American forces and interests against cruise missiles, which Iran and its proxies have proven to accurately use. The Iron Dome has displayed its capabilities against such a threat in past tests.

According to a report on Janes, a global open-source intelligence company, the plan to integrate the Israeli missile into American systems has recently received engineering approval, and a decision on whether to proceed with a deal and acquire the interceptors by 2022 will be taken soon. It is unclear whether Rafael, and its American partner Raytheon, will receive a direct order for the interceptors, or whether they will have to bid in a tender. The two already announced a year ago that they are preparing for a joint, American-based, production of Tamir interceptors. The U.S. Army has already purchased two full Iron Dome batteries for $373 million, in a deal that includes IAI radars, a mPrest control system, and 480 interceptors.
Iron Dome interceptors targeting Hamas rockets during Operation Guardian of the Walls Photo: AFP

Israeli Defense Minister Benny Gantz visited the U.S. last week and discussed special assistance the Americans could provide Israel, including the restocking of Iron Dome interceptors, replacing those used by the Israeli Air Force to intercept rockets from Gaza during last month's Operation Guardian of the Walls.

According to reports, the aid package could reach around $1 billion, including funding for the purchase of American precise weaponry for Israeli aircraft, which was also widely used during the Gaza operation. The United States has financed most of the cost of equipping the IDF with its Iron Dome batteries to date, with about half of the system's components being manufactured in the U.S., and transferred to Israel for final assembly.