Interview
"We will either crash or become Amazon"
Avo CEO Dekel Valtzer is a former Israeli tennis champion who went from hitting serves to shipping services. How did the startup he co-founded transform neighbors in New York skyscrapers and tech giants' employees into a consolidated purchasing power?
Avo (short for avocado) is not a familiar name to most Israeli consumers, however, it has already supplied products to tens of thousands of people in Israel. The company was founded in 2017, with former Israeli tennis champion Dekel Valtzer among its co-founders. Avo provides a technological platform for a consumer network made of apartment buildings and big companies. It allows any employee or tenant to order any product they need without shipping fees.

Avo operates in one of the most competitive markets in the world. The world of retail deliveries has global giants like Amazon and Walmart and in Israel, it includes most grocery retailers like Shufersal, Rami Levy, Quick, and others. However, according to Valtzer, those are not Avo's competitors. "Amazon and those like it, work with a consumer, I work with a company or a building, which is the source of my purchasing and marketing power," he explains in an interview with Calcalist. "A single individual can't buy through me. In fact, Amazon and similar companies are helping me to educate the market."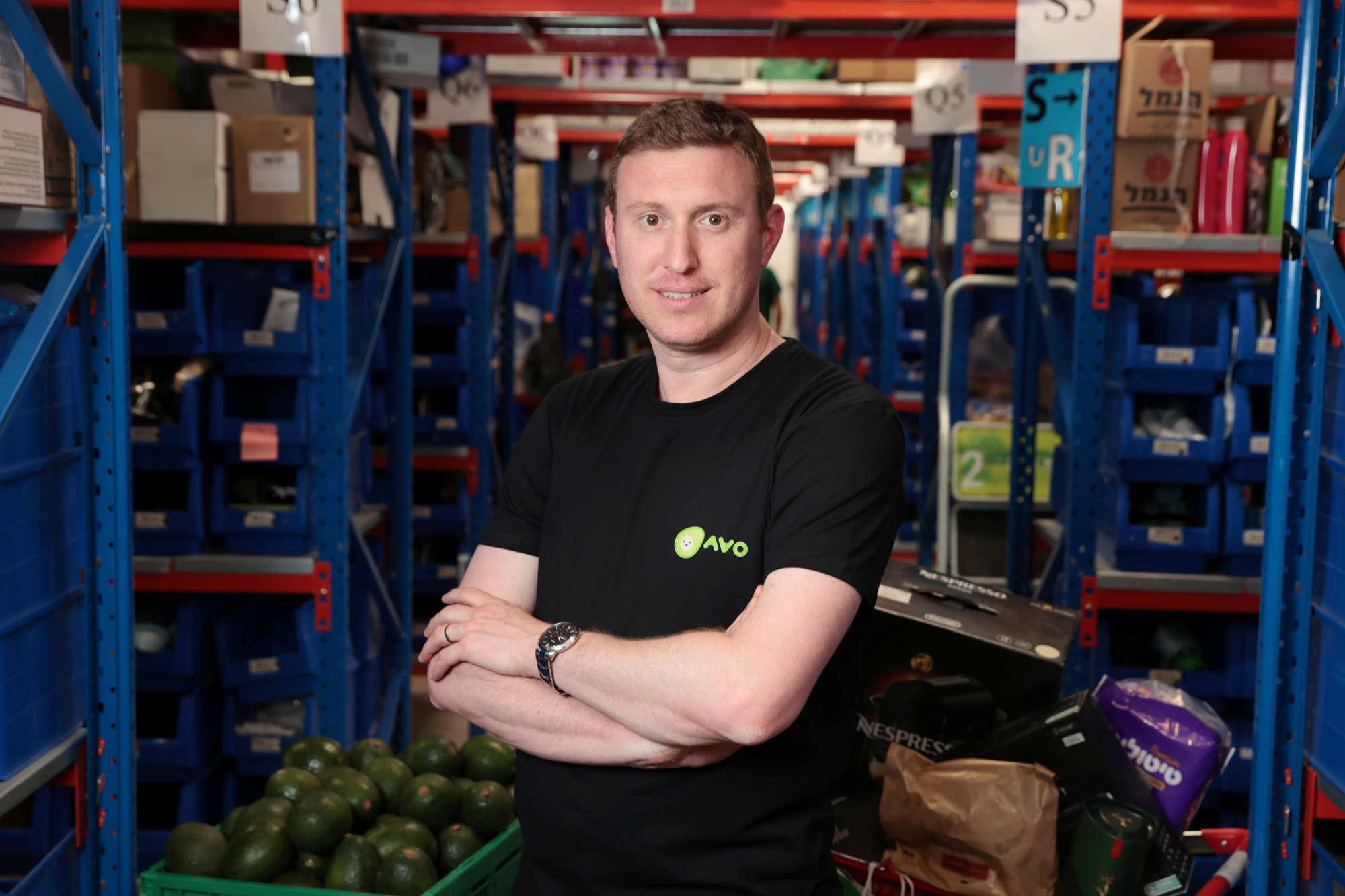 Avo CEO Dekel Valtzer Photo: Orel Cohen

Valtzer's model is a simple one, instead of providing one product for one person, it will provide 100 products for 100 people living in the same building, or working in the same company. "We found a way to consolidate demand at a certain location to which many products are sent at once. For example, a New York building with 500 apartments or Azrieli Sarona Tower in Tel Aviv that houses large companies like Playtika and IronSource," Valtzer explains. "Every building such as these has thousands of people, especially in office buildings. We went to IronSource, built them a website they can order everything from. An employee can order one bottle of wine, no minimum order size, no shipping fees, and no limit on the quantity or what you order. The employee only pays for the product he ordered, and like any retailer, Avo profits from the difference between the price it pays and the price it sells to the customer."

The project, Valtzer says, started with kindergartens. "The common denominator, here too, was a lot of kids in one place. Once a day a lot of parents come to the kindergarten and they can pick up products, so that is where we started implementing group delivery. We asked the teachers to text us their orders because we did not have a site yet, they would ask for three packs of diapers and I would go to the store and get them. It was the pilot stage and we still did not know how to price the service."

Diapers in Israel and Alcohol in New York

To date, Avo raised about $40 million in several rounds. Investors include Joey Low, who was WeWork's first investor, the prestigious Y Combinator accelerator, the American venture capital fund Kleiner Perkins, who was Amazon's first investor, and is considered one of the most prominent funds in Silicon Valley, and other private investors from Facebook and Uber. Valtzer, who serves as CEO, co-founded Avo with Idan Hershko, VP of Customers, Nir Smadar, VP of Product, and Neri Bluman, VP of Operations. Avo employs about 500 people, most of whom are packing and shipping workers.

The company's clients already include most of the major real estate companies in New York, and several companies in Israel, such as Playtika, AppsFlyer, IronSource, Migdal, Clal, Isracard, and Shikun & Binui, as well as several hospitals and universities. Housing complexes such as Tzamarot Ayalon and Midtown in Tel Aviv and Savyoni Galil Yam just north of the city, are also clients. In Israel, Valtzer says, the most popular product purchased through the company is diapers, while in New York it is alcohol.

Valtzer (36) was Israel's national tennis champion in 2005 and a member of the national Davis Cup team. When he turned 24, Valtzer realized that his future didn't lay in tennis and he enrolled in business administration studies at the Interdisciplinary Center in Herzliya. "During my studies, I founded a non-technological start-up company for sunscreen vending machines. Super-Pharm made us the tubes and we sold them for NIS 10 each at the beaches," he recalled. He shut the operation down during the coronavirus pandemic. At the same time, he worked for three years at KPMG and later at Monday.com, which is currently on the verge of an IPO at a $6 billion valuation. Valtzer received a now-lucrative options package from the company, "I was one of the first employees there," he says.

The food and grocery delivery market boomed during the pandemic, and a large portion of spending by companies in Avo's sector went towards online advertising and marketing. But with Avo, the situation is a little different. "The kindergarten teachers did our marketing for us," Valtzer says. "With Amazon or other companies, the consumer is the customer, and they need to reach them through Google, Facebook, and TV. All companies that deal with deliveries lose money because they work with an end customer and market to him or her. I look at buildings and companies, where there are thousands of potential captured consumers, so the company or building is the customer. We do not advertise anywhere. For us, the company's welfare manager or the building manager serve as our marketing people. The company informs all employees that the service is available."

All orders made through Avo are delivered on the same day. "You have to place an order by 11 AM, Valtzer emphasizes. "We do everything, the whole operation. We are not just the courier, not just the warehouse, and not just the technology. We chose to go for everything, because our model does not exist anywhere else in the world. We develop the software and the websites."

"Shufersal, Amazon, or Fox have one website. We have hundreds, soon thousands of sites. Every company has a website, every building has a website, and sometimes the company's human resources manager can offer employees financing for some of the activities. We have full control over all of these sites. We currently operate in Israel, New York, and recently launched in Chicago. It is clear to us that we will either crash or become Amazon."

Why should a customer order through you and not from Shufersal or Rami Levy?

"We are not a supermarket. Just because two people sell products does not mean we are in the same market. We are also working on expanding our inventory, and we are constantly adding more categories, for example, we have just added 4CHEF."

At the end of the day, the main question is how much does it cost us. Are you more expensive than a supermarket?

"We would like to be cheaper in the future. I'm not the cheapest, but we are priced between Rami Levy and Shufersal. I do not have the quantities you order from other online services, which causes you to waste. With me, you can order two cucumbers, one tomato, and one avocado. No need to order a huge basket. No minimum order or shipping costs. No penalty and no fine print. "

"Israel is the laboratory"

According to Valtzer, Avo's model has the potential to provide additional services. "In Israel, the contractor builds a building, sells the apartments and his role is over. In the U.S., real estate entities own the building. Many of them have thousands of buildings. Through them, I can offer a variety of services, not just products, like cleaning services, for example."

"In an apartment building, if one cleaner works in an apartment, he can also work in ten apartments. It is also better for him, and also for the tenants who will pay less. It applies to any service where mass can be utilized, I do not understand how people have not thought about it yet."

Unlike online commerce giants, Avo does not have huge warehouses. "Our warehouse is fully computerized, and we have contacts with the big retailers but that is the easy part everyone does. We have two realms - one the popular realm of all consumer goods, which we hold in stock and profit off like everyone else. But we have another realm, where we offer baked goods, toys or yoga products. Meaning, residents of Petah Tikva can order from a Lehamim bakery in Tel Aviv," Valtzer says.

"I consolidated demand and supply for business owners. I gather orders and send them, and in return, they give me a cheaper price. These collaborations save me the need to hold an inventory and its costs," Valtzer explains. "But there is one more significant thing and that is the size of the warehouse. If you ask me what the size of my warehouse is, I would say it is divided into two: the physical warehouse I pay rent for, and all the stores we work with, which hold the inventory. I slowly identify popular products and move some of them to my warehouses. We are actually building the perfect store and warehouse."

Although the company's potential is in the U.S. due to its size, according to Valtzer, Israel, is a strategic market. "Most companies see Israel as a development center only, and we are the only company that has decided that Israel is the laboratory."