Check Point is ready to fight for its place, reveals numbers behind cloud operation
The Israeli cybersecurity pioneer wants to prove to everyone that even though it might have arrived late to the cloud game, no one should count Gil Shwed's company out. "We will make more acquisitions and continue to be aggressive with the cloud"
Check Point has become a sort of the old dame of the cybersecurity market over recent years. She was there first, some would say she even invented it. However, the young and sexy competitors did not only catch up, they quickly surpassed her. Check Point is now falling behind in technology, in growth, and as a result also in value, and in particular in the buzz these competitors are creating around massive fundraising rounds. But even more so, if Check Point once held a place of honor among its peers, these days entrepreneurs, many of whom worked at some point for Gil Shwed's company, are not afraid to take shots at it.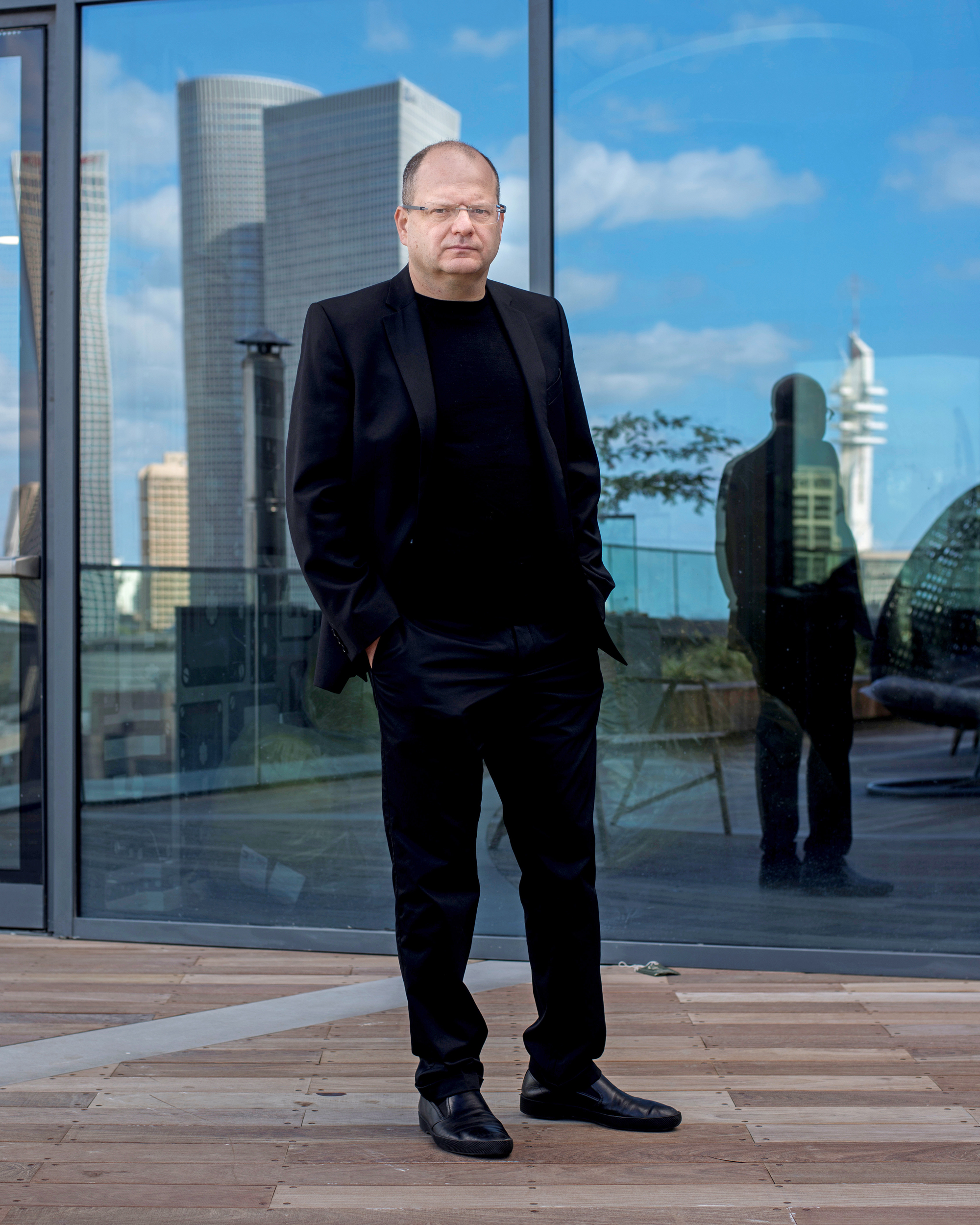 Check Point CEO, Gil Shwed Photo: Yuval Hen

The main reason for Check Point lagging behind lies in the market's transition to the cloud, a field that has been booming in the past year, with even the most outdated organizations learning to utilize the cloud, following the constraints brought on by the Covid-19 pandemic. Check Point, some in the cyber market say, realized too late that the cloud is the future, and even after realizing it, the company was not aggressive enough with its moves. "They should have thrown everything at the cloud. For every new company, and every company that goes with the cloud, the need for the classic firewall becomes redundant," a senior figure in the Israeli cyber industry recently told Calcalist.

Four acquisitions that did not move the needle

Cloud-native is the current key term in the cyber market. "We put a DVD player in the cloud and call it Netflix," is how Jay Chaudhry, the CEO of Zscaler, one of the hottest companies on the market today, recently defined the cloud-adapted solutions of Check Point, and its long time rival Palo Alto.

Check Point, which usually maintains its restraint and composure, does not like the new role it is playing and decided to retaliate. The company founded by Shwed in the 1990s has revealed to Calcalist for the first time its activity and scope in the cloud, which was a big secret until now. Check Point realized the secrecy harmed it because its activities in the cloud were not being priced into its market value, which has stagnated at around $15 billion for about five years. While it is a huge sum, it is worth pointing out Check Point's value is less than half of Palo Alto's, which has gone out of its way in recent financial reports to place its cloud operations in the spotlight. It is also half the value of Zscaler's, which sells in a year what Check Point sells in one quarter. The value difference is also noticeable when comparing Check Point to the private market. Companies with a few million dollars in revenue a year receive unicorn valuations. A few notable examples include Wiz, Orca, and Aqua, all of which have raised funds at a value of more than $1 billion in the past six months.

Perhaps Zscaler, an American cloud-based information security company, best represents Check Point's missed opportunity with the cloud. The young company went public three years ago at $16 per share. Its value is now ten times higher. When the Nasdaq peaked at the beginning of 2021, the stock soared to $200 and reflected a value of $30 billion for the company. Another company that emphasizes Check Point's lack of ability to adapt is Palo Alto. Like Check Point, it was also not born into the cloud, but it recognized earlier the shift in the market and went on an aggressive acquisition spree. As a result, the Palo Alto stock has doubled in price in the past three years. Check Point stock, on the other hand, has plateaued.
Jay Chaudhry CEO of Zscaler Photo: Bloomberg

Check Point has shown signs it is "going for it" in regards to the cloud, but the market has not been impressed so far. Four acquisitions of small startups were supposed to place the company on the cloud, but they were too small and failed to get investors' attention. Now, however, it seems the CEO Shwed is tired of being criticized by his competitors. Check Point is fighting to prove it is "one of the biggest players in the cloud market today, and everyone else is simply making a lot of noise," as Check Point's cloud division managers TJ (Tsion) Gonen and Erez Yarkoni said.

Plans to invest $100 million this year in cloud product development

The figures Gonen and Yarkoni showed Calcalist shed light on Check Point's activity. Its annual revenue rate (ARR) from cloud security products amounted to $100 million in 2020, growing by 54%. In the last two quarters (the fourth of 2020 and the first of 2021) the cloud division has grown at a rate of 60% compared to the corresponding period.

The company today has 4,000 customers using its cloud products, including large banks and retail chains. According to Check Point, 500 employees, almost 10% of the total workforce, are employed exclusively for its cloud activity, and 100 designated programmers are in the recruitment stages and will start working in the company in the coming months. Check Point also said that it plans to invest $100 million this year in its cloud product development.

According to Check Point, these numbers make it the largest cloud company in Israel, after all, the next largest company, which is privately owned, employs 300 people, sells at about $30 million a year, and has just under 300 customers, meaning Check Point is more than double its size.
Palo Alto founder Nir Zuk Photo: Palo Alto

However, when compared with Palo Alto the situation is more complex. The American company, founded by Nir Zuk, one of Check Point's first employees, began to present its cloud activity separately in its reports, understanding that the market has moved there and that it will raise its value. With the publication of the latest financial reports last week, Palo Alto showed an annual revenue rate of $250 million, more than double that of Check Point. The company is rapidly increasing its number of cloud customers, which amounted to 2,290 in the first quarter of 2021 compared to 1,643 customers in the corresponding period.

Did not rush to make purchases, certainly not large ones

Despite the rapid growth in orders, cloud products account for a fraction of Check Point's revenue, less than 5% of $2.1 billion in 2020. Palo Alto's rate is higher, but is less than 10%, as its total revenue in 2020 was $3.4 billion. Palo Alto has also invested much larger sums than Check Point, well over a billion dollars in acquisitions.

On the other hand, Shwed, who is considered much more conservative and did not make any acquisitions until five years ago, paid about $300 million for four startups. In 2018, Check Point acquired Dome 9, in 2019 it bought Protego, which was founded by Gonen, one of two of Check Point's cloud division managers today, and later ForceNock and Odo Security were acquired. Today all the companies' products are part of CloudGuard, which can be defined as Check Point's cloud division. Managing the division along with Gonen is Yarkoni, who is responsible for the sales side and was previously a senior executive at T-Mobile in the U.S. and served as CEO of several startups.

"One of our biggest challenges was to connect all the purchases into one product, which will be based on a SaaS model (software as a service)," Gonen explained in a conversation with Calcalist. "We worked hard at it in recent years, and I understand now we did not talk enough. Zscaler and others like it were busier in creating buzz around themselves. However, when Check Point acquires a company, it does not make noise, certainly not compared to the competitors," he added.

While that statement is true, it also stems from the fact Check Point often does not reveal the amounts it pays. As absurd as it may sound, a couple of dozens of millions is not a large sum for Check Point, and in a reality where young startups are valued in the billions, $50 million acquisitions are not big news anymore.

"Zscaler does not come close to our capabilities," Gonen declares, "even our regular firewall is cloud-protected, and we also have a cloud designed to protect our customers. We created a single layer for all the products and became Microsoft's prime cloud partner. That means that in most cases, Azure, Microsoft's cloud service, will have Check Point's security," he continues. And with that being said, a week ago, Zscaler reported a 60% percent spike in first-quarter revenue to $176 million, raising its forecast for the current quarter to $186 million.

Beyond the joint sales mechanism with Microsoft, Check Point sells its cloud security solutions to existing customers who are willing to take them for a trial period, as well as caters to new customers. According to Yarkoni and Gonen, they have large customers in the cloud division, from those who pay over $100,000 to those who made mega-transactions worth more than $3 million. This is in contrast to the younger competitors, who usually carry out smaller deals. "Despite what startups like to say today, that the need for a firewall has become redundant with the transition to the cloud, it is not true. We still need it, but it needs to be in a different configuration. Our cloud technology replicates the firewall, making it cloud-native."

But if the situation in the cloud sector is so good, how do investors miss the point and value Check Point as a profitable company, but as one that does not grow? "There is an inflation in the value levels of cyber companies, but at the end, the value of all the smaller cyber companies, and especially the private ones, is derived from the expectation that Check Point will buy them," Yarkoni states. "It is possible that if we had split the cloud division out, it would have received a very high valuation, after all, today, companies that raise at a value of half a billion dollars have sales of $10 million," he continues. "Ultimately, when you give such companies generous valuations, you assume that one or more of them will become a platform company, similar to Check Point or Palo Alto, and not remain a niche company. But very few companies come out of the niche trap, which is good for us because it pushes us to innovate, and we will make more acquisitions and continue to be aggressive with the cloud. The cloud reinvents the world, organizations need to rebuild all of their systems within two or three years, so we too have a lot more to do."

However, to this day, Check Point under Shwed was in no hurry to make acquisitions, certainly not large ones, and contented itself with acquiring startups in the early stages. Its biggest deal was to buy Dome 9 for $175 million, and the market wants to see Check Point make a bold move, a notable one for a company that has never distributed dividends and continuously repurchases its shares with its $3 billion worth of cash in its coffers.

Is Shwed capable of such a move? "It's more a matter of appetite than of ability," says Gonen. "Prices are up 30% and we understand we will have to pay more. But until today we had success with four of the four cloud acquisitions we made, and I hope that in two years it will be eight for eight. I know we lacked audacity. Check Point was never bold, even as it invented one of the great fields in cyber. But what is happening in 2021 is very different from what was accepted in 1993, today audacity has meaning."