Margalit Startup City Center back in full swing as New York tech scene reopens
Senior executives, investors and high-tech CEOs met for an in-person event titled "Startup City is Back", marking a year since the establishment of the innovation center. "New York business is back in full force, and Israeli high-tech is making a significant contribution to this effort," said Erel Margalit
In a first-of-its-kind event since the outbreak of the Covid-19 pandemic, senior bank executives, investors and high-tech CEOs met on Monday for an in-person, high-tech meetup in New York. The event, titled "Startup City is Back," took place at Margalit Startup City Center - the only innovation hub in NYC to return to full operations. The event also marked a year since the establishment of the innovation center. It was attended by Erel Margalit, founder of Margalit Startup City and JVP, as well as CEOs of JVP's portfolio companies, partners, investors, senior representatives of the New York tech industry, NYC municipal representatives, researchers, and members of the New York SoHo Artists Association.

A large number of companies in New York have yet to return to full-time employment and local tech hubs are mostly vacant. In an attempt to support businesses, Margalit Startup City did not close during the pandemic, and today it is the first tech center in the city to return to full operations. The center currently hosts around 30 companies, which have raised more than $450 million in the past year. It is expected to expand significantly due to the high demand of Israeli companies wishing to open representative offices at the hub. It includes a café and also hosts exhibitions that display the works of local and international artists.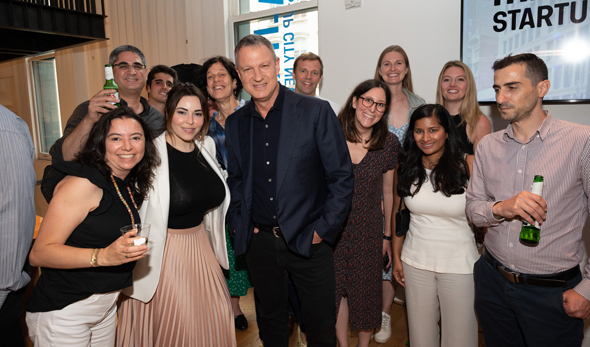 Erel Margalit (center) during Monday's event at the Margalit Startup City Center in New York. Photo: Nir Refaeli

"New York business is back in full force, and Israeli high-tech is making a significant contribution to this effort," said Chairman and Founder of JVP and Margalit Startup City, Erel Margalit. "An increasing number of companies see New York city as a hotspot to expand their business in the U.S. and are joining the center that we have established here – including companies transitioning from Silicon Valley. The discourse here focuses on important processes such as branding, expansion and opening to new markets."

"Israeli high-tech is playing a significant role in the reopening of New York, bringing Israel great pride," added Margalit. "Everything that happens here is done out of a sense of mission and a desire to contribute, while also aiming to make Israeli companies world leaders in their respective fields."

Over 30 companies in the fields of cyber, media, fintech, HR, insurance and other fields, operate in the center. This includes companies that have moved their headquarters from San Francisco to New York, such as Leadspace. New companies have opened offices in the center, and the complex is expected to expand significantly in order to meet the rising demand.

In the past year, Margalit Startup City has also become a home for New York artists, who have created and displayed works of art that reflect important social events that dominate the global agenda, including the murder of George Floyd and the battle against the coronavirus. As part of an effort to enhance the connection between technological, social and cultural entrepreneurship, the center also hosts exhibitions displaying the work of local graffiti artists, in collaboration with the prestigious Studio School art institution in New York.