Game on: Buff Technologies aims to become the first publicly traded gaming company on TASE
Buff, which developed a platform that rewards users with Buff Points on their performance in different popular games such as Fortnite and Counter-Strike, is aiming to be valued at NIS 100 million despite concerning financial results
Is Israel about to get its first publicly traded gaming company? Buff Technologies has published a draft prospectus according to which it plans to raise about NIS 30 million (about $9.25 million) at a value of about NIS 100 million (just over $30 million) before money by going public on the Tel Aviv Stock Exchange.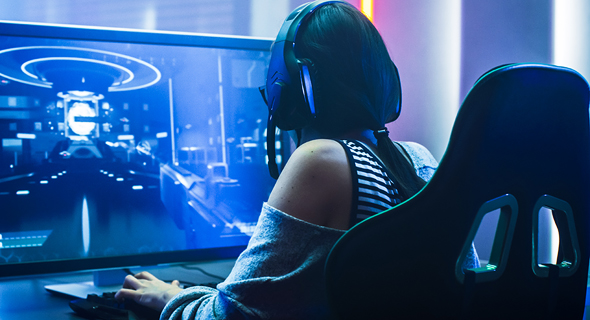 Photo: Shutterstock

The offering is underwritten by Value Base, with Buff planning on conducting a roadshow to help complete the fundraising by the end of the month.

Ad-based revenue

Buff was founded just three years ago, but its products have only been available since early 2020. Currently, the company records a small revenue from advertising, and its losses are also relatively modest compared to other technology companies. Buff is banking on a fast user growth rate and is using gaming influencers for its marketing and promotion.

Buff created a gaming platform that rewards users with Buff Points on their performance in different games such as Fortnite, League of Legends, and Counter-Strike. Gamers can use Buff Points for in-game purchases or actual gaming accessories, such as a gaming keyboard or mouse.

Buff's advertising revenue in 2020 totaled $115,000 compared to $14,000 in 2019. Meaning, based on last year's results, Buff is asking investors for a 250 multiplier on revenue. The company expects to grow revenue from advertisements, premium membership fees, and fees for issuing gaming point cards. Furthermore, Buff reached an agreement with Israeli startup Overwolf, and the two will collaborate in marketing the NBA Finals this summer.

In all, Buff recorded a loss of $426,000 in 2020 compared to a loss of $287,000 in 2019. The company has a $327,000 deficit, and the auditors included a going concern in its financial statements.

At the end of May, Buff had 1.2 million registered users, compared to about 400,000 at the end of December 2020. The company has 22 employees, including those it outsources.

Founders' salaries skyrocketed

Buff's platform, which is also available on mobile, uses machine learning and artificial intelligence (AI) technologies, as well as big data information analysis. The company's three founders, CEO Elay De Beer, VP of Operations Ophir Sarapi, and CRO Ophir Gertner have a high-tech background, and each of them made $60,000 in salary in 2020.

In recent months, and just before the IPO, the founders boosted their salaries by 50%, from $5,000 a month to $7,500 a month. The move required a shareholders' meeting and a vote to approve it.

The gaming industry is considered one of the biggest entertainment industries in the world, with annual revenues greater than those of both the music and movie markets combined. Buff quoted Statista to point out that in 2020 the global gamers population numbered 2.7 billion people, about a third of the world's population, compared to 1.5 billion people five years earlier and 200 million a decade ago.

According to research firm IDC, sales in the global gaming market grew by 20% last year, to $179.7 billion. According to Newzoo research, this industry's revenue could cross the $200 billion mark by 2023.