Unicorn AppsFlyer recruiting 300 employees in Israel
The company, valued at $2 billion last year, is aiming to take its local headcount to 1,000 employees to further boost its ability to develop marketing measurement software
Israeli unicorn AppsFlyer is planning on recruiting 300 new employees in Israel by the end of the year, taking its workforce in the country to around 1,000 people and 1,400 across the world, Calcalist has learned. The growth will be taking place mainly in the company's R&D departments, which currently include 400 employees, and is aimed at further boosting AppsFlyer's ability to develop marketing measurement software for its clients. The company, which has raised around $300 million to date and was valued at $2 billion in its most recent funding round last year, has annual recurring revenue in the hundreds of millions of dollars.

AppsFlyer hired over 280 new employees in the first half of 2021, most of them in Israel. This has also resulted in the company expanding its offices in the country, recently renting three floors at the Sarona complex in Tel Aviv in addition to the office space it already has in Herzliya and Haifa. The company's investment in its new Tel Aviv offices is estimated at millions of shekels.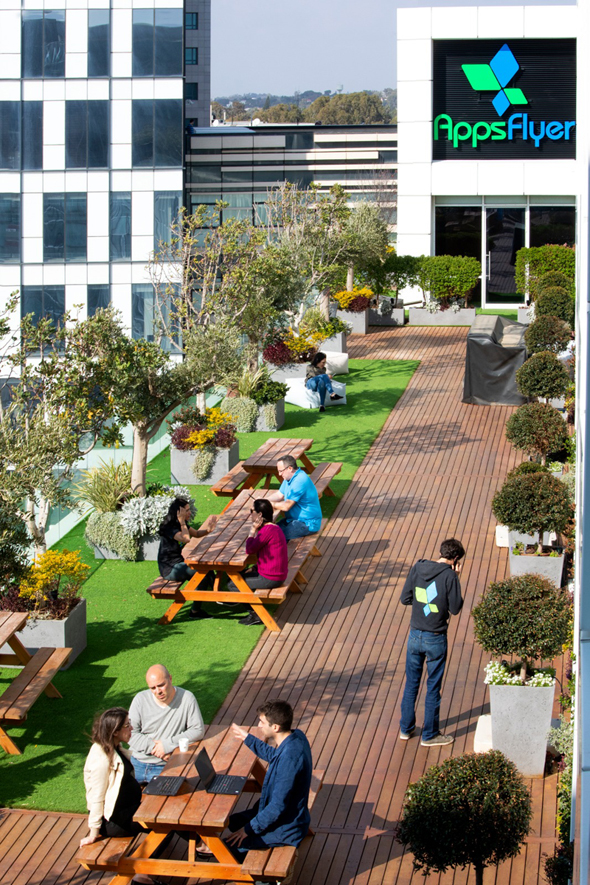 AppsFlyer employees. Photo: Maya Barkai

"Prior to coronavirus our official policy was full-time work from the office," said Lisa Zaythik, Chief People Officer at AppsFlyer. "That felt right at the time because part of the company's charm is its special culture and human capital and we didn't want to lose that. Covid-19, with all the difficulties it created, also allowed us to open our minds in many aspects, including our perceptions regarding work from the office. We understood that our productivity doesn't drop when working from home, but only rises and that the advantages of working from home outweigh the disadvantages. It is still important to us to maintain our offices in order to allow frequent interpersonal meetings. There are elements of innovation and creativity that are only possible in a face-to-face encounter. That is why the hybrid model is ideal because it combines the best of all worlds. We are still learning and developing the model but we have no doubt that this is the future - a mixture of working in a team at the office combined with the comfort and flexibility of working from home. In the future, we are hoping to add more and more small workspaces across the country and around the world in order to allow people to come into the office but still remain close to home. That way less time and resources will be wasted in journeys and traffic, which will lead to a healthier and more peaceful life."

"We are a company that puts its clients at the center and in order to live up to that promise we must first put our employees at the center of every decision we make," added Zaythik. "The company can't exist without people connecting to a joint vision. That is why our employees' welfare is always at the top of our priorities. The past year-and-a-half was very challenging for everyone so we are thankful for the opportunity to provide our people the required tools to continue to succeed and grow together."

AppsFlyer was founded in 2011 by Oren Kaniel and Reshef Mann. The company developed a tool that analyzes and measures digital campaigns and it serves over 12,000 customers and partners with over 8,000 companies. AppsFlyer works with thousands of customers, among them, leading brands such as Macy's, Tencent Holdings Ltd., NBCUniversal Media LLC, Stitch Fix, Wayfair Inc., US Bancorp, and Nike Inc. The company has created an ecosystem that includes Facebook, Google, Twitter, Apple, Snap, Pinterest, TikTok, Search Ads, Salesforce, Adobe, and Oracle.

Its investors include Salesforce, DCTP, Qumra Capital, General Atlantic, GS Goldman Sachs, Deutsche Telekom Capital Partners, Salesforce Ventures, Pitango Venture Capital, Eight Roads Ventures, and Magma Venture Partners.