Jumping the queue: Retail giant REWE invests in Trigo
The deal brings the total invested in the Israeli tech company to $104 million. According to estimations, smart checkout solutions could process nearly $400 billion in transactions by 2025
German retail giant REWE is deepening its collaboration with Israeli startup Trigo, which develops a frictionless checkout shopping experience technology for retail stores. REWE has announced an investment in Trigo alongside Viola Growth, which will bring the total investment in the Israeli company to $104 million. Both will provide about $10 million.
Trigo employees Photo: Nir Ben Tzvi

Last month, REWE unveiled its first public branch based on Trigo's technology in central Cologne, Germany. The location operates without queues and without cash registers as Trigo's technology identifies the products that each customer collects to his or her basket using hundreds of cameras and an artificial intelligence system that analyzes the images.

When buyers finish their shopping, they simply leave the supermarket without delay, no need to scan the items, and receive the invoice directly to their smartphone through the retailer's app. The system also detects products that the buyer holds in hand, making grab-and-go purchases of a single product possible.

REWE Group is one of the leading retail companies in the world, with over 9,500 stores. Trigo has existing partnerships with Israeli chain Shufersal as well as the 7,000-store Tesco chain. The latter has also invested in the Israeli company and is experimentally integrating its technology in the Tesco branch adjacent to its management headquarters in London. According to Juniper Research, smart checkout solutions are expected to process nearly $400 billion of transactions by 2025.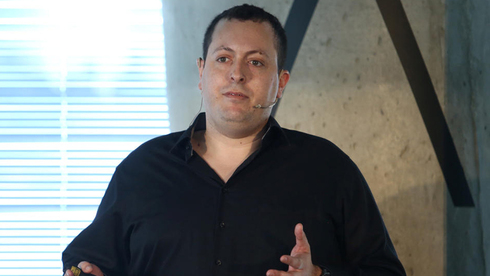 Michael Gabay, CEO of Trigo Photo: Orel Cohen

"The cooperation and investment on the part of the European retail giants is an expression of trust in technology and our ability to revolutionize the shopping experience of chain consumers," said Michael Gabay, CEO of Trigo. "Concerns about being held up in the queue is one of the main factors in a consumer's store choice, therefore the opportunity to shop without a queue can become a growth engine for shops. According to our research, there are half a million supermarkets and convenience stores around the world that can be converted to shopping without a queue through our system, so the potential is huge."

"We have been following Trigo for several years and have been deeply impressed by the technological innovation and quality of the solution it brings to the world's leading retailers," said Eran Westman, a partner at Viola Growth. "Creating an innovative shopping experience is at the heart of retailers' considerations today and we believe Trigo will lead its category and change the way billions of people shop."

Trigo was founded in 2018 by the brothers Michael and Daniel Gabay. The company currently employs 120 people, most of them in the Tel Aviv R&D center and in the London office. The company is in the process of recruiting new employees to address its global expansion.