20-Minute Leaders
"In 20 minutes, you get whatever you want. … I want that mindset to be for everyone"
Omer Orlev had only been working at Wolt for about a month when Covid-19 hit, but that turned out to be a great time for growth.
Omer Orlev had only been working at Wolt for about a month when Covid-19 hit, but that turned out to be a great time for growth. The company had been planning to expand beyond restaurant delivery into retail after 2020, but they planned to invest and get it all just right. When Covid-19 arrived, though, Orlev was able to land Wolt's first big retail partners, two big Israeli companies, in a matter of weeks. From there, the retail side has grown in all of Wolt's markets, helping the company get closer to its vision of customers being able to order anything and have it delivered in 30 minutes or less. This will eliminate the need for a lot of the planning that people currently do, Orlev said, like making a large grocery purchase for the week or preparing for a cookout. Consumers will be able to just order things when they need them, in a click of a button

Click Here For More 20MinuteLeaders

You're director of retail sales and growth at Wolt. You're working on the thing that I've been thinking about every day, and I just think, When can I order anything I want and get it delivered within 30 minutes?

Actually, that's the vision. Hopefully soon.

Tell me about your entrance to Wolt and your perspective on what's happening here with consumer behavior.

Funny story. I worked for HP Indigo, and I decided it was time to leave. I heard Imri Galai, who was the GM for Israel at the time, in a podcast talking about Wolt. I was like, "Wow. This sounds really cool. I want to be a part of it." I looked at the website; there was nothing relevant. The following morning, I got a LinkedIn approach from Finland asking if I'm interested in interviewing for global head of business development. So it was a match made in heaven. I started in that role. Even though I was based in Israel, I was supposed to globally look at opportunities that we had. But then Covid-19 hit, and I was just a month in the company. Imri said, "We know that whatever happens, supermarkets and pharmacies are going to stay open. Can you take a look at working with them?" Wolt's brand was so strong in Israel, and I was fortunate to close two deals with public companies in three weeks: Paz for Yellow, for their convenience stores, and then 10 days after, with Shufersal for Be Pharm. Those were the two first big retail partners. By doing those, we learned so much about consumer and partner preferences, specifically about how many gaps we had.

Why is it that when I look out my window on Dizengoff, I see five Wolt scooters at any given moment? Is this happening all around the world?

I wouldn't say it's everywhere around the world, but there are definitely more countries with this phenomenon. In that podcast when Imri was interviewed, his answer to the question about Wolt's success was, "We didn't do anything new. We just do everything really, really well." Everything around the customer experience is just so smooth and so easy. To be fair, I have nothing to do with that, and it's all about the great execution of Wolt's founders in Finland and the founding team of Israel's operation.

Going back to retail, we said we want to go into more than restaurants. But it's going to take time and we want to be ready for it. Not in 2020. But Covid-19 just made us do it. We thought retail should have a completely different user experience. But we were shocked by how successful our existing experience was and how much people responded to it. We ran surveys to see how satisfied customers were. We were saying, "This isn't good enough. This should be better." But people were happy. We started here in Israel, and it very quickly expanded around Wolt.

Now it's in all 23 markets. We have over 2,500 retail partners from grocery, to florists, to bakeries, to alcohol stores, butcher shops and more. We just launched a few gift shops in Israel. We want to help stores of any kind be available and get access to a lot of customers and also allow customers to get whatever they want in a click of a button.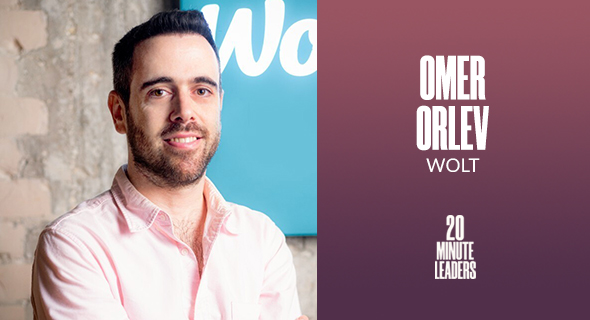 Omer Orlev, director of retail sales and growth, Wolt. Photo: Wolt
I can feel how it's going to change my perspective on shopping. If I could order this one pair of jeans and have it delivered to me, then I'm a whole new type of customer that's getting introduced, not to just Wolt, but to the whole world.
What you're saying makes total sense. But it also tells the story of how big retail is and how complex it is. We will get to clothes at some point. But everything around the return process, for instance, is very complicated and requires heavy adjustments to the operation.
Talking about customer behavior, let's take butcher and fish shops as an example. Usually, if you want to have a barbecue, you need to prepare in advance. I'm thinking, Not anymore. You just push some buttons and in 20 minutes, you get whatever you need. We want Wolt to create that mindset for everyone and turn it to a reality. So you don't need to plan almost anything. Another example is supermarkets. Instead of doing one big purchase, you buy what you need when you need it. That's the consumer behavior that we want to generate, and we're starting to see it happening.
It's such an interesting position to be in to hypothesize how your product is going to completely change the way every player in the market will operate.
Again, you're on par. We already have three, four retail businesses that are warehouses that were opened just for us. We're seeing more and more of this. In a way, it's like the merchants and the partners, they're more advanced than we are. They would say, "Guys, you don't understand what you have here and how strong your platform can be." At the end of the day, everything comes down to our ability to get people what they want when they want it. There's so many layers to build on top of that capability. For instance, FMCG companies and brands Like Unilever or Coca-Cola who want to get closer to the consumer can use Wolt for so many things. Every day my head is exploding with new ideas and new opportunities, and I wish to work more hours in the day to get to them.
I also want to pick your brain about the onboarding. How is the reception from retailers?
It varies so much. Restaurants, whether they did deliveries or not, they know the game. They would even know us. But for retailers, we've had discussions where they didn't know us, which was a new thing. Then there are a lot of players that already have their e-commerce solution, but for four-day delivery, so they might think they don't need a solution like ours. But on-demand delivery It's just a completely different thing. There's these super small merchants that are really hungry and are happy to join. Bigger ones, it's a lot more difficult. Looking at those two partners, like Paz and Be Pharm, their leaders were so amazing and they understood that during Covid-19, people are going to need these things now, so we moved very fast. To be fair, most of our cooperations with these kinds of partners take many months to sign, which is another capability that we have to develop, moving from selling only to small businesses to huge businesses as well.
I feel that I'm already adopting this behavior. For these 25 shekels, or $5 or $6, why would I make this hour-long trip to the store if I know exactly what I want?
I fully agree, and that's where we come in. By the way, Wolt's delivery is a lot cheaper, the base price is 10 shekels in Israel. Paying 25-30 shekels for a delivery, for a lot of people that's not worth it. But there is a growing layer of people that say, "I would pay 25 shekels to save an hour." It's not even a thought process. You see customers that order from five different places each Friday morning. It costs them maybe $15 on delivery. But they save three hours, and they're super happy with it.
Another thing is discovery. Say I want to buy a gift. Okay. I Go to Wolt gifts → see 30 options, three clicks, and it's there. That's another thing that we're really working on and starting to see more of.
Time for three fun questions. Favorite subject in school, K-12?
Bible. I had the best teacher ever. She taught me a lot as a person.
One of your role models?
I guess it's the biggest cliche, but my dad. He worked really hard, but he also gave us everything. That balance for me is amazing: being able to work that hard and succeed so much, but also giving your family the sentiment that you're always there for them and supporting them with anything.
Three words you would use to describe yourself?
Versatile, obsessive, and humorous.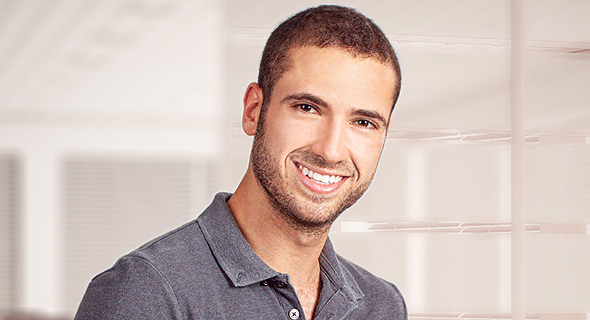 Michael Matias. Photo: PR
Michael Matias, Forbes 30 Under 30, is the author of Age is Only an Int: Lessons I Learned as a Young Entrepreneur. He studies Artificial Intelligence at Stanford University, while working as a software engineer at Hippo Insurance and as a Senior Associate at J-Ventures. Matias previously served as an officer in the 8200 unit. 20MinuteLeaders is a tech entrepreneurship interview series featuring one-on-one interviews with fascinating founders, innovators and thought leaders sharing their journeys and experiences.
Contributing editors: Michael Matias, Amanda Katz