JoyTunes joins unicorn club with $50 million round led by Google's investment arm
The Israeli startup's revenue in 2020 surged to around $100 million, although the company is still believed to not be profitable. Once that happens, JoyTunes is set to target a Wall Street IPO at a valuation far higher than $1 billion
Music education startup JoyTunes has completed a $50 million funding round at a $1 billion valuation led by GV (formerly Google Ventures) and with participation by Qualcomm, Calcalist has learned. GV invested $25 million in the round, which also included the company's existing investors. JoyTunes had previously raised $43 million in three funding rounds.

The Israeli startup's previous round was at the end of 2019 for $25 million led by Tel Aviv-based venture capital firm Qumra Capital with participation from existing investor New York-based venture capital and private equity firm Insight Partners.

Calcalist also learned that JoyTunes' revenue in 2020 surged to around $100 million, although the company is still believed to not be profitable. Once that happens, JoyTunes is set to target a Wall Street IPO at a far higher valuation.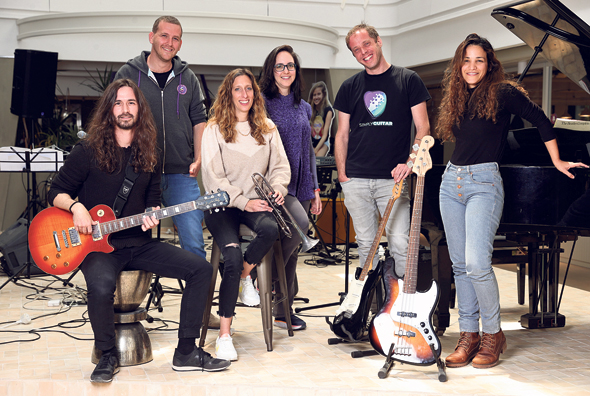 JoyTunes team. Photo: Avigail Uzi

The 150% increase in revenue compared to 2019 is largely attributed to the Covid-19 pandemic and the lengthy lockdowns that left many teenagers and adults searching for online activities. Downloads surged in countries as soon as they entered lockdown, and even though much of the world is beginning to return back to normal, the pandemic has changed consumer habits for good, helping applications like JoyTunes build on the momentum.

The company's apps, Simply Piano and Simply Guitar, help novices learn to play an instrument using AI and algorithms. They have had 10 million downloads worldwide and 1 million songs played every week since the start of the pandemic. Simply Piano is used by hundreds and thousands of students around the world, listed as one of Apple's 'Editor's Choice' in its App Store, and voted Best App in Google Play. Its Facebook group, where users can upload and share videos of their progress, has a community of more than 150,000 users with videos racking up thousands of views and reactions.

JoyTunes was recently ranked in fourth place in Calcalist's most promising startups for 2021. The company currently employs 100 people, all of them in Israel.

JoyTunes was founded in 2011 by Yigal Kaminka, and Roey Izkovsky, and Yuval Kaminka who serve as the company's CTO and CEO, respectively. Its technology uses sound recognition technology and AI to develop educational apps for music lovers around the world. Its piano teacher app, Piano Maestro, is used by 10% of American piano teachers.