230 new millionaires to be born thanks to ironSource SPAC merger
The Israeli company's merger with a Thoma Bravo-backed SPAC next week at an $11 billion valuation will provide life-altering fortune to hundreds of its employees
The merger between Tel Aviv-based web and mobile monetization company ironSource and a Thoma Bravo-backed SPAC next week, at a company valuation of $11 billion, is set to create an unprecedented 230 new millionaires in a single company, Calcalist has learned. The massive number of new millionaires is based on the number of options different company employees hold and the valuation at which ironSource is going public.

Viola Ventures was the first fund to invest in ironSource, with its $20 million investment in 2012 resulting in a $1 billion return, including dividends withdrawn from the company over the years. Viola Ventures has invested in 11 of Israel's 60 unicorns, with a third of those companies reaching a $1 billion valuation only this year.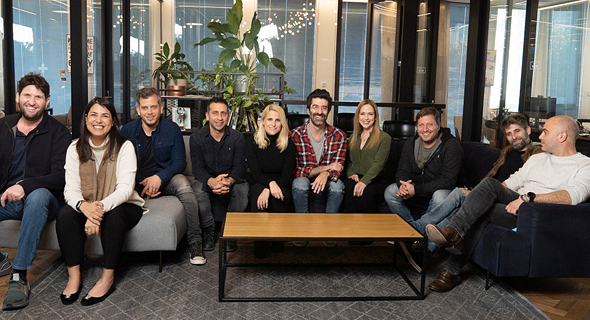 ironSource executives. Photo: Adam Primer

ironSource will raise $2.3 billion through the merger, with an additional $1.5 billion to be used to purchase secondary options. ironSource executives have stressed that all 850 employees, 650 of whom live in Israel, possess options.

Additional investors in ironSource include Tal Barnoach's Disruptive VC, 83North, Leumi Partners, businessmen Haim Saban and Len Blavatnik, advertising leaders Reuven Adler and Eyal Chomski, and Clal Industries. According to the company, none of the previous backers is set to actualize their entire stake, rather they will actualize their portion and retain their relative share (pro-rata).

ironSource was founded in 2011 by Tomer Bar-Zeev, brothers Itay, Roi and Eyal Milrad, Tamir Carmi, Arnon Harish, Netanel Shadmi, and Omer Kaplan. Bar-Zeev still serves as its CEO and the rest of the founders remain on as senior executives. Orlando Bravo, the founder and managing partner of Thoma Bravo, will join ironSource's Board of Directors.

ironSource recorded total revenue of $119.7 million in the first three months of 2021, up 96% year-over-year, with an adjusted EBITDA of $39.5 million.

In 2020, ironSource grew revenue 83% year-over-year to $332 million, with an adjusted EBITDA of $104 million. The company serves over 2.3 billion monthly active users across its global customer base.

Only two years ago, CVC acquired a 25.7% stake in the company for what was then a whopping $450 million, which saw the company's founders and many of its longest-serving employees get their first taste of several millions of dollars. That deal reflected a company valuation of $1.75 billion, meaning its value has multiplied six-fold since.