Fintech company Lendbuzz announces $60 million Series C and $300 million in debt financing
The AI-based auto finance platform helps individuals currently underserved by the traditional credit system to purchase a car
Lendbuzz, an AI-based auto finance platform, announced on Wednesday a $60 million Series C funding round led by Wellington Management, joined by Goldman Sachs & Co and MUFG Innovation Partners, and $300 million in debt financing led by Goldman Sachs Bank USA. The equity funding round was also joined by existing investors including 83North, Eyal Ofer's O.G. Tech, Arkin Communications, Mivtach Shamir and Highsage Ventures. Viola Credit joined the debt financing.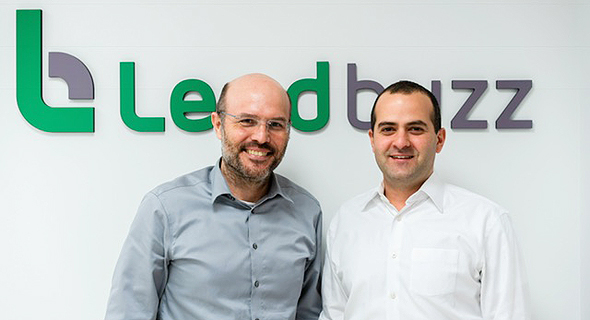 Lendbuzz co-founder Dan Raviv (left) and Amitay Kalmar

The new growth capital will support the company's fast expansion, and allow Lendbuzz to further its mission of helping individuals currently underserved by the traditional credit system. The company, which partners with auto dealerships, offers an end-to-end loan origination and servicing platform that fits into dealers' existing F&I workflows and enables a seamless, digital experience for buyers.

The company had previously raised $45 million in equity and $350 million in debt, taking total investments to date to $105 million in equity and $650 million in debt.

Lendbuzz, which operates in the U.S., was co-founded by Israelis Amitay Kalmar and Dan Raviv, and set up an R&D center in Israel this year that is set to employ 20 workers by the end of 2021.

"We have an annual revenue rate of $50 million, we provide $400 million in loans to purchase cars every year and we are profitable," CEO Kalmar told Calcalist. "Thanks to our profitability that is growing we could raise money at a timing and with conditions that are good for us. Our main focus is foreigners living in the U.S. and we currently serve a segment of 45 million people who don't have a credit history."

Regarding the R&D center set up in the city of Petah Tikva this year, Kalmar said: "We are two Israelis whose company's headquarters are in Boston, but it was important for us to set up an R&D center in Israel. We believe that the human capital in the country is of the highest level so we are using our experience with the local market to open up a significant development center."

The company grew its loan origination run rate more than 200% year-over-year in the first half of 2021 and continues its rapid geographic expansion within the U.S. to serve more auto dealerships and consumers. The company doubled its headcount in the past year to more than 100 employees and is continuing to recruit.

Lendbuzz's underwriting model - powered by machine learning and proprietary algorithms - allows it to better assess the risk of creditworthy consumers who are underserved by traditional banks. Compared to legacy underwriting systems that are based on FICO scoring and often utilize just a handful of data points, Lendbuzz analyzes thousands of data points - from transaction and spending patterns to education and employment history - to better and more fairly evaluate applicants.