Hailo to become newest Israeli unicorn with $110 million Series C
The Israeli AI chipmaker isn't planning any additional rounds before it goes public, aiming to reach Nasdaq over the coming year at a valuation of $1.5-$2 billion
Hailo, an Israeli AI chipmaker for edge devices, is in the process of completing a $110 million Series C funding round at a valuation of $1.1 billion, making it the latest Israeli company to join the unicorn list.

Among the new investors to participate in the round are Asi Shmeltzer, Chairman of Shlomo Holdings, Rakefet Russak-Aminoach, former president and CEO of Bank Leumi, who is currently part of the fintech fund of Israeli cybersecurity think tank and startup foundry Team8, and Israeli billionaire Idan Ofer.

Hailo isn't planning any additional rounds before it goes public, aiming to reach Nasdaq over the coming year at a valuation of $1.5-$2 billion.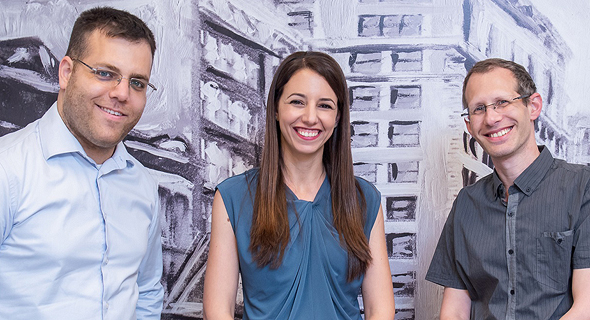 Hailo's founders Orr Danon, Hadar Zeitlin, and Avi Baum. Photo: Eran Tayree

The Tel Aviv-based company raised $60 million in a Series B investment round back in March of last year. The round was led by Jerusalem-headquartered equity crowdfunding platform OurCrowd, Israeli entrepreneur Zohar Zisapel, and Israeli car importer Delek Motors. The round was participated by strategic investors including Switzerland-based ABB Technology Ventures, NEC Corporation, and London-based Latitude Ventures. Existing investors such as Maniv Mobility and Next Gear Management Ltd. also participated. That investment brought Hailo's total funding to $88 million.

Founded in 2017 by CEO Orr Danon alongside Hadar Zeitlin and Avi Baum, who serve as CBO and CTO respectively, Hailo develops microprocessing chips for artificial intelligence applications on edge devices used in autonomous cars, unmanned aerial vehicles (UAV), internet of things (IoT) devices, and smart home appliances.

Hailo was recently selected as the winner of the 2021 Edge AI and Vision Product of the Year Awards for 'Best Edge AI Processor'. The awards recognize Hailo-8, the AI processor for edge devices, and the chipmaker who is helping enable practical visual AI and computer vision.

Hailo's Hailo-8 AI processor features up to 26 Tera Operations Per Second (TOPS), and is built with an architecture that helps edge devices run deep learning applications that could previously only run via a cloud. This means that devices can operate with more privacy (since there is no departure of information from the device) while still running with higher performance and minimal latency.

Hailo has collaborated this year with three different companies to deliver EdgeTuring, a next-generation AI processing solution for video analytics. The collaboration includes Amazon Web Services, one of the world's most adopted cloud platforms; Leopard Imaging, a provider of embedded camera design and manufacturing; and Socionext, a provider of system-on-chip (SoC) solutions for image and video systems.

EdgeTuring will combine the expertise from each entity to help produce high quality and high energy efficiency for AI inference nodes, which will help benefit a variety of applications in smart retail, smart devices, industrial automation, and more.