Innovid announces $1.3 billion SPAC merger with ION Acquisition
The Israeli company is set to raise approximately $403 million including proceeds from ION Acquisition Corp 2 and $150 million in PIPE financing
Israeli-founded video advertising company Innovid announced on Thursday that it has entered into a definitive merger agreement with ION Acquisition Corp. 2 Ltd to go public via a SPAC merger at a valuation of $1.3 billion.

The combined company will operate under the Innovid name and will trade on a U.S. national exchange. The transaction is expected to close in Q4 of 2021.

Innovid is set to raise approximately $403 million including proceeds from ION Acquisition Corp 2 and $150 million in PIPE financing from Fidelity Management and Research Company LLC, Baron Capital Group, funds associated with ION, and others.

Earlier this year, ION's first SPAC offering merged with Israeli digital advertising platform Taboola. ION Acquisition Corp 1 Ltd. raised $259 million in its initial public offering on NYSE last October. ION's second SPAC, traded under the symbol of "IACB", raised $253 million in February of this year.

ION Acquisition, led by co-CEOs Gilad Shany and Avrom Gilbert, and Chairman Jonathan Kolber, is also still seeking a company to merge with its third SPAC, listed on the New York Stock Exchange two months ago.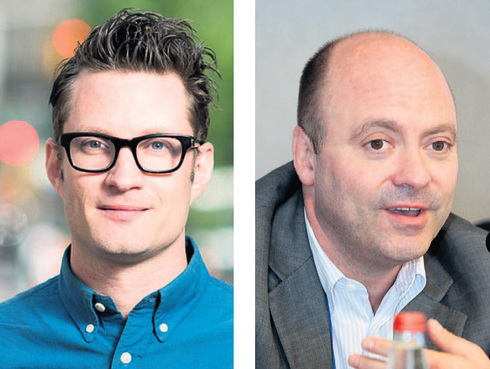 ION Acqusition Chairman Jonathan Kolber (right) and Innovid CTO Tal Chalozin. Photo: David Paxton and Nimrod Glickman
Innovid was founded in 2007 by Zvika Netter (CEO), Tal Chalozin (CTO), and Zack Zigdon (MD International). Innovid partners with brands and ad agencies to deliver videos to connected TVs, mobile devices, and social platforms. The company lists Fox, Samsung, and Hulu among its customers. Innovid employs approximately 220 people, 75 in Israel and the rest in India, Los Angeles, San Francisco, Chicago, Detroit, London, and Sydney. The company has raised more than $82.5 million to date. In its most recent funding round in January of 2019, it received $30 million from Goldman Sachs. Later that year it acquired Buenos Aires, Argentina-based marketing company Herolens Group LLC for a sum believed to be $30 million. Herolens' 40 employees were integrated into Innovid, and the company's offices remained in Buenos Aires, along with its offices in Colombia and Mexico.
"Innovid is entering an exciting new chapter of growth as a public company, a major milestone that corresponds with rising adoption and demands for streaming television," said Zvika Netter, Co-Founder and CEO at Innovid. "The rapid shift of viewership from linear TV to streaming has driven marketers to make CTV a strategic investment focus. Our technology was purpose-built for TV which has allowed us to win in the marketplace and contributed to our rapid growth to date.
"As a public company, we expect that we will be able to build on our leading market position, accelerate the growth of our business, and remain the independent platform trusted by the world's largest TV advertisers. We are proud to have built an independent and neutral software platform to allow advertisers to create, deliver and measure digital TV ads and aim to continue to provide the industry a market leading and transparent offering independent of the large technology walled-garden players who dominate many other parts of the digital world."
Gilad Shany, CEO of ION said, "We believe Innovid has built an exceptional platform for digital TV advertisers to assist them as they transition $200 billion of TV advertising budgets to the world of digital TV. We are excited to partner in bringing Innovid to the public markets to provide the appropriate capital structure and shareholder base to enable Innovid to lead this market as an independent company. We were looking to merge with an exceptional company with roots in the Israeli hi-tech ecosystem and Innovid's incredible achievements speak for themselves. The combination of long-term partnerships built by the company throughout the CTV and OTT industry, their strong relationships with the largest TV advertisers in the world, unique ad serving technology and focus on a usage-based software business model, allows Innovid to provide significant value to the digital TV advertising ecosystem while also achieving attractive unit economics as the company grows. With many years of growth ahead as users continue the shift from linear to digital TV, we look forward to joining Zvika and the team for an exciting journey and incredible business opportunities."