Fintech startup riseup partners with the city of Bat Yam to improve residents economic welfare
Throughout the summer, riseup will provide a variety of lectures to residents, including on how to control summer expenses and on those bills we generally ignore, such as insurance and commission
Fintech startup riseup and the municipality of Bat Yam announced an unprecedented collaboration this month to enable the city's residents to improve their financial stability with greater awareness and control over their monthly cash flow. It is the first time a local municipality in Israel is partnering with a fintech startup to provide greater services to its residents.

A special launch event was hosted at the Bat Yam city hall on Wednesday, where the service was presented to residents along with lectures on economic growth and financial stability. The speakers included Zvika Brut, Bat Yam's Mayor and Yuval Samet, Co-Founder and CEO of riseup.

Numerous yellow banners were raised in what turned out to be an enjoyable night about the most stressful of topics: money.

Throughout the summer, riseup will provide a variety of lectures to residents, including on how to control summer expenses and on those bills we generally ignore, such as insurance and commission. There will also be a meetup for women only.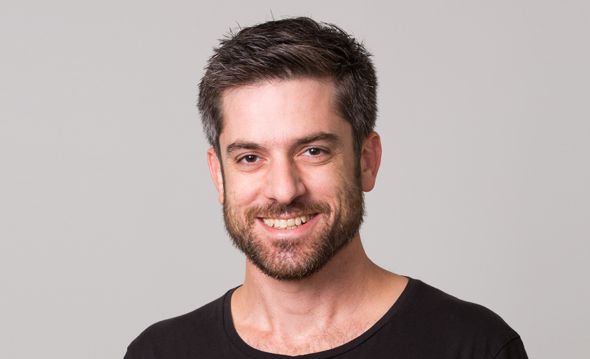 Yuval Samet, Co-Founder and CEO of riseup. Photo: Dor Einav

riseup is a daily cash-management tool that you can chat with on WhatsApp. The AI-based system aggregates and analyzes a person's financial data to provide simple insights to users about their spending.

"We wanted to create a very simple way to think about your predicted income and predicted expenses throughout the month," says Yuval Samet. "In Israel there is a bias to pay in installments, to consume bad financial products, and accumulate debt."

Along with two co-founders, Tamara Harel-Cohen and Iftach Bar, Samet set out to change this and create a financial consumer revolution in 2017 after returning back to Israel from Stockholm, Sweden, where he was working at Klarna, Europe's highest valued fintech company.

"We invented a new single metric," he says, "a new way to think about your money. It's just like Fitbit, where walking 10,000 steps a day makes you healthy. We call ours: 'how much money you have until the end of the week.' "

riseup notifies users through WhatsApp nudges how much discretionary spending cash they have left until the end of the week after accounting for projected income and expenses.

"So it becomes extremely easy to know how much money you actually have, and make decisions based on that," says Samet.

The connection between financial scarcity and the level of brain acuity required to make informed decisions is well-established. In 2017, researchers found that even just thinking about an expensive car repair bill for lower-income individuals sapped attention, impeded cognitive ability, and inhibited decision-making ability.

"When you live in financial scarcity, you feel that you lack a significant resource that you really want and need," says Samet. "It's a psychological situation that makes you act in a survival mode as if a bear is chasing you down the forest. We wanted to change that, to help people reach an 'abundance' state of mind."

Instead of advising users on how to increase income or lower expenses, Riseup meets people where they are to improve money management.

"What we discovered is that if you manage to make ends meet using our product, using that single metric, your self-efficacy is built up which enables you to do things that you may not have not even imagined you could do on your own," says Samet.

"riseup has literally moved people out of overdraft and into economic self sustainability," said Michael Eisenberg, equal partner at Aleph and riseup investor, at a lecture at the Friedberg Economics Institute in 2018. "It's like a miracle."

riseup features three components: tech, human support, and community. First, riseup provides a single number with the amount of discretionary, non-essential, "ice cream" type cash a person has left to spend that month. A web-app is also provided for users to drill down into their unique financial situation. Second, riseup has a team of experts to provide financial advice and consultations to users that prefer to supplement the Whatsapp-bot with human conversations. Third, riseup provides a Facebook group, called "to be together on this," translated, to create an open space for people to share and learn from others' financial successes and struggles.

After a 30-day free trial, riseup's service will be provided at a discount to Bat Yam's residents. In addition, riseup experts will offer courses and webinars to residents, advising on how to take control of one's financial situation. A Facebook group has also been established for local residents where people can share and receive tips about their financial situations.

riseup is also partnering with banks such as Discount Bank and Leumi. "We have a complicated relationship with the banks," says Samet. "In the last few years, the banks have worked to build an open API that allows companies like ours to connect data to our service in a governed, secure way."

However, an essential law is now stuck in the government and Samet has been frequently visiting the Knesset recently to lobby on its behalf.

Several years ago, the Bank of Israel decided that consumers' financial data is the property of the consumer, not the financial institution, a landmark decision that is paving the way for fintech innovation.

Open banking reform in Israel is the ongoing movement to break the decades-long oligopoly in the Israeli banking system and scale back entrenched regulation to increase market competition and open up space for financial innovation.

Earlier this year, Prof. Amnon Shashua announced the opening of the First Digital Bank, Israel's first new bank in more than 40 years.

riseup counts more than 2,000 paid customers. During Covid-19, the company made its service free-for-life for new customers.

riseup counts Michael Eisenberg, Sir Ronald Cohen, and Jeff Schwartz among its investors.

"I believe that lack of proficiency in personal finance leads to inequality," says Samet. "And this is what we want to change in Israeli society and then in the world - that the zip code you're born into will not dictate the type of life you'll have in the future.

Samet grew up in Petach Tikva in a modest home. "My heart beats social mobility. This is a personal story," he says.

Andrew Jacobson is a CTech guest writer. He is an associate on KPMG's M&A team in Tel Aviv. He made Aliyah from Boston in Sep. 2020 after graduating from Brandeis University.