Study: Genetic characteristics in embryos can be identified by non-invasive AI analysis
Israeli startup AiVF claims its technology "can automatically and reliably determine an embryo's ploidy status i.e, whether it is genetically suitable"
A study conducted by Israeli startup AiVF claims that genetic characteristics in embryos can be extracted using AI-based computer vision technologies. The study, presented this week at the annual European Society of Human Reproduction and Embryology conference, was completed by researchers at AiVF, which specializes in AI technology for digitizing IVF (In Vitro Fertilization) clinics, together with researchers led by Dr. Marcos Meseguer from the IVIRMA clinic in Valencia, Spain.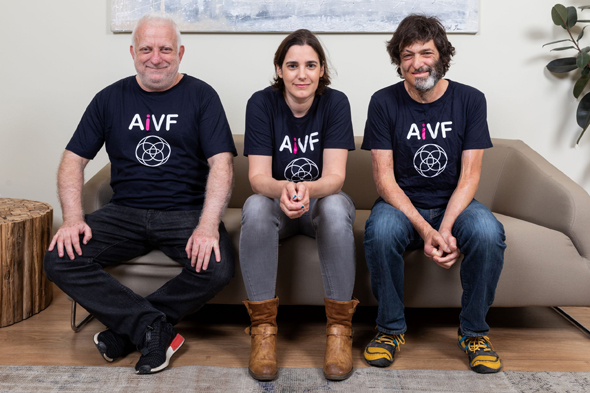 AiVF's leading team Daniel Seidman (left) Daniella Gilboa and Dan Ariely Photo: Eyal Toueg

Daniella Gilboa, CEO, and co-founder of AiVF said "this breakthrough scientific research concluded that AiVF's EMA platform can automatically and reliably determine an embryo's ploidy status i.e, whether it is genetically suitable, without the need for an invasive biopsy or spent media analysis. A truly contactless PGT-A."

Today, physicians or embryologists often test the genetic makeup of the embryo through an invasive process called PGT-A, which tests for the embryos' genetic status to help identify the best candidates for transfer and improve a patient's chance of a successful pregnancy. PGT-A is done by biopsying each embryo, a process that could be time-consuming and challenging micromanipulation that may damage the embryos and prevent them from successfully implanting in the uterus.

The recent study tested the effectiveness of EMA, AiVF's multi-module integrated platform, which combines AI, computer vision, and big data. According to the study, EMATM detected significant differences between aneuploid and euploid embryos during the first five days of embryonic development. Aneuploid embryos were significantly more likely to reach each specific embryo developmental event later than euploid embryos and the time gaps between developmental milestones were also statistically longer in aneuploid embryos.

"These results," Meseguer said, "take several days to produce because of the genetic analysis, which forces patients to freeze all their embryos and delay their infertility treatment." AiVF co-founder Prof. Daniel Seidman, who also participated in the study, said that "the AI-based method presented here for the first time will totally revolutionize the way IVF is performed worldwide by offering an objective and accurate way to improve live birth rates."

The study marks an additional achievement for AiVF, which announced in April that its system has received the CE Mark, paving the way for use of the platform at clinics across Europe. AiVF, which was founded in 2018, currently has the largest database of embryo images and correlating patient data in the world. The company is still in the process of receiving FDA approval.