Outbrain next up as Israeli tech companies continue Wall Street onslaught
The Israeli internet recommendation company submitted a pre-IPO prospectus, showing 29% growth and a $10.7 million profit in the first quarter of 2021
The ongoing wave of Wall Street IPOs by Israeli technology companies is showing no signs of slowing down. Internet recommendation company Outbrain looks to be next in line, submitting on Tuesday a prospectus for its first Nasdaq offering.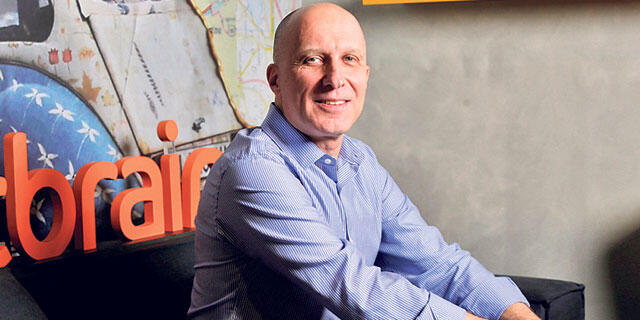 David Kostman Outbrain Co-CEO Photo: Amit Shaal

It seems fitting that Outbrain's prospectus is published the same day its longtime rival and once potential merger partner, Taboola, begins to trade in New York. Following the cancellation of the merger between the two, which was supposed to take place at a value of $2 billion for the merged company, Taboola turned to the SPAC route and completed its offering this week at a value of $2.6 billion. Outbrain will be going through the traditional IPO track at an estimated value similar to that of Taboola, around $2-2.5 billion.

Taboola begins its New York trading Wednesday, following in the footsteps of Payoneer and ironSource, which went through their public offerings this week at a value of $3.3 billion and $11 billion, respectively. Overnight, cyber company SentinelOne also completed its first offering and became Wall Street's largest-ever cyber IPO. The company even surpassed expectations raising $1.2 billion at a value of $9 billion.

Outbrain's prospectus does not reveal the fundraising scope or the company's valuation, but it does shed light on the company's performance. Outbrain, which like Taboola, specializes in reading recommendations on content websites, grew at a rate of 29% in the first quarter of 2021 and posted revenue of $228 million.

Unlike most Israeli companies currently traded in New York, Outbrain posted a bottom-line profit of $10.7 million in 2021's first quarter. In the same quarter in 2020, Outbrain posted revenue of $177.3 million and lost $9.5 million. The company showed cash balances of $95 million as of the end of the first quarter of 2021.

Outbrain ended 2020 with revenue of $767.1 million, and a relatively moderate growth rate of 11% as a result of the slowdown in the first half of the year due to the coronavirus outbreak. However, it showed an operating profit of $10 million for the first time, compared to a loss of $4.5 million in 2019. Ultimately, Outbrain posted a net profit of $4.4 million compared to a loss of $20.5 million the previous year.

Outbrain was founded by brothers Yaron and Eytan Galai. Yaron Galai serves as co-CEO with David Kostman (who is also NICE chairman - SSH). Before the IPO, he was appointed chairman of the company. Ori Lahav serves as VP of technology.

Outbrain currently employs about 1,000 people and among its major shareholders are VC funds Viola with 14% of the shares, Lightspeed with 13.9% and Gemini with 10.8%. Yaron Galai holds 7.8% of the shares, while Lahav has a 1.9% holding. Outbrain's offering is led by investment banks Citi, Jeffries, Barclays, and Evercore. The stock will be traded under the symbol OB.