What I Learned
Three lessons I learned from Taboola's IPO
Chemi Peres, Managing Partner and Co-Founder of Pitango and an investor in Taboola, tells CTech about the company's 14-year journey from a dream to Wall Street
My journey with Taboola began in 2009. A young entrepreneur named Adam Singolda came to my office and, as many Israeli first-time founders do, presented me with a dream— he was going to build the world's first reverse search engine— instead of people sourcing information, he explained to me, information would source us. But, again, like many Israeli first-time founders, Adam still had a lot of work to do around the vision of the company. So, we decided to stay in touch.
Six months later, we met again. The vision was clearer now, but there was still quite a bit of refining left to do on the business model.
Adam and I met a third time, thanks to Zvi Limon who told me "now's the time." it was apparent to both Adam and me that things were different. As they say, "third time's the charm," and at the end of that meeting Pitango was on the cap table. I'd also like to give a special thanks to Ohad Finkelstein, Erez Shachar, Eyal Gura, for welcoming me to the Board, and to Ran Harnevo whose keen eye for talent and words of wisdom helped me seal my decision.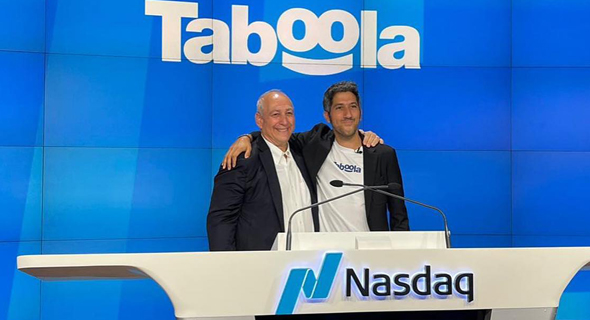 Chemi Peres (left) and Taboola CEO Adam Singolda. Photo: Taboola
Since joining the Taboola journey in 2012, I've had the honor and privilege of witnessing the company grow exponentially, expand internationally, acquire companies to catapult growth (including a fellow Pitango portfolio company, ConvertMedia), sign an LOI to acquire its largest competitor, and, decide just one year later to go in a completely different route— after generating over $1B in gross revenue last year, Taboola is now going public on Nasdaq as "TBLA"!
As I reflect on this 14-year journey, here are the 3 main lessons that I believe we can all learn from Adam and Taboola's story.
1. Dare to dream: Adam started Taboola fresh out of his service in an elite intelligence unit in the IDF. The idea to build a reverse search-engine came to him as he was watching TV on his parents' couch, and from then on there was no stopping him. Adam and the management team built Taboola as an execution powerhouse where cross-functional teams work together to get missions done and a customer-centric lens serves to drive up revenues on both ends.
2. Leadership makes all the difference: Adam is the ultimate dreamer, his vision soaring high into the stratosphere. He's a natural "people-person" with rare empathetic qualities that allow him to connect people and keep them close. The biggest compliment one can pay Eldad Maniv, President & COO, is calling him "data-obsessed", which should come as no surprise given that he's a physicist whose office sign reads "In God we trust, all others must bring data." The third part of this trifecta is Lior Golan, CTO, a true Renaissance man, with a gift for translating the company's vision into state of the art product. Together, Adam, Eldad, and Lior continue to outperform all odds and precedent.
3. Invest in a people-first culture: As Adam often says, "our competitors can copy anything but our culture." From its early days, Adam made "transparency" a main pillar of Taboola's company culture. A daily summary email goes out to every "Taboolar," all numbers disclosed. During COVID, quarterly all-hands became weekly touch points between Leadership and the entire global team. They launched a Diversity & Inclusion initiative, bolstered by employee resource groups such as TaboolHer, TaboolaPride, and TaboolBANE. When it comes to work-life-balance, Adam leads by example. Everyone who knows Adam surely knows that at 7:30 am he's taking little Oz to preschool and before he can go out to dinner with a client his baby daughter, Ellie, must be off in dream-land. The way Adam sees it, quality time with his parents, children, and wife, Victoria, not only keeps him grounded and happy, but also makes him a better version of himself, and thus, a better CEO for Taboola.
Yesterday, Taboola began trading on Nasdaq as 'TBLA', and we couldn't be more happy for Adam and the incredible Taboola team! The Open Web deserves a company that is exclusively focused on it, protecting it from the walled gardens, and unafraid to reimagine the limits of what could be. Congratulations to Adam, and thank you for letting me be part of your wild and wonderful dream.
Chemi Peres is the Managing Partner & Co-Founder of Pitango and an investor in Taboola