Appointments
Melio hires SBA leader from Obama administration as it targets America's 31 million small businesses
"I'm happy to join a team so committed to helping small businesses, an issue that is close to my heart," said Sarah Bard, who will head Melio communications after also previously serving as an adviser to Hillary Clinton and as the Director of Communications for Triventures Venture Capital Fund
Sarah Bard, a former senior official and Obama White House appointee at the U.S. Small Business Agency (SBA), has joined Israeli fintech startup Melio to lead their communications. Sarah joins the company as it continues to focus on its rapid growth in the U.S. market.

Melio, founded three years ago by entrepreneurs Matan Bar, Ziv Paz and Ilan Atias, developed a smart B2B online payment solution tailor-made for small businesses' needs. The free, simple, and secure solution was launched before the outbreak of Covid-19 and the realities of the pandemic accelerated digitization as it became more challenging to use checks. It also highlighted the critical role of cash flow in small business health.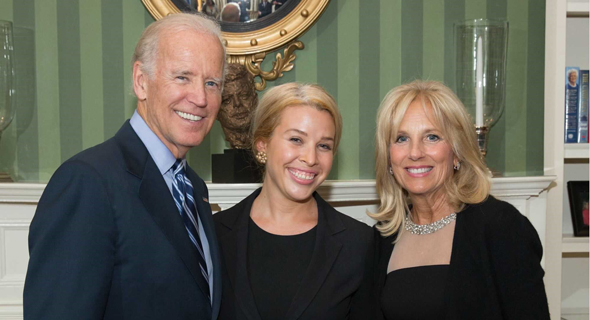 Sarah Bard (center) alongside U.S. President Joe Biden and his wife Jill Biden. Photo: The White House

Melio employs more than 300 people at its headquarters in New York and at its Tel Aviv R&D center in Israel and continues to recruit employees for product development and data.

"Sarah's deep understanding of the U.S. small business community and extensive communications experience will be a significant asset to Melio as we grow and serve this large market," said Melio CEO and co-founder Matan Bar.

The SBA focuses on encouraging small businesses and entrepreneurs in the United States. It assists the 31 million small businesses across the country in their growth by creating access to information and funding as well as helping to reduce bureaucratic and regulatory burdens. Sarah served as the SBA Assistant Administrator for Public Engagement and previously as the Director of Community Initiatives. Her work included helping small businesses access capital, counseling and resources. The SBA's government-guaranteed loan portfolio is more than $33 billion a year.

Bard previously served as an adviser to Hillary Clinton and was also responsible for fundraising in the election campaigns of former President Barack Obama. In Israel, Sarah served as the Director of Communications and Investor Relations for Triventures Venture Capital Fund, and also advised on international business development for the ARC Innovation Center at Sheba Medical Center.

"I'm happy to join a team so committed to helping small businesses, an issue that is close to my heart," said Bard. "Melio brings a deep commitment to its users, an exceptional team, and an organizational culture that feels like a big family."