Taboola CEO: "This was my first job and now I'm ringing the Nasdaq bell"
Adam Singolda said that despite going public in New York, Taboola's heart will remain in Israel. "I believe that we will continue to grow in Israel and are proud to invest in Israel. That isn't going to change."
"I'm super excited on a personal level. Taboola was my first job and now we are ringing the Nasdaq bell," Taboola founder and CEO Adam Singolda told Calcalist ahead of his company's first day of trading on Wall Street on Wednesday. "We brought with us our entire management team and our veteran employees. The thought that we are a public company that can survive forever is exciting to me."

The digital ad company, founded 13 years ago, closed down 2% in its first day of trading following its merger with ION Acquisition Corp. 1, a special acquisition corporation (SPAC), at a joint valuation of $2.6 billion. The transaction generated $526 million for Taboola, with the company shares now being traded on Nasdaq under the ticker "TBLA." The company reported revenue of $303 million and net income of $18.6 million for the first quarter of 2021.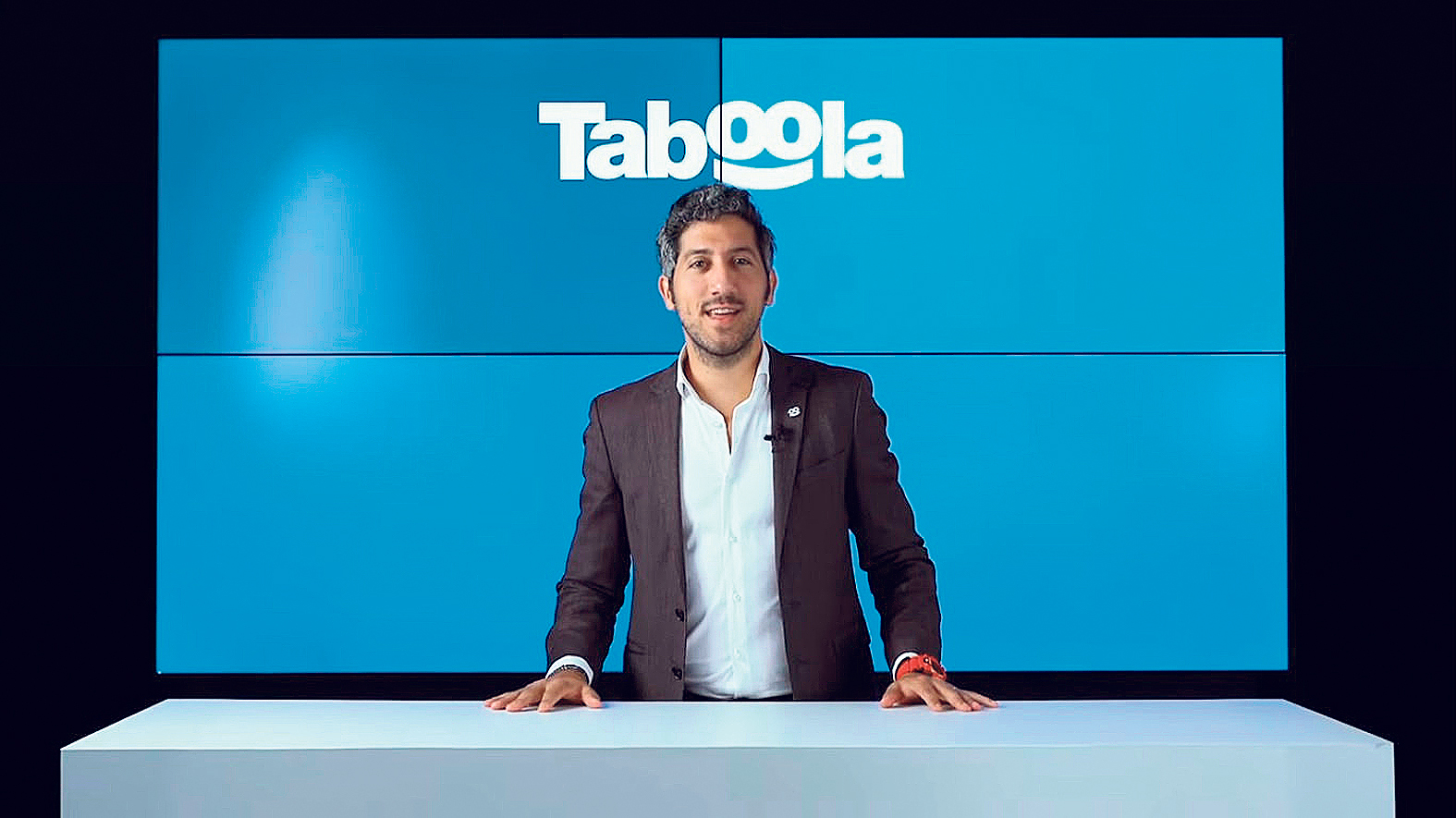 Taboola CEO Adam Singolda. Photo: YouTube

Despite the changes the company is set to undergo now that it is publicly traded, Singolda is still hoping to maintain its special spirit. "I've been operating as a public company for almost six months. I wrote my first letter to investors, we reported our results, and released guidelines, so I feel like we were already a public company," said Singolda. "We have been preparing for this moment for a long time. We will now have half a billion dollars in our account and that gives us a superpower."

Taboola's big rival and fellow Israeli company Outbrain surprisingly announced on Wednesday its intention to complete a Wall Street IPO. "I think both companies are good companies," said Singolda. "We had an opportunity to merge, but we ended up taking separate routes. This is a massive $60 billion market and we have only tapped $1 billion of it. $60 billion is just banners, but the future of the internet is platforms like Instagram and TikTok and not banners."

Singolda is aware that most digital advertising dollars go to the likes of Google, Facebook and Amazon, but is happy to be the alternative. "We have a lot to learn from Google and Facebook. They built very good technological products. My partners, both publishers and advertisers, want an alternative and it is our job to create that alternative. The world needs a company that is a win-win for the open internet and doesn't compete with it. There are behemoths in search, social and commerce, but there isn't any giant in the world of the open internet."

Singolda said that despite going public in New York, Taboola's heart will remain in Israel. "Israel is very important, it is the heart of the company. Our biggest office is here and I hope that we will have thousands of engineers working for us in our offices in Beer Sheva and Ramat Gan. I believe that we will continue to grow in Israel and are proud to invest in Israel. That isn't going to change," added Singolda.

Chemi Peres, Managing Partner and Co-Founder of Pitango, said "I twice met with Adam and didn't want to invest in the company because I felt it wasn't mature enough yet. The third time I met him in 2012, thanks to Zvi Limon, I invested in the company and joined the board."

Peres said he thinks there are three main lessons that helped the company become such a success story. "Adam started Taboola fresh out of his service in an elite intelligence unit in the IDF. The idea to build a reverse search-engine came to him as he was watching TV on his parents' couch, and from then on there was no stopping him. Adam and the management team built Taboola as an execution powerhouse. The second reason is that they had a cohesive and strong leadership team with Adam, Eldad Maniv (COO) and Lior Golan (CTO). The third reason is that this is a company which has a people's-first culture. The company was completely transparent to its employees from the start."

Erez Shachar, Managing Partner at Qumra Capital and Taboola's first institutional investor, first invested in the company in 2007 when he was at Evergreen Venture Partners. "We invested in the company in the Seed round and we are the company's biggest shareholders. I've been on their board for 15 years. I told Adam in 2007 that we would reach this day. Adam was convinced that he would succeed one day. His passion rubbed off on everyone and he is proof that the only important thing is the person you invest in. If the team is right, even should the business model change and the market moves, they will know how to adapt. Adam is the most extreme example. He was a person without any experience or professional background and he managed to build an execution powerhouse, and was also smart enough to bring onboard amazing people who built a model company."

Shachar wouldn't comment on the profit Evergreen will register from its seed investment in Taboola, but Calcalist has learned that it is set to register a 30x return. "I will stay on the board for at least a year after the public offering. I'm happy to stay on the board and it is important to me to help them make the transition as easy and simple as possible."