"If you want innovation you must support young entrepreneurs"
The second edition of Calcalist's Startup+ competition in collaboration with Poalim Hi-Tech is getting underway. Tomer Notkin, Poalim Hi-Tech Business Center Manager: "It is important to encourage early-stage companies"
The second edition of the Startup+ competition organized by Calcalist in collaboration with Poalim Hi-Tech is open for registration. The competition aims to support and propel early-stage startups on their way to growth.

The competition will see 20 selected startups take part in a unique entrepreneurship training program in cooperation with the Zell Entrepreneurship Program at IDC Herzliya. The five startups that will qualify for the final will appear in front of a committee of judges composed of investors from the leading funds in Israel.

The judges in this years event will be: Dov Moran, Managing Partner at Grove Ventures; Michal Drayman, Venture Partner at JVP; Yodfat Harel Buchris, Managing Director at Blumberg Capital; Roi Bar-Kat, Head of Intel Capital Israel; Tzahi Cohen, Head of Corporate Banking at Bank Hapoalim; Yael Elad, Operating Partner at Aleph VC; Assaf Wahrhaft, Partner at UpWest; Tami Bronner, Partner at Vertex Ventures; Gay Yaman, Founder and Managing Partner at TPY Capital; Jonathan Saacks, Managing Partner at F2 Venture Capital; and Adi Gozes, Venture Partner at Entrée Capital.
Startup+ judges: Assaf Wahrhaft (from right), Tami Bronner, Jonathan Saacks and Guy Yaman. Photo: Courtesy
Last year's competition was won by early-stage biotech company Matricelf, which is developing a platform for autologous matrix and cells implants for a wide range of medical conditions. The company, which was established in 2019 by Professor Tal Dvir of the Laboratory for Tissue Engineering and Regenerative Medicine from Tel Aviv University, has developed a novel regenerative medicine platform that aims to cure a range of medical conditions including Spinal Cord Injuries. Matricelf is planning to begin its first clinical trials towards the end of 2023.
"The research is progressing according to our plans and recently we moved into our own office and laboratory. We recently went public on the stock exchange and became a public company. We raised NIS 24 million, with demand being double of what we had aimed for. We eventually increased the offering to NIS 24 million, even though initially we were only targeting NIS 21 million," Matricelf CEO Asaf Toker told Calcalist. "Our next goal is to begin experiments on animals, scheduled for the beginning of 2022. The IPO didn't change the essence of the company and for us was just a means of funding. This visibility doesn't hurt us and it is a very important and comfortable way to fund biotech research which is very expensive. The exposure we achieved in the competition helped us a lot and played a role in the overall picture. Winning the competition is an affirmation we received from the judges who viewed us as the most interesting company."
The competition is open for technology-based startups in the pre-Seed and Seed stages, which have raised up to $5 million. The judging committee will assess the candidates according to their competitive advantage when it comes to innovation and technology, and their business potential in regard to their relevant market.
The winners will receive an attractive package of prizes, including: A money prize of tens of thousands of shekels, professional guidance from Poalim Hi-Tech, an advertising campaign on the Calcalist website, and one quarter's worth of rent at Mindspace.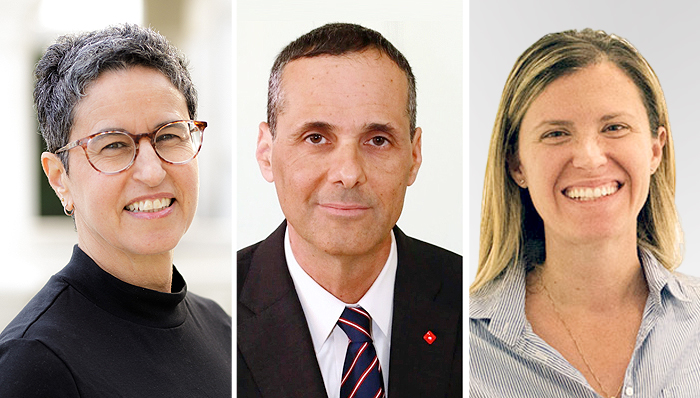 Startup+ judges Adi Gozes (from right), Tzahi Cohen and Yael Elad. Photo: Courtesy

In an interview with Calcalist, Tomer Notkin, Poalim Hi-Tech Business Center Manager, explained why the competition is focused on early-stage companies. "It is very important that there will be young companies that will continue what is happening today. We want to offer a set of tools of the highest level so that the young entrepreneurs will have all the capabilities to grow and deal with big companies. I'm not sure that at the moment everyone has an equal opportunity. The likes of Amazon have departments that can create innovation, as do many of the big Israeli tech companies who have capabilities in the software sector. The result is that there are fewer new companies being founded."

Are you concerned about the lack of new companies?

"We think that there is an opportunity to increase the integration of different people in the tech sector. We are seeing many funds investing bigger checks in fewer companies. Innovation always grows from the bottom and we need to make sure that young companies aren't being hurt by the giant companies. We need to ensure that a small entrepreneur will also receive mentoring, advising and any required support.

"We are seeing fewer new early-stage companies. This isn't a new process, but something that has been ongoing for years and has been accelerated by Covid. It is easy to support companies that have data and clear figures. It is far more difficult for entrepreneurs when they don't have figures and data. All of this results in the cycle of companies being disrupted and I want to help to prevent that. I want to see that programmers graduating from the Technion can found the company that they dreamed of and set up a unicorn, rather than just go and work for an existing company. Young entrepreneurs need mentoring on how to talk to investors, how to be focused, how to come up with a business model, to understand how a product works, how to manage growth and how to manage partnerships."
Tomer Notkin, Poalim Hi-Tech Business Center Manager. Photo: Courtesy

Do you see any diversity in the companies coming to you?

"We are seeing less deep tech and a lot of cloud solutions that are more about quick software solutions. We are seeing fewer funds operating in the deep tech world. We want to help as much as we can and keep an open mind on how the time to maturation can be shortened. We love companies that have slightly deeper technology, as well as companies that have new and competing technology."

How do you see the hi-tech credit market?

"The debt market for hi-tech companies has become very competitive. Even the big companies are raising funds with equity and there is a drop in demand for debt. The software world wants to save the debt for a rainy day, but companies are overflowing with cash and I assume they will only raise debt if they want to make acquisitions. There aren't that many finance managers that have taken companies public and worked in tech and it is very important to provide mentoring for companies so they know how to take debt at the right time and not when the company isn't ready for it. In many cases, companies that aren't deemed to be ready won't receive credit. Credit can be disastrous if it is used in the wrong way. If we are talking about an entrepreneur who already knows how to work and has clients, then it would be right to take debt at a ratio suited for the company's current and future income."

Registration for Startup+: calcalist.co.il/startuplus