Exclusive
AnyVision raises $235 million Series C led by SoftBank
The Series C is one of the largest ever funding rounds for an AI-based face recognition company and comes after it had previously raised a total of $115 million. AnyVision employs 240 people, half of them in Israel
Israeli AI-based face recognition startup AnyVision has completed a $235 million Series C funding round led by SoftBank and Eldridge Industries, Calcalist has learned. Multinational electronics company Robert Bosch GmbH, Qualcomm Ventures and California-based venture capital firm Lightspeed Management Company are all previous investors in the company. AnyVision had previously raised a total of $115 million.

The Series C is one of the largest ever funding rounds for an AI-based face recognition company, highlighting the growing importance of artificial intelligence in the tech market.

Founded in 2015 by Eylon Etshtein and Neil Robertson, AnyVision develops software for real-time face and object recognition in large crowds, using artificial intelligence algorithms. The company's technology can interface with cameras for security purposes, such as in airports and stadiums, or for commercial purposes, such as when used by retailers.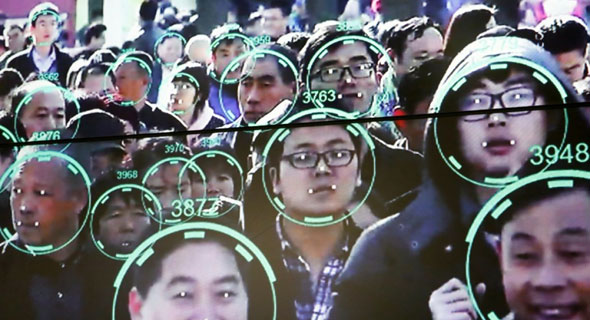 Facial recognition. Photo: Reuters

Avi Golan, who was appointed as CEO in October of last year, led the process with Softbank. The company employs 240 people, half of them in Israel.

After coming under increased pressure, AnyVision spun off its defense department into a joint company with defense electronics company Rafael Advanced Defense Systems last year.

That came after Microsoft's investment arm M12 announced in March of 2020 that it was divesting its stake in the company. M12 participated in the startup's $74 million Series A round in June 2019. The decision came about following various media reports about AnyVision's technology being used by Israeli forces to surveil Palestinians in the West Bank.

In November, Microsoft announced it had hired Covington & Burling and former U.S. Attorney General Eric Holder to look into whether the use of AnyVision's facial recognition technology met its ethical principles. The results of the investigation stated that "the available evidence demonstrated that AnyVision's technology has not previously and does not currently power a mass surveillance program in the West Bank that has been alleged in media reports. As such, Covington could not substantiate a breach of the Microsoft global finance portfolio company pledge on facial recognition."

However, despite the findings, M12 announced it would desist from making minority investments in companies that develop facial recognition technology, as they do not "allow the level of oversight or control that Microsoft exercises over the use of its own technology."