Tech unicorn parties reaching new levels of excess
Israeli high-tech companies are holding affluent parties featuring concerts by Israeli pop artists, cocktails, private excursions, and infinite gongs, just like those rung on the Nasdaq. This is what happens when the aggressive competition over high-tech workers meets unlimited funds from the wave of IPOs and massive funding rounds
Gong. It isn't merely the name of the Israeli artificial intelligence startup which recently raised $7.2 billion, but a highlight in the wave of initial public offering (IPO) parties hitting the local high-tech market. The ringing of the bells is meant to echo the moment a company goes public on the stock exchange, but this is recently under threat of going extinct, with the multitude of parties emptying the market of bells. "There are no more bells in Israel," reported Gili Orridge from Blend Events where nearly all of her customers are high-tech companies. "I went to southern Tel Aviv, and looked through every shop, and didn't find any." However, Orridge, who is determined to make dreams come true, didn't give up hope. For the party of cyber company SentinelOne, which went public last week at a $9 billion valuation, she ordered bells from abroad, and they arrived just in time.

The shortage of bells is simply an anecdote of the summer of 2021 for high-tech companies, where many have party budgets between NIS 300,000 to NIS 3 million ($92,000-$920,000). There are rumors that those figures even reach over NIS 10 million in some cases. "After the pandemic, I assumed that there would be some sort of a 'back to basic' trend, but in reality the opposite happened: fierce competition between high tech companies ensued," a prominent producer in the sector said.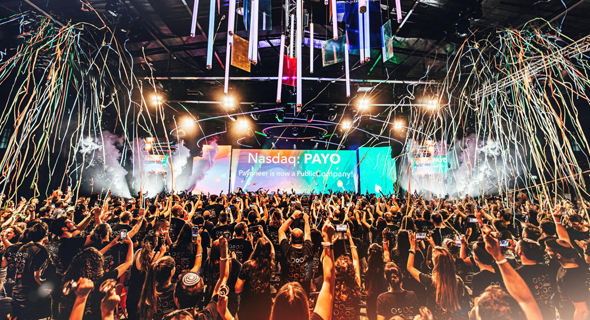 Payoneer's IPO party Photo: Eclipse Media

Competition isn't only at the superficial level, or regarding which company's party's plan is more creative, headline-grabbing, or whoever has managed to snag the hottest entertainment names such as Israeli pop stars Omer Adam, Noga Erez, and Ran Danker, or has the best catering. The 'care package' as it's coined in the high-tech industry, has become an essential weapon in the fight over raising funds and retaining employees.

The reasoning for "pampering because there's money," which has guided the industry until recently, has replaced an actual war: the high demand for workers has turned them into a rare resource that has become more expensive than ever before, and competition now requires companies to make massie investments.

Instagram exposed the extent of such extravagance at Monday.com's party (whose offering was valued at $6.8 billion) at a trendy Tel Aviv hall last month, which included a concert by Omer Adam (estimated at NIS 100,000 or some $30,500), catering featuring several stations with meats, alternative vegan options, and a salad bar as well as an open bar with a variety of drinks and cocktails.

SentinelOne's event titled the "Ring The Bell Celebration," in honor of the largest public offering of an Israeli cyber company ever, was highly documented on social media networks. Under the theme of "the coolest bar in New York," as the company's Employee Experience Lead, Lidor Baeloha, put it on a Facebook post, Tel Aviv's Peacock bar provided the alcohol, chef Michael Guriel headed the catering, and popular Israeli DJ Yair Green was responsible for the music. Alongside the livestream of the event from New York, employees were invited to snap a shot with a virtual backdrop of the company's billboard on Wall Street to feel a bit closer to the Nasdaq.

Taboola, which went public at a $2.6 billion valuation, held its celebration at the Ma'arava hall of chef Ran Shmueli at Kibbutz Ga'ash, and featured concerts by Noga Erez and Mooki. "The party was amazing," Tamar, an employee, recounts. "Noga Erez was wonderful, and the cocktails were impressive. If we're throwing a party, it should be swoon-worthy, with good music and food. That's one way to thank employees and maintain morale at a profitable company. But, I don't know whether you have to go crazy like at Microsoft, where they're mainly concerned about their brand in my opinion."

The fintech company Payoneer's IPO party, which took place at Hangar 11 last week in honor of the company's offering valued at $3.3 billion, was hard to miss. The event was directed by Sagit Oren from the SO&Co. event management company. Payoneer's party featured a professional broadcasting studio with stations at its 23 branches around the globe where the "most senior manager in China transformed into our journalist in Shanghai," joked Michal Adam, a senior VP of Human Resources at Payoneer. The event was hosted by the Israeli mentalist and performer Lior Suchard and VP of Marketing Jonny Steel, and included numbers by Israeli pop sensations Marina Maximilian and Amir Dadon, who sang "We Are The Champions," as well as by Eden Ben Zaken, and a 35-member orchestra.

However, the artists, explained Adam, weren't the main course. "I know how to sign checks, that isn't a problem. But the idea was to show our employees that we are a global company, and it doesn't make sense for the Israeli branch to party when the Indian one is under a lockdown and hasn't seen the light of day for months. Our idea was to pass along the excitement that after 16 years and with nearly 1,000 employees, we've finally reached this moment." The event continued for half a day, and trickled into the late night hours to the nearby Litzman night club, where 400 employees watched the bell ring live and danced until Michal Adam kicked them out.

Nevertheless, how much did the checks come up to?

"Although we are a fintech company, we don't like to talk about money. Let's just say that it was a very expensive event, and not just because of the artists. To hold a live studio event is a very expensive matter, and we wanted to do it so that we wouldn't have any 'wait, I can't hear' moment like over Zoom. We pushed the exact buttons we wanted to, people were very excited and felt connected to the company."

Leading up to the event, the company posted on its Instagram page highlights from its summer party, which was held two weeks prior, and was filled with alcohol, splashes in pools, and scantily-clad swimwear alongside a caption targeting the recruiting of new employees. Even during our conversation, Adam doesn't hesitate to point out that the company currently has 230 new open positions, and encourages everyone to take a peek and apply.
Noga Erez at the Taboola IPO party Photo: Rotem Lahav, Tomer Foltyn

"Competition is fierce," Orridge confirms. "Retaining customers has now made way for retaining employees. Several companies aim to create excitement and new records through events, where their exposure creates an impact, a coveted image, and assists in recruiting potential employees as well as retaining existing ones."

Perks in the office, treats to take home

The indulging conditions of high-tech workers have already been talked about ad nauseum. Their cafeterias feature well-known chefs (Haim Cohen at Microsoft and Asaf Granit and the 'MachneYuda' Group will feed Wix employees at their new office building off of Glilot Junction next year), they receive generous credit on Cibus or TenBis cards to purchase takeout that is subsidized by the company, mail delivery services, Playstations on campus, gyms, happy hours and weekly team outings, birthday presents, gifts in honor of Women's Day and holidays (ranging anywhere between NIS 700- NIS 1,000, or between $200-$300), brand name bags, etc.

Over the past few years, other perks from the beauty industry have joined the list. At Playtika, which went public in January at an $11 billion valuation, its female employees enjoy gel manicures, while drinking coffee prepared by baristas at Play-tika Cafe. At Facebook, like several other Tel Avivian high-tech companies, many employees haven't gone to a barber in months; they receive services at their offices. Aside from those perks, monetary incentives from assisting in recruiting efforts are now skyrocketing. At Monday.com, recommending a friend for open positions at the company will earn a veteran employee a Buyme coupon valued at NIS 2,200 ($670); at Elementor employees receive a $1,500 bonus; at Tipranks, a startup that monitors analysts' performance and allows investors to evaluate investment advice, that figure stands at NIS 10,000 ($3,000), while Lightricks offers no less than NIS 29,000 ($8,900) to veteran employees who succeed in finding new employees for the open position of "the job of the month." At Microsoft, at least until the outbreak of the pandemic, employees earned perks such as a free vacation for two in Zanzibar.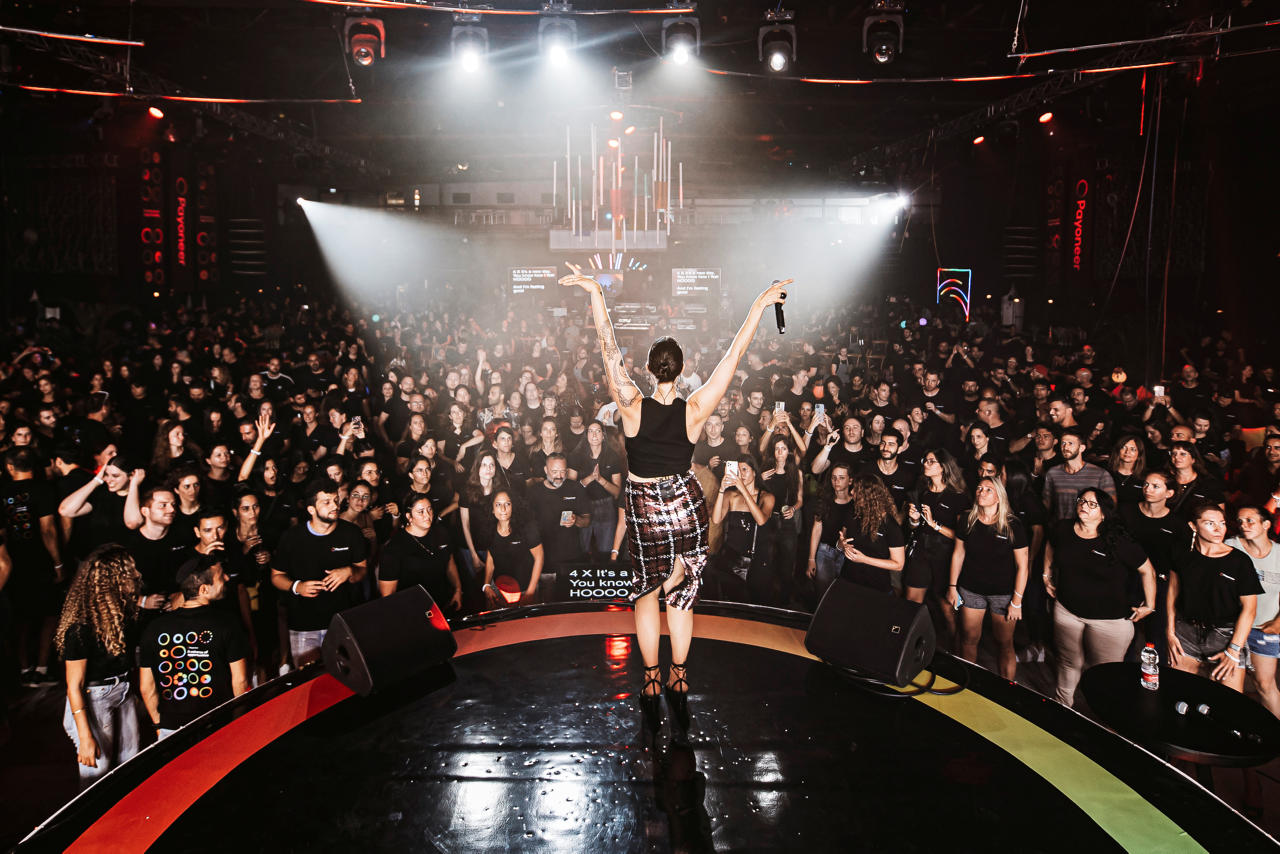 Payoneer's IPO party Photo: Eclipse Media

And that is all without even mentioning the actual offices - mostly in skyscrapers with the Tel Aviv skyline, designed by leading figures in the local architecture industry. And what the architects don't get to, the planners will: ironSource (which went public at an $11 billion valuation) has a balcony on the third floor of the Azrieli Sarona Tower, the only such balcony in the entire 61-story building. Facebook employees, which are ironSource's neighbors, travel to their offices via a private elevator; which was originally intended for a hotel, but Facebook took its place.

The pandemic may have emptied out high tech offices, but these care perks didn't end with the lockdowns, just changed form. During the past year-and-a-half, an entire industry of company-branded gifts developed; with each company adopting the idea in its own way. "A week didn't go by without us receiving home a package of some sort," Ben from Monday.com said. "Once it was a floral arrangement and a bottle of wine from an Israeli winery, another time it was a DIY cocktail kit, a macchinetta coffee maker, fresh coffee and cake, a bag from the Swedish brand Fjällräven (valued between NIS 300-NIS 500 or $90-$150) embossed with the company's logo, and more." At the American software company Autodesk, its employees received an expensive breakfast. At Microsoft, refrigerated vehicles carried family kits for making pizza. When ideas ran out, companies took out the only present that all employees were in consensus about: a carton of fresh fruits and vegetables from a local farm.

Those packages, which were often accompanied by a Zoom meeting with a standup comedy show, lecture or workshop hosted by the likes of actor Guri Alfi or chef Segev Moshe, helped companies maintain connections with employees during lockdowns, and provided income for hundreds of small businesses during the crisis. Orridge, who claims to have lost over NIS 4 million ($1.2 million) due to canceled events, made the most of it by turning lemons into lemonade. "I essentially created a new business of delivering small gift packages," she says. "During the pandemic, there was a big demand. We prepared 70,000 packages for companies, including a Halloween one during the second lockdown for an American company. That's how we earned many new customers, who continue to employ our services even upon the return to normal." Currently, Blend employs 13 people among them graphic designers, an office manager, and a CEO, the company's first male employee.

Party now, work later

Companies going public could mark the end or moderation of the era of grandiose celebrations, in order to present a picture of efficiency. The post-pandemic highs combined with the IPOs will be difficult to recreate. Payoneer's party, for example, received its own budget, seperate from the company's annual party budget, "and we're just asking ourselves what's next," Adam says. "We're a company that celebrates, and we're a global company too - there isn't a single holiday here that isn't commemorated, from Pride Week to National Pizza Day."

A different genre of events, which is utilized among a smaller group of employees, is the "Overnight,", where employees are asked to come to work with a suitcase, and have no clue what awaits them at the end of their workday. That's exactly what transpired at an event that Orridge organized for ZipRecruiter's 70 employees in Israel, where one Wednesday afternoon last week the entire team was transported to the airport, where they boarded a plane to Eilat, and quickly embarked on a jeep off-roading trip which included several stops with champagne, fruit, and cold-pressed lavender-scented towels. The rest of the evening, the team sat and enjoyed a meal at a pop-up restaurant that was set up specifically for the event by the catering industry at Timna National Park, and afterward drifted toward a concert held in a cave of the Anna RF band and Ravid Plotnik (also known by his stage name Nechi Nech). "Everyone danced until 1:30am, including myself," Orridge said hoarsely. "There I functioned as everything from the event organizer, to the stewardess." They traveled to the elite Royal Beach Eilat hotel in absolute darkness, and in the morning awoke to a private pool party, where drinks and food were continuously served to them as well as board games and fresh towels.

"These parties increase feelings of injustice"

High-tech perks are used as a branding tool for recruiting and retaining employees, but the free cereal isn't enough to motivate younger high-tech employees to stay at a company. Millennials are looking for additional meaning, which will resonate with their own values and increase their sense of satisfaction, mission, and sense of meaning. So how can a company that has recently gone public hold on to an employee without options, when he or she watches their option-holding peers with envy transforming into the new wolves of Wall Street?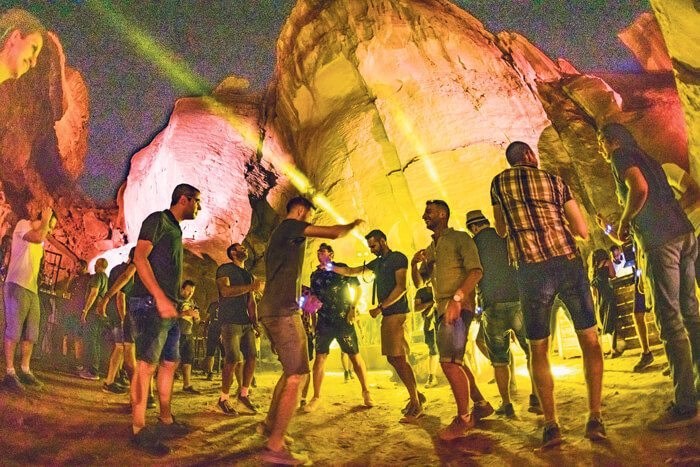 ZipRecruiter employees dancing at Timna Park Photo: Rotem Lahav, Tomer Foltyn

"The question isn't how to prevent employees from leaving, it's how to hold onto them for the right reasons," says Kinneret Rosenbloom, an organizational consultant, and expert in developing leadership skills and author of the Hebrew "Revahim" blog. "The parties and concerts, the gel manicures at the office, the subsidized food cards, and DIY cocktail kits become feathers in the peacock's tail and help differentiate between regular companies to those that are thriving, and are worth investing the best years of your lives in. The parties and perks are merely compensation for the many long work hours put in, and are also joyous interludes as well as recruitment and branding tools for attracting employees, but it isn't what actually draws people to a workplace, and it clearly isn't what inspires them to give their all."

So what does?

"First of all, employees need to feel challenged, and like they are broadening both their professional and managerial horizons. Second, they need to feel autonomous and flexible and that they're trusted. Third, they need to feel a direct connection to their boss, and preferably to their team. A poor connection with your boss is a dealbreaker. Even a mediocre connection with a boss could make it easier to tempt them to leave."

"Last but not least: fairness. When so much money is floating around, both promised and actual, the money is a fixed yet loaded part of the discourse. In particularly affluent settings, it's occasionally blinding, and if there is some sense of injustice or deprivation, glamorous parties won't hide it. Not for long. When the hangover subsides, the extravagant party could be viewed as a smokescreen hiding the actual distribution of rewards, and could only add to feelings of injustice. It isn't just the question of a certain sum, or how much money you see at the end of the month, but rather how much money you earned compared to others, or of the overall pie."

"At the end of the day, people stay at a workplace because of their manager, or a colleague or their ability to have a say over what happens at the company," explains Iris Bar-Hava, who serves as the VP of People at Explorium. "When companies grow very large or undergo a change like going public, processes demand rules become stricter, reasons for staying at a company arise, and sometimes employees struggle to find their place."

"In cases such as those, companies need to compensate in other ways and empower the social-emotional aspects. Welfare programs try to address peoples' needs to meet and connect with one another in an informal way. Aside from that, people love to connect to something greater than themselves, that feeling of 'we'll change the world.' What these companies are doing isn't a cliche, they're encouraging people to be part of a life-changing experience."