Aidoc raises $66 million Series C for AI platform that analyzes X-rays and CTs
The Israeli company, which has raised $140 million to date, developed a platform that scans X-rays and CTs automatically and alerts doctors when needed, helping radiologists to prioritize cases
Aidoc Medical announced Tuesday it raised $66 million in a Series C round, bringing the total investment in the company since its inception to $140 million. The round was led by the American growth fund General Catalyst, with the participation of all existing investors of the company.

The company has developed an artificial intelligence-based platform that scans X-rays and CT scans automatically and alerts doctors when needed. The system functions as another set of eyes, helping radiologists to prioritize urgent cases. The company did not state its valuation in this round, however, its founders noted that it has risen significantly.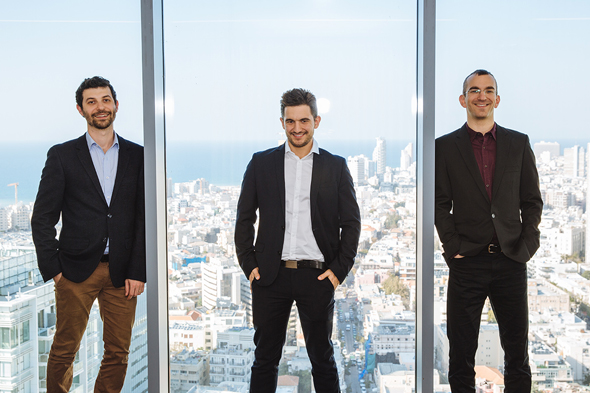 Aidc founders Michael Braginsky (Left), Elad Walach, and Guy Reiner Photo: Guy Shriber

Speaking with Calcalist, the company's VP of R&D and CISO Guy Reiner, and its CTO Michael Braginsky explained that "our technology goes through CT and X-ray hospital scans and locates things which require immediate treatment and ensure that the patient is given a high priority. The hospitals that we work with tell us that many of the things we find they would have missed. We work very well with radiologists, and in our estimation, radiologists who will not know how to work with tools like ours in the future will not work in the profession. Most places are skeptical at first, but after a short time, they want everything we have that is FDA-approved and sign future agreements regarding anything that will be approved."

"We discovered that there is greater assistance that can be given to radiologists with our tools as they work under pressure. Sheba Hospital has published a study saying that since they installed our product, they saw a decrease in people dying from a brain hemorrhage. The ability to save lives is our reward," Braginsky said.

"Our scans are done automatically, without any human actions. $2.5 billion have already been invested in this field and there are very few companies that work in hospitals, and there is a big challenge here. The massive change we offer is the fact that everything is automatically scanned and monitored, and that is how you find things you did not think of. In the past, a man underwent a scan and waited for results, but we are able to detect an injury in an instant," Braginsky explained.

Imaging scans is a very popular field among startup companies in Israel, companies such as viz.ai and Zebra Medical, among others. "Israelis are very strong in this field, which is a very complex market that can be attacked from many angles. What sets us apart from the rest is the large number of FDA approvals we have in the approval process, alongside the already existing seven. We already have solutions on the platform that are not ours. We incorporate small companies that do not have the ability to partner with the hospitals, we already have two of those and they are an initial sign of consolidation in the field," the two men said.

Aidoc holds seven FDA-approved solutions and it is active in Israel's six largest medical centers: Tel Aviv Sourasky Medical Center - Ichilov Hospital, Rabin Medical Center in Petach Tikva, Assuta, Shaare Zedek Medical Center in Jerusalem, and Sheba Medical Center. Furthermore, the company works in hospitals in the U.S., Europe, Brazil, and Australia.

Aidoc was founded in 2016 by its CEO Elad Walach, CTO Michael Braginsky and VP of R&D and CISO Guy Reiner, all three graduates of the IDF's Talpiot program. The company employs 190 people, 150 in Israel and the rest across the U.S. and Europe. The company is planning to use the new funds to enlarge its client list and hire around 100 more people, mostly in Israel.

"At General Catalyst, we believe in addressing the big challenges in healthcare, and it is clear to us that Aidoc has both a bold vision to use AI to set a new standard of care in medical imaging and a concrete plan to reach that," said Chris Bischoff, Managing Director at General Catalyst. "The fast growth in adoption of Aidoc's platform by leading systems and providers reinforces its market leadership and demonstrates the effectiveness of its technology and workflow solutions."