Israeli tech sets yet another record, raising $11.9 billion in H1 of 2021
According to the IVC-Meitar Tech Review, Israeli companies surpassed the total amount raised in 2020 ($10.3 billion) in the first six months of 2021
Israeli tech is showing no signs of slowing down, displaying a sharp upsurge in capital raising in the second quarter of 2021, according to data published on Wednesday by the IVC Research Center and the law firm Meitar.

According to the Israeli IVC-Meitar Tech Review for the first half of 2021, an all-time record was set in the first half of 2021 with $11.9 billion being raised, more than the total amount raised in 2020 ($10.3 billion).

The report shows that in the second quarter of 2021, 230 transactions were completed with a total record investment amount of $6.52 billion. As a result, the number of transactions completed in the first half of 2021 was equal to 66% of all transactions completed in 2020.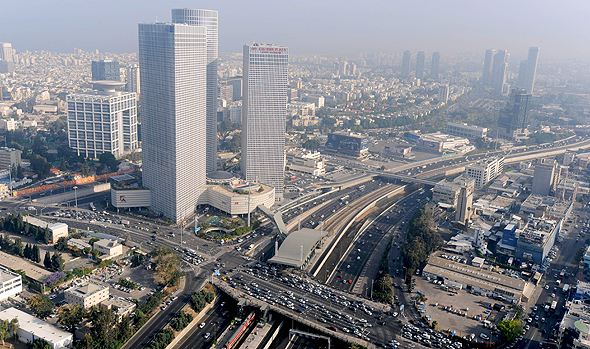 Tel Aviv skyline. Photo: Shutterstock

Israeli high-tech fundraising records were registered in all rounds during the second quarter of 2021. Investments in early rounds (Seed and A round) continued to climb during the second quarter - both in terms of number of transactions and in dollar volume - reaching 126 transactions with $1.04 billion raised.

Investments in more advanced rounds (B rounds and above) also continued to increase in the second quarter of 2021: $5.48 billion was raised, compared to $4.66 billion in the first quarter of 2021, an 18% increase. There has also been a significant increase in the number of quarterly transactions over the past two years, with the median figures indicating an actual increase in capital per transaction in medium and later rounds during the first half of 2021.

In the first half of 2021, $50 million or more were invested in 79 deals, compared to 47 such transactions in 2020 and 39 such transactions in 2019. 38 transactions of over $100 million each, completed in the first half of the year, accounted for approximately 50% of all fundraising during that period.

Investors' preferences remained largely unchanged in the first half of 2021, with the majority of capital flowing towards companies in the fintech and cybersecurity tech verticals: 57 transactions in fintech compared to 26 deals in the corresponding period last year. The companies active in the cybersecurity field raised $2.9 billion in the first six months of 2021, almost 25% of the total amount raised in this period, and more than the total capital raised in 2020.

Israeli high-tech activity in U.S., Israel and other public capital markets increased significantly in the first half of 2021, which was reflected in the highest numbers of initial public offerings (IPOs), SPAC transactions and follow-on offerings. A record number of 48 Israeli high-tech companies completed their IPO in the first half of 2021, with seven deals being completed through a merger with SPAC companies in which a total amount of $2.41 billion was raised.

The Tel Aviv Stock Exchange (TASE) attracted the largest number of IPOs during this period (35 deals), which accounted for approximately 12% of the total amount raised through the 48 IPOs that were consummated during the first half of 2021.

Mike Rimon, a partner at Meitar, said: "Since 2013-2014, we have not seen such a large number of Israeli high-tech companies go public in such a short period of time. In the first half of 2021, public offerings of 48 Israeli companies were completed - either by way of a "regular" offering or by way of a merger with a SPAC - of which 35 were completed in Tel Aviv, 12 in the U.S. and one in London.

"These companies, especially those that went public in the U.S., completed their IPO at very high valuations, and most raised their valuation following the IPO. We anticipate this trend to continue in the near future, albeit possibly more moderately than in the first half of 2021. Mergers with SPACs will be considered, among other things, in light of US and Israeli regulators' concerns regarding such transactions, as well as the performance of such companies following their de-SPACs, which were significantly lower than the "traditional" IPOs in the first quarter of 2021."

The Israeli high-tech M&A deals in the first half of 2021 amounted to about $4 billion, a rate that was similar to 2020, in which we also experienced a decline.

The three big acquisitions were: MyHeritage acquired by Francisco Partners for $600 million; Prospera acquired by Valmont and VDOO acquired by JFrog for $300 million per transaction.

According to Mariana Shapira, Senior Analyst at IVC: "According to the findings observed during the first half of 2021, it seems that the Israeli high-tech industry continues to be a strategic target for foreign venture capital investors, with technology companies benefiting from generous investments at every stage, with serious investors participating in earlier stages, which is reflected in greater fundraising volumes, and leads to increased chances of survival.

"The fact that Israeli investors have expanded their activities, as well as high company valuations, indicate the availability of capital, and a positive trend in the flow of funds to the high-tech industry is expected to continue in the course of 2021."