PlayBeyondBio names nine healthtech startups for mentoring and development program
The program examined dozens of candidates, seeking to identify and promote mature, active companies, with track records and proven potential
The PlayBeyondBio initiative has announced the identity of the nine startups selected to participate in its program for companies developing solutions for future challenges to healthcare systems. The startups will be awarded fast-track assistance, focusing on commercialization agreements, implementation, and investments from the program's partners, including Jerusalem Venture Partners (JVP), global pharma giant AstraZeneca, international consulting firm Accenture, Margalit Startup City community, AWS, and the Shaare Zedek Medical Center. The selected startups were revealed this week at a special event which took place at the Margalit Startup City Center for Excellence in Jerusalem, attended by leaders of Israel's medical and pharmaceutical sectors, together with prominent investors and industry professionals.

Dedicated teams examined dozens of candidates, seeking to identify and promote mature, active companies, with track records and proven potential. Among the startups taking part in the program are: Itamar Medical, which raised over $300 million, and trades on the Nasdaq with a market capitalization of over half a billion dollars; Medial Earlysign, which has raised over $150 million and C2I Genomics that has raised over $100 million.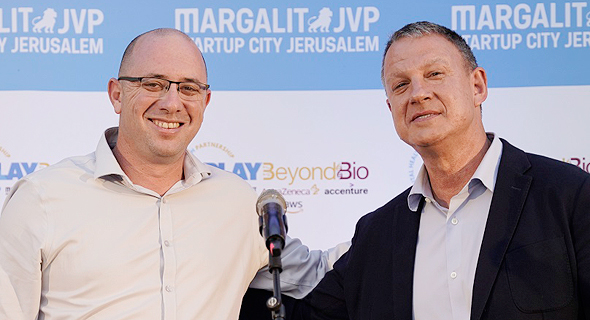 Erel Margalit of JVP (right) and Ohad Goldberg of AstraZeneca Israel. Photo: Ricky Rachman

"The world has changed, the world health system has changed, and today it faces new, great challenges," said Erel Margalit, Founder and Chairman of JVP and Margalit Startup City. "This requires significant technological developments and Israel is a major player in this great evolving story. The nine companies selected come with technological innovations in various stages of development: some already mature and operating in global markets. Together with our partners – Astraznica, Accenture, AWS and Shaare Zedek Medical Center, – we will help these companies move on to the next stage on the way to becoming larger and more significant."

The nine startups selected for the program were:

1. C2i Genomics - The company provides personalized technology for cancer monitoring based on standard blood tests to address the unmet need for treatment failure detection, affecting millions of patients. The method is based on whole-genome sequencing (WGS), generation of personalized genomic characteristics, and utilization of artificial intelligence and advanced algorithms, enabling early detection of disease recurrence. The diagnostic service is provided to research institutes and laboratories worldwide via a cloud-based platform, providing reduction of cancer treatment costs and enabling rapid development of drugs, equipping physicians with real-time intelligence for informed clinical decision-making.

2. Nucleai - The company is a precision medicine company that has developed an AI-powered image analysis platform to unlock the power of spatial biology from pathology images. Nucleai's platform, leverages computer vision and deep neural networks to structure and characterize tissue and cell architecture in pathology images to identify spatial characteristics that predict response to therapy and inform treatment decisions.

3. Itamar Medical - The company is a medical technology company focused on the development, manufacturing, and commercialization of non-invasive medical devices and solutions to aid in the diagnosis of Sleep Breathing Disorders and early detection of exacerbation in COPD patients. The FDA-cleared Loop system is a multi-vital sign wearable wristband and real time analytics, designed for remote monitoring of chronic obstructive pulmonary disease (COPD), allowing the detection of early signs of exacerbation before symptoms are noticeable. It is a game changing tool for providers serving COPD patient populations that reduces costly hospital admissions and provides peace of mind for patients and caregivers.

4. Medial Earlysign - The company is a leader in clinical AI, turning clinical data to meaningful insights that are used to support clinical decisions, unleash the potential of complex biomarkers, and help with the design of clinical trials. Its work is rooted in over 10 years of experience, millions of health care records, and evidence-based, peer-reviewed published research. The company effectively develops and tailors algorithms using its machine learning framework to help keep patients healthier longer.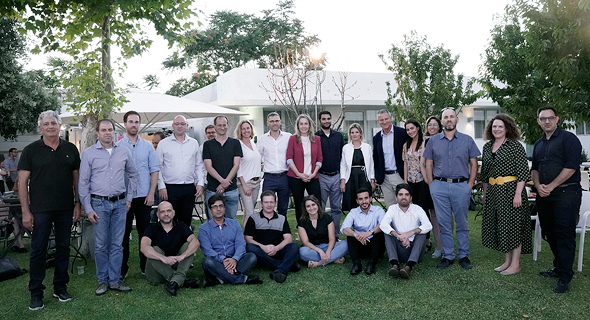 Participants of the PlayBeyondBio event. Photo: Ricky Rachman

5. iBex - The company pioneers AI-based cancer diagnostics in pathology. It uses artificial intelligence to develop clinical-grade algorithms and workflows that identify cancer as accurately as a human pathologist, helping pathologists and healthcare providers improve cancer diagnoses, efficiencies, and health economics. Its Galen platform is the first-ever AI-powered solution used in routine clinical practice in pathology, and improves diagnostic quality, detecting missed cancer cases, and reducing turnaround times and operating costs.

6. Octopus.health - The company offers a personal healthcare assistant for patients. The solution is targeted towards chronic or complex patients and has been found to improve patient adherence to their care plans as well as better manage their condition. Octopus-health's platform allows behavioral analysis of patients' adherence to treatment plans, and can promote solutions to gaps when those are identified. The solution applies innovative and unique AI and machine learning capabilities that allow prediction of patient adherence to medication and treatment plans.

7. Imagene - The company provides an Al-based genomic testing solution to assist cancer patients in receiving the optimal treatment that medicine can offer by leveraging their biopsy image for personalized therapeutics. Using proprietary deep learning algorithms, it detects the presence of cancer-specific biomarkers from the biopsy image only. Imagene brings accurate, fast, affordable, actionable, standardized, and routine screening to all cancer patients.

8. iCardio.ai - The company designs machine learning algorithms for everything echo, leveraging a database of over 200 million individual echo images on the iCardio.ai Platform. It automates the entire interpretation of echoes using AI, and collects and annotates data. Its several deep learning solutions can detect abnormal diseases and classify them.

9. Cordio Medical - The company provides medical grade, groundbreaking solutions to monitor

several health conditions by analyzing voice/speech samples recorded in a simple mobile app backed by sophisticated and proprietary signal speech processing algorithms, which allow near real-time monitoring and early detection of condition deterioration. Its Cordio HearO solution can sense fluid accumulation related to congestive heart failure and alert healthcare professionals in real-time, is non-invasive and easy to use.