Woman2Woman mentoring program encourages younger women to aim high
Opening event featured Chairwoman of the Israel Securities Authority, former head of the Central Bank, former Chief Scientist, among other notable female speakers
Some 1,000 talented women took part in the 8200 Alumni Association's Woman2Woman mentoring program, which encourages young women to pursue key positions in Israeli society. During the program's sixth graduating class, 50 were chosen to receive personal mentoring from leading women in Israeli society.

The event, which took place at the Peres Center for Innovation in Jaffa featured some notable women, among them Dr. Orna Berry, former Chief Scientist and Chair of the Israel Academy of Sciences Committee; Prof. Karnit Flug, former head of the Israel Central Bank and Vice President of the Hebrew University of Jerusalem; Anat Guetta, Chairwoman of the Israel Securities Authority; Efrat Duvdevani, Director-General of the Peres Center for Peace and Innovation; Inbal Arieli, co-founder and co-CEO of Synthesis; Ruth Shoham, CEO of the Open University of Israel; Nira Dror, Partner at AfterDox; Yafit Gheriani, Executive Vice President and Head of the Retail Banking Division at the Discount Group; Eti Ben Zeev, Head of Information Technology at Bank Hapoalim; Fiona Darmon, General Partner at JVP; Merav Davidson, VP of Marketplace at Microsoft; and more. The visitor center also featured a special exhibit titled "Women Create Innovation," which was unveiled last week in collaboration with Salesforce.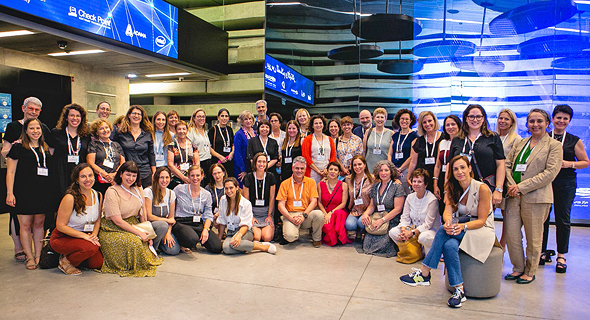 Participants of the Woman2Woman program. Photo: Inbar Levi

Additional initiatives from last year's event were also presented, including the mentoring program, and employment and training programs which were sponsored by the Israel Innovation Authority, Bituach Leumi (Israel's social security agency), and the Ministry of Welfare. Those initiatives were part of a government call to encourage equal presentation of as many sectors of Israeli society as possible. During the program, women from across a broad spectrum of Israeli society participated, among them Ultra-Orthodox, Religious Zionist, and secular Jewish women who took part alongside Arab women.

"We have an obligation and right as women who have reached key positions in Israeli society to pass along the baton, and allow women to breakthrough and pave the way for other women," said Efrat Duvdevani, who serves as Director-General of the Peres Center.

Every year, Microsoft, Dell, Salesforce, General Motors, Discount Bank, BCG, and the Gornitzky & Co. Law Offices participate in the program.

In addition, the opening event of the latest cohort was held on the rooftop of the Tel Aviv offices of Panorays, a cybersecurity company which develops a Software-as-a-Service-based third-party security risk management platform. Some 80 women were in attendance. One of the W2W founders, Keren Herscovici, Head of Finance at Panorays, spearheaded the opening event. "We'd like to see more women join our ranks and work alongside the strong women we already employ in a variety of divisions and positions," Panorays CEO Matan Or-el said.