Outbrain targeting lower than expected $1.4 billion valuation in Nasdaq IPO
The company is planning to raise around $200 million after announcing just last week that it had secured $200 million in funding from Boston-based investment manager The Baupost Group
Outbrain announced on Wednesday that it plans to raise approximately $200 million at a $1.4 billion valuation in its initial public offering on Nasdaq. The internet recommendation company said it would be offering 8,000,000 shares at a price currently expected to be between $24-26 per share.

Outbrain has applied to list its common stock on the Nasdaq under the symbol "OB." Citigroup, Jefferies, Barclays, and Evercore ISI will serve as joint bookrunners for the proposed offering. JMP Securities, Needham & Company and LUMA Securities will act as co-managers.

The company announced just last week that it had secured $200 million in funding from Boston-based investment manager The Baupost Group.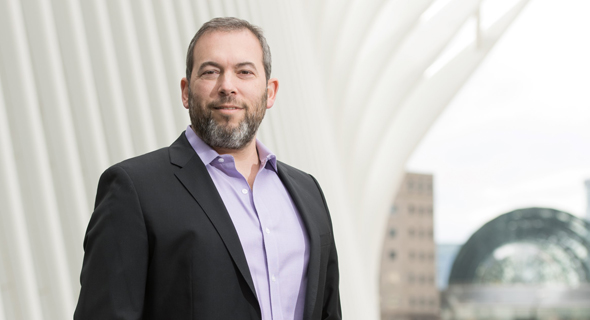 Outbrain co-founder Yaron Galai. Photo: Noam Galai

The Baupost Group is a Boston-based investment manager which manages roughly $31 billion, investing in a wide range of asset classes, including significant holdings in publicly traded debt and equity securities, private debt, real estate, and private equity. CEO and Portfolio Manager Seth Klarman has overseen Baupost's investments from the company's inception in 1982.

Outbrain's prospectus from two weeks ago didn't reveal the fundraising scope or the company's valuation, but it did shed light on the company's performance. Outbrain grew at a rate of 29% in the first quarter of 2021 and posted revenue of $228 million.

Unlike most Israeli companies currently traded in New York, Outbrain posted a bottom-line profit of $10.7 million in 2021's first quarter. In the same quarter in 2020, Outbrain posted revenue of $177.3 million and lost $9.5 million. The company showed cash balances of $95 million as of the end of the first quarter of 2021.

Outbrain ended 2020 with revenue of $767.1 million, and a relatively moderate growth rate of 11% as a result of the slowdown in the first half of the year due to the coronavirus outbreak. However, it showed an operating profit of $10 million for the first time, compared to a loss of $4.5 million in 2019. Ultimately, Outbrain posted a net profit of $4.4 million compared to a loss of $20.5 million the previous year.

Outbrain was founded by brothers Yaron and Eytan Galai. Yaron Galai serves as co-CEO with David Kostman (who is also NICE chairman - SSH). Before the IPO, he was appointed chairman of the company. Ori Lahav serves as VP of technology.

Outbrain currently employs about 1,000 people and among its major shareholders are VC funds Viola with 14% of the shares, Lightspeed with 13.9% and Gemini with 10.8%. Yaron Galai holds 7.8% of the shares, while Lahav has a 1.9% holding.