Exclusive
Rapid7 in advanced talks to acquire Israel's IntSights for $350 million
The Israeli cybersecurity company has raised $70 million to date and counts Forbes, Novartis and Ford among its clients
Israeli cybersecurity company IntSights is in advanced negotiations to be acquired for a sum of around $350-400 million by American cybersecurity company Rapid7, Calcalist has learned.

IntSights has raised $70 million to date. Its investors include Qumra Capital, Glilot Capital Partners, Blackstone, Blumberg Capital, Wipro, and ClearSky.

Rapid7 employs 1,200 people and is traded on Nasdaq with a market cap of $5.6 billion.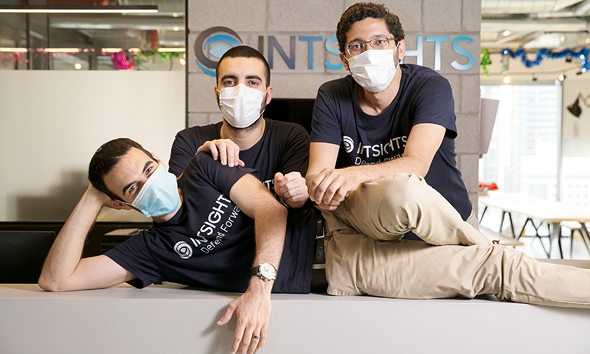 IntSights co-founders Guy Nizan, Alon Arvatz, and Gal Ben-David. Photo: Orel Cohen

IntSights, which was ranked in seventh place in Calcalist's list of most promising startups for 2021, was founded in 2015 by Israeli entrepreneurs Guy Nizan, Alon Arvatz, and Gal Ben-David.

A large portion of the company's activities is dedicated to monitoring the "darknet". The data it collects from there is fed into a platform that analyzes cyber threats for large organizations, providing intelligence on potential threats and attack vectors, and activates preventative measures before the attacks take place. The company's clients include Forbes, Novartis, Ford, and American Eagle.

Despite its growth, IntSights is one of the companies that chose not to raise capital over the past year, having completed its last round in January 2020. It didn't prevent the company from adding new clients and even developed a new product that aids companies carry out risk assessment and due diligence prior to signing important contracts.