Cyber insurance startup At-Bay raises $185 million at $1.35 billion valuation
The startup, which raised $276 million to date, provides insurance for organizations and helps them counter cyber threats
Cyber insurance startup At-Bay, which insures organizations against cyber threats, announced Tuesday it raised $185 million at a value of $1.35 billion after money in its Series D fundraising round, bringing the total investment in the company to $276 million.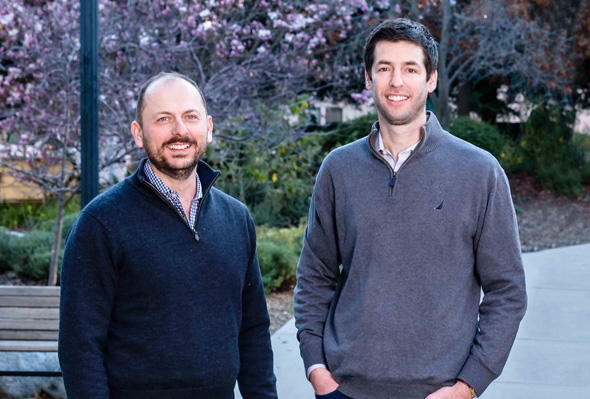 At-Bay founders Roman Itskovich (left) and Rotem Iram Photo: Kevin Nilson

The round was co-led by Icon Ventures and Lightspeed Venture Partners, with participation from existing investors including Khosla Ventures, M12, Acrew Capital, Qumra Capital, the HSB fund of Munich Re Ventures, and entrepreneur Shlomo Kramer.

In a conversation with Calcalist, At-Bay CEO Rotem Iram said "we did not believe that we would raise so much money so quickly, only nine months have passed since our previous round. But during this time many things happened that accelerated companies. In the past year, the frequency of ransomware attacks has doubled and ransom demands tripled, reaching millions of dollars for a corporation or $300,000 for a medium-sized business. After this year, a lot of insurance companies woke up and found that they had lost money from cyber insurance. Therefore, they raised prices by more than 80%. We saw various industries in which the premium more than doubled. This is a period of growing demand, our annual recurring premium returns grew by eight times to more than $160 million (counting the volume of premiums in the insurance field parallels ARR)."

"We anticipated the demand but it surprised even us in its volume and unfortunately

we could not answer all the requests. There are about 1,500 organizations that we could have reached, that asked for service and we did not realize their potential. We need more manpower and improved automated processes," Iram said

The company plans to become a license insurance company in the near future. "Our plan is to choose the fastest, most efficient way to become an insurance company. One way is to purchase a shell company and pour our activity into it."

Ransomware is one of the greatest challenges for companies these days. Iram told Calcalist that only a small portion of companies actually pay. "In most cases, businesses do not pay a ransom, either they have backups or they do not need a backup. But there are cases where, unfortunately, they have to pay."

At-Bay's great innovation in the field of cyber insurance is the combination of an insurance policy with cybersecurity capabilities, which makes it possible to actively lower risk levels for its customers. This solution is necessary for the insurance industry against severe and successful cyber attacks, which have become routine. The increase in attacks in 2020 caused heavy losses for insurance companies and most companies in the market raised prices drastically.

The technology developed by At-Bay provides a solution to this problem as it enables the detection and repair of vulnerabilities in the systems of the insured organization. This reduces the frequency of attacks by more than seven times compared to competing insurance companies. This enables At-Bay to offer insurance products that provide wider coverage at a lower price than its competitors in the market. The process the company offers is completely automated and the policy is given within 30 seconds, through the company portal or on digital platforms for comparison and purchase of insurance products.

At-Bay employs 120 people, about 50 of whom are employed at the R&D center in Israel. The recent funds will be used, among other things, to double the number of workers in Israel. At-Bay's development teams bring together experts from the worlds of software, security, data, and risk.

The company was founded in 2016, and its leading team includes Rotem Iram (CEO and co-founder), Roman Itskovich (VP of risk and co-founder) and Ayelet Kutner (VP of technology). Two other founders who left the company are Itai Hochman and Tilli Kalisky. At-Bay also has offices in San Francisco, New York and Atlanta.