Interview
"SPAC mergers are like a bank loan, they are given to those who do not need it"
With its chips installed in Mercedes among others, Valens Semiconductor is gearing up for an October SPAC merger at a $1.16 billion valuation
During the latest wave of Israeli debuts on Wall Street a long list of companies competed to merge with a SPAC, and this October, right after the Jewish holidays, it will be Valens Semiconductor's turn. The chip company from Hod Hasharon is set to start trading on the New York Stock Exchange after it announced last May that it had signed an agreement with American SPAC company PTK. Valens will aim for a $1.16 billion valuation under the symbol VLN.

Valens has been operating since 2006, focusing on providing chips for the audio and video sector. It entered the automotive realm only in recent years, as its chips are used for fast communication inside the vehicle and at very high rates while maintaining information quality and reliability at low costs - a necessary infrastructure for driving support systems and the autonomous vehicle revolution.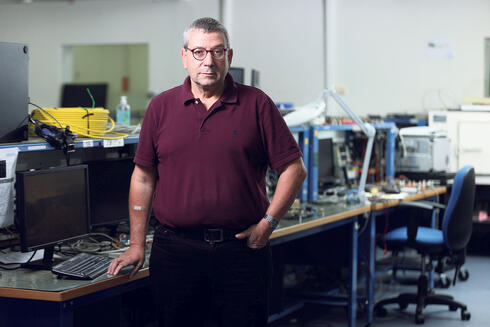 Gideon Ben Zvi, Valens CEO Photo: Orel Cohen

Its deal with PTK will include $240 million for the company, of which $115 million will come from PTK, and about $125 million from other investors, including the chip company MediaTek, which has already invested in the company in the past. The fundraising proceeds are expected to be used by the company to accelerate the development and marketing of its products.

In a first interview, Gideon Ben Zvi, Valens CEO, told Calcalist about the merger process and revealed that the company is on the verge of unveiling a technology that will change drivers' lives.

How was the opportunity for the SPAC merger created?

"Some SPACs approached us and at first we rejected them all until we said 'let's continue'."

Why?

"At first my romantic idea was to go public through "the front door". From the moment I took over as CEO, I knew I wanted to take Valens to an IPO and I kept saying that we will go through one in 2022. But the company was ready faster than we thought. When they started knocking on our door with SPAC companies, we decided to listen. As things progressed, we realized that we were already ready for the IPO, but because we were already in the process, we decided to continue, and that was the right decision."

Did you choose the SPAC quickly? Does it mean anything?

"Certainly. One of the reasons we stayed in the process was the specific SPAC. These are exceptional people, who bring value and I know personally. They did not just show up for the deal. They have a real understanding of the semiconductor world and a very non-opportunistic approach. I can give you a scoop - we did not take the highest offer we had."

The other offer was much higher?

"Not significantly, but higher."

So why did you choose PTK?

"Because we know PTK well from the semiconductor industry. They are educated, knowledgeable and ethical, three Americans, two of them Taiwanese-born. In addition, it was important for us to act responsibly and think about the long-term. We see what happens when a company goes public with an excessive value."

Would you recommend other companies to go for a SPAC merger or an IPO?

"Answering that today and answering that almost a year ago is different. There is a matter of trends. I am not a capital market person, I come from the industry side. Companies that are not ready, that cannot do an IPO by any means, a SPAC merger could be a double-edged sword for them. It's like a bank loan, it is given to those who do not need it.

"At the end of the SPAC process, the company is de-facto public, the process by which it entered the stock market does not matter. It should be a company with real volume, sales and the ability to predict results. It is a muscle that is better to train as a private company and not a public one. Being a public company is very challenging and if a company has to be traded while also learning to sell and produce results, it can be difficult."

Over the years, IGP, Genesis, Magma VC and Mitsui Global, as well as automotive strategic investors such as APTIV and Samsung Harman, invested in Valens. It was founded by Dror Jerushalmi, Eyran Lida, Gaby Gur-Cohen, Massad Eyal, Nadav Banet and Alon Benzaray, and employs about 270 workers, most of them in Israel.

Were you approached with offers to be purchased from strategic actors?

"I cannot talk about it."

I did not ask who.

"We are a company that interests the industry, and we will make sure to continue to interest everyone."

A number of Israeli companies from the automotive technologies field have announced their intention to merge with a SPAC. Otonomo, which has developed a trading data platform, is on its way to merge with a SPAC at an estimated value of $1.4 billion, as is AutoTex, which manufactures communications solutions for vehicles. REE, which has developed a flat and modular platform for electric vehicles, has already started trading in New York this week at a value of $3.1 billion.

When did you move into the automotive field and why?

"In 2015 we decided to enter the field, and after a year we had already signed our first contract. Our product is in vehicles from 2020, Mercedes cars are already traveling with our chips."

Do you sell directly to the manufacturer?

"Chip companies never sell directly to the manufacturer."

So who are your customers?

"The big names, Herman, Molex, Bush and Continental."

From zero to $60 million

Ben Zvi (60) is a serial entrepreneur and a well-known name in Israeli high-tech. He served as chairman and CEO of several companies, and is responsible for three impressive exits. Two of which with Ligature, that developed text recognition technology, first, when it was sold in 1998 to Wizcom, which used the technology for its a quicktionary pen, and then, in 1999 when it went public. The third came with BriefCam, a company that developed a technology for rapid video analytics for video review and search. It is known for helping capture the Boston Marathon bombers and was sold to the Japanese company Canon.

Ben Zvi joined Valens in 2011 as an investor and board member. However, last February CEO Dror Jerushalmi announced his retirement for personal reasons and Ben Zvi was appointed in his place, a move he defines as the best irrational decision he ever made.

Your forecast for 2026 points to a big spike - revenue of $482 million. Is it realistic?

"This is an aggressive but realistic jump, which is based mainly on our new generation of automotive products entering vehicles. Our predictions are based on things happening today, most of which are linear, and not based on a fantasy that a miracle will happen. It takes time until the chips are embedded in the cars and hit the road, and our newest products will go into cars in 2025-2026. There we have an amazing opportunity in terms of market size."

What do you consider to be the company's big leap forward?

"Twice in its life Valens was able to lead a global standard. The first is the HDBaseT standard, which you encounter daily in conference rooms without knowing it. It is the name of our technology in the audio-video world, which has also entered the automotive world. The second standard is a much greater leap. MIPI standards organization, which all our phones are filled with components manufactured according to it, decided in the middle of last year to enter the automotive field. It conducted a global tender that lasted a year and a half and all the big names competed for it. Our technology was chosen by MIPI to be used in the automotive market, a huge achievement. Furthermore, the IEEE standards organization adopted, for the first time, a standard of another organization - MIPI, as its standard for connecting sensors in a vehicle based on our technology. It further grows the market and our opportunities."

Is this your game changer?

"One of them. It is a very big achievement, but we are not a company based on one miracle, rather on many steps. Some take time, and it takes patience and modesty to produce the entire framework. Our industry is not the "ponytail in the hair and e-scooter" industry of Rothschild Boulevard. It is a much more solid high-tech, with a slower pace, with a much higher cost for mistakes, but when it succeeds - serious companies are built, for many years. And that is where we are."

In the previous decade it was a little harder

"Not true. Every company has its bumps, and I do not believe those who claim they did not have any. If someone says he did not have any obstacles, I am more concerned about him than about his company. We passed ours."

"The car market is newer for us, but Valens has built itself and done well in the audio-video market from the day it was founded. Our customers are basically all consumer electronics manufacturers, whether it be Panasonic, Epson, LG, Samsung. We have already made an industry standard and we are market leaders. We have 200 companies that make products with our chips, all the big names. We have already sold 25 million audio-video chips, and this division will continue to grow. Half of the revenue in 2026, a total of $482 million according to the forecast, will come from that field."

But Valens grew at a different pace as it entered the automotive world.

"The car market is bigger and the slope there is steeper. But in the audio-video market, we grew from zero revenue in 2010 to $60 million in this sector by 2020."

Were there times when you feared that the company would not succeed?

"No. Every company, without exception, doesn't realize all its dreams. That means changes have to be made. Not all of Valens' fantasies have come true either but the vast majority certainly did, and we produce new dreams all the time."

The pandemic promoted distance learning and distance medicine

Your technology reduces the weight of the vehicle.

"We produce smart chips for fast communication, and among other things allow a significant reduction in the amount of cables in the vehicle - an advantage in cost and weight. But the main thing is the chips we develop, which know how to transmit large amounts of data at high speeds and optimal quality. The inside of a vehicle is a challenging environment for fast communication, and the quality requirements for autonomous vehicle systems, whose job is to take care of passenger safety, are very strict. Beyond cost savings, it gives car manufacturers freedom and flexibility in planning, and peace of mind in terms of safety. Without us things in the car will not work, or will be too expensive or complicated. Nobody wants to take risks."

Did the pandemic open up new opportunities for you?

"Absolutely. In audio-video, our traditional customers are video distribution companies, such as Crestron and Extron or the Israeli company Kramer. The coronavirus has boosted sales of video calls equipment for small meeting rooms, home offices or classrooms that need to prepare for new models of learning, and an actor like Logitech has become one of our significant customers. In addition, we have clients in the medical field, for cases where patients need to be kept away from the medical staff. Our product is installed in ventilators, whose sales increased during the pandemic, or in X-ray machines, where the radiation is great. Wherever there is a long cable system or a challenging infrastructure that needs to transmit fast, high-quality video data, that is where our technology meets a need that no one else can."

How big is your competition?

"No one lives in a vacuum, but our market share is large and in terms of technological capabilities we have an advantage, and spend a huge amount of money to protect it. Working for us is like being in a semiconductor school."

What is the company's goal?

"To build a great company that sells millions of chips a month - and we'll get to that. There are 100 million cars produced a year across the world, with an average of 4.5 sensors per car, that's two chips per link, that is 900 million chips. In the automotive industry the challenge is to get your foot in the door. Once you are in you are always there. We are in Mercedes and we have another deal in trucks, we will soon announce a product that does not exist in any truck and it is a game changer for the driver."

What is the company's relationship with Mobileye?

"First of all, Mobileye has announced that it supports the MIPI standard based on our technology, so we are working with it to promote this architecture. Apart from Mobileye and Valens, there are not many Israeli companies that can say they are on the road, and our chips are."

REE and Otonomo also manufacture products for vehicles.

"There are many excellent, known Israeli companies and technologies in the market that are on the way to go public. The success of every Israeli company in this field is a source of pride. We are a long-standing company, selling at millions of dollars a month. We have a dream of becoming the communication infrastructure for all the vehicles in the world - and we will get there."