Helping the body, soul, and world
Early detection of breast cancer, lowering the use of pesticides, and unjamming traffic. Those are just a few of the many solutions that qualified for the semifinals of StartUp+, Calclist and Poalim Hi-Tech's Startup competition. Only five will qualify for the final
Of around 200 entrepreneurs who applied to compete at Calcalist and Poalim Hi-Tech's "StartUp+" competition, 19 startups were chosen to advance to the semifinals, where they presented in front of a panel of judges from the leading funds in Israel. A representative from each company made a three-minute pitch in which he or she presented their venture and answered the judges' questions. Five companies will advance to the finals on September 2, where the first two places will receive a financial grant, professional support from Poalim Hi-Tech, workspace from Mind Space, and an advertising package from Calcalist.

This year's judges include Dov Moran, Managing Partner at Grove Ventures; Michal Drayman, Venture Partner at JVP; Yodfat Harel Buchris, Managing Director at Blumberg Capital; Roi Bar-Kat, Head of Intel Capital Israel; Tzahi Cohen, Head of Corporate Banking at Bank Hapoalim; Yael Elad, Operating Partner at Aleph VC; Assaf Wahrhaft, Partner at UpWest; Tami Bronner, Partner at Vertex Ventures; Gay Yaman, Founder and Managing Partner at TPY Capital; Jonathan Saacks, Managing Partner at F2 Venture Capital; and Adi Gozes, Venture Partner at Entrée Capital.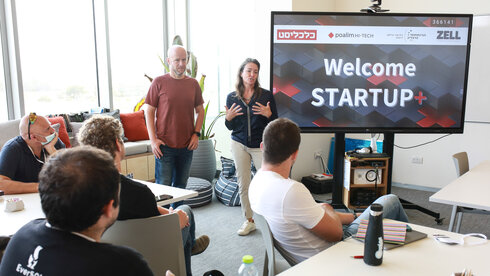 Angel investor Amir Shvat (left) and Chairperson of the Zell Entrepreneurship Program Liat Aaronson address STARTUP+ participants Photo: Amit Pais

Before the semifinals, and in order to better prepare the candidates for their pitches, the Zell Entrepreneurship Program and the Edelson School at the IDC in Herzliya welcomed the competitors to a preparation boot camp, which included mentoring, workshops, and simulations. During the boot camp participants heard from angel investor and Silicon Valley leader Amir Shvat, Overwolf founder and CEO Uri Marchand, and Senior Facilitator at Virtuozo, Natalie Nagar, who prepared boot camp goers for their pitches.

The following companies qualified for the semifinals:

Zoog

Connecting generations through books

Zoog's goal is to help maintain a meaningful, intergenerational connection. Originally planned for grandparents and grandchildren, it is also a suitable solution for any distant family member. Zoog maintains this connection through children's books. The company takes children's books, personalizes them to suit readers, and at the same time performs a kind of digital facelift by using AR (augmented reality). Two-dimensional animation and sound experiences make the reader the star of the experience and make books personal. Children can watch these books whenever they want, by any means (no app download required), and respond with text, emojis, and videos to the sender.

OtailO

Return your shopping from anywhere

One of the most unpleasant moments during online shopping comes when you have to return an item. In the vast majority of cases, it is an exhausting and sometimes expensive, and even physical procedure. OtailO has developed a software platform designed to alleviate the process of returns in the B2B market. The company uses artificial intelligence to optimize the process, examine the goods and locate the appropriate location where it can be resold. The company's system is already active in Europe, where it is able to bring about a 30% reduction in logistics costs and a 50% reduction in the carbon emissions involved in the process.

MICA AI Medical

Early detection of breast cancer

Breast cancer is the most common cancer among women worldwide, with one in eight women being diagnosed with it during their lifetime. MICA's system is designed to help detect the disease at an early stage and it does so through automated risk analysis, imaging monitoring, and medical databases to support the decision-making process of radiology teams in the field. Even today, 99% of mammograms are still operated manually, in a lengthy and expensive procedure. MICA seeks to reduce the number of unnecessary biopsies by 35% and increase the accuracy percentage to 92%.

MyCrops

Analyze each plant in the field

MyCrops' technology seeks to promote sustainable agriculture by reducing the use of harmful pesticides. The company has developed a digital platform for farmers that analyzes images of the various crops and uses advanced algorithms. The result is a cut in costs, a reduction in the use of pesticides, and a reduction of up to 62% of the annual loss for farmers. The company's system provides automated plant monitoring 24 hours a day and provides growers with assistance in making decisions based on the findings.

Yopi

Testing the oxygen

The company has developed innovative technology for monitoring health indices through sweat analysis. Yopi has developed wearable equipment designed for the wrist, as the company's system combines bio-sensory metrics with artificial intelligence-based analysis tools to monitor the user's health in real-time and alert them to health issues. It can also be used to help maximize physical training.

ITC

Smart traffic light management

Traffic jams are not only a nuisance, they also waste billions of dollars a year and create terrible air pollution. ITC has developed software that predicts traffic jams before they occur and manage traffic lights to counter traffic congestion. Its system already operates at intersections in Tel Aviv and in Japan, helping thousands of people to get where they are going, faster.

Drizzlex

Save water wisely

Water conservation may be familiar to those who grew up in a warm and sometimes barren region like Israel, but in other parts of the world, it is a fairly new challenge that many do not know how to deal with. Drizzlex has developed a system for monitoring water consumption for property owners, by installing simple and inexpensive water meters at appropriate points in the property, the company knows how to alert to water waste and excessive use.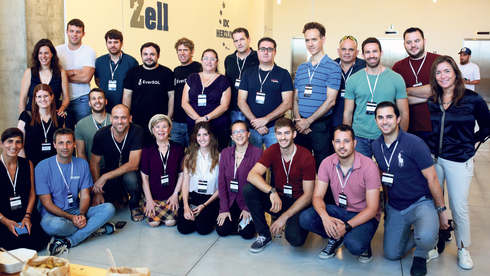 STARTUP+ participants Photo: Amit Pais

Wisor.AI

Optimizing naval shipping

While large logistics and shipping companies are in the midst of a technological transformation, small and medium-sized companies in the field encounter significant challenges. Wisor.AI seeks to assist such companies through an automated platform that will accelerate processes and significantly reduce costs. The company's system combines the various aspects of the shipping process and uses artificial intelligence to determine pricing, order containers, and diagnose faults or problems.

MAOLAC

Return to the original protein

The first company in the world to decipher the full composition of proteins in breast milk and by using tools of computational biology has created functional protein blends for use in a variety of consumer products. From various foods to nutritional supplements, therapeutic cosmetics, pharma, and baby formulas. Countless studies have demonstrated the many benefits of breast milk, MAOLAC seeks to harness these benefits for large-scale consumption using bioinformatics tools.

BAIBYS

Improve IVF processes

The company is developing an autonomous system for selecting optimal sperm for the vitro fertilization process, known as IVF, according to accepted medical criteria. Through the company's image processing, artificial intelligence, and micro-robotics technologies, the company seeks to reduce the number of rounds and the rate of congenital IVF malformations, as well as increase productivity and reduce costs for clinics and health systems. The productivity sector is a market valued at $25 billion and is characterized by a growth of 12% per year.

V-OPT

Eye examination for the world

V-OPT aspires to take eye exams out of the clinics and make them available, fast and cheap for the entire population. The company's development includes advanced equipment alongside a supportive data platform, as the uniqueness of the device comes from not requiring an operator, and rather it can be placed in appropriate locations where it will provide a comprehensive eye examination in a five to seven minutes-long procedure. The device is supposed to perform six different tests and output a single result that includes findings for all of them.

Flowhow

Assisting radiology teams

Flowhow's platform helps health systems, and especially radiologists, achieve smarter imaging at the treatment point by combining a digital footprint before, during, and after the review with artificial intelligence. The system collects information at the treatment point, stores it in the cloud, and derives insights from it that are passed on to the radiology teams and help them provide better care to their patients.

Configu

Not just for developers

Once every few months the whole world holds its breath as parts of the internet are disabled for a few minutes or a few hours. Most of the time these crashes are the result of configuration errors. Configu aims to assist in the research and development process in companies and prevent repeated mistakes. The company's tool is an open source software product designed to simplify and facilitate complex processes and manage systems across different environments and teams within the organization. In addition, the company seeks to reduce the gap between DevOps developers and engineers.

Luminescent

Lots of energy, little cost

Luminescent's development seeks to provide energy around the clock, at a fraction of the cost. It developed an engine designed to provide green energy, and it is the only one, according to the company, that is based on fluid: the engine helps generate electricity through the energy source of external heat and works on hot fluid, unlike all engines that run on gases. The uniqueness of the engine is that even in a small size it is cheap and very efficient.

Bling.io

The next thing in the video

From TikTok to Wall Street, video has long been the main tool for conveying information and messages online. Bling.io is developing next-generation video technology that will hopefully relieve overloaded servers. The technology places video on a code-based basis, similar to HTML (unlike today's pixel-based video), as the video is created in real-time on a customer's device, while companies can use it in a dynamic and personal way.

Circles

Promoting innovation in the organization

The company's system seeks to promote internal organizational ventures, empower employees, connect them to achieve the organization's goals, and identify creative and innovative talents. It is intended for industries that are usually less characterized by innovation and advanced technology.

Diagnostic stick

Prevention of dental and gum disease in children

The company aims to overcome the difficulty involved in supervising teeth brushing in children through a unique saliva test strip, aimed at anticipating cavities and tooth decay in children. After performing the test using the strip, the diagnosis is obtained by an app based on color recognition.

VELOTIX

AI-based information management

Velotix is ​​a startup company that builds modular, AI-based solutions for monitoring, controlling and managing information for the financial markets. The system is based on cyber interaction with users to build an array of data, learn and improve its movement processes, thereby enabling the use and execution of information operations efficiently and securely. Velotix was established in 2020, has completed its first round of investment, and is working in collaboration with several leading financial entities in the world. The company's staff includes leading scientists and experts in the field of finance.

EverSQL

Make apps go faster

An artificial intelligence-based product that replaces the need for database experts and helps companies make their software and applications work much faster, while also saving money, improving user experience, all automatically without the need for developers and experts.