Israeli tech delegation led by Erel Margalit to establish Innovation Center in Paris
The delegation led by the JVP founder met with France's economic heads, and discussed expanding cooperation and establishing a "Margalit Startup City" in Paris
An Israeli high-tech delegation led by Jerusalem Venture Partners founder and Chairman Erel Margalit, held a series of meetings with heads of innovation at the Elysee Palace, the Ministry for Digital Affairs, the Paris Municipality, as well as with leaders of French banking and finance institutions and the heads of France's technology ecosystem.

The delegation included 12 CEOs and executives from JVP's senior portfolio companies, who operate in American and European markets, and have developed technologies from the world of fintech, insurtech, artificial intelligence, and others, including Earnix, AnyClip, Centrical, ThetaRay, Quali, Pyramid Analytics, Secret Double Octopus, Inshur, Rezilion, Morphisec, and 1touch.io.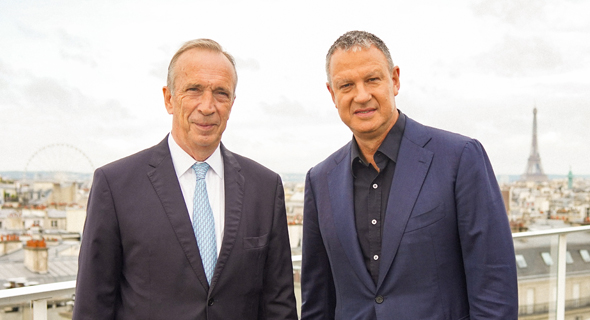 Erel Margalit (right) and Alain Papiasse Chairman of Corporate and Institutional Banking at BNP Paribas. Photo: Leah Marciano

The visit focused on expanding business activities of JVP companies across Europe, and establishing the Margalit Startup City Innovation Center in Paris, which will grant Israeli startups and companies a smooth entry into the vibrant European market and will be similar to the one established in New York.

The delegation began its visit to the Elysee Palace by meeting with President Emmanuel Macron's senior Economy Unit, led by Alexis Zajdenweber, who is leading the president's efforts in the field of innovation, and Pénélope Komitès, the Deputy Mayor of Paris, who oversees innovation in the Parisian municipality.

"The visit of the Israeli delegation, together with the companies representing the forefront of Israeli technology, has generated a great deal of interest. Some 30% or 40% of most companies' revenues here are in Europe. With the changes in London, Israeli companies are looking for a new European base that will grant them entry," Margalit said. "In France, Israeli innovation is seen as a model and there is a strong willingness to invest in it. We will establish an innovation center in Paris that will connect Israeli high-tech with French high-tech and our center in New York. The innovation center will initially house 30 Israeli companies on its way to turning Paris into an international innovation center as well as a preferred destination for the expansion of Israeli companies in Europe. If there are currently 650 Israeli startups in New York, France's goal is to become the center of activity for 350 Israeli startups over the next three to four years."

In addition to meetings with government officials, the Israeli delegation held meetings with leading investment bodies, including the Global Banking Group, BNP Paribas, whose international headquarters are in Paris; Rothschild Bank, Credit Agricole, and other significant business entities in the French market.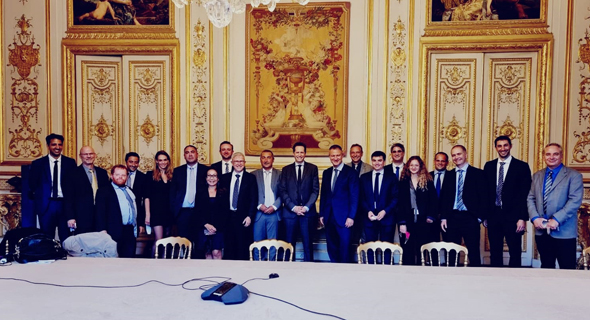 The Israeli delegation to Paris at Elysee Palace. Photo: Leah Marciano

In recent years, the French high-tech sector has experienced rapid growth and is now home to Europe's biggest startup ecosystem, with over 10,000 active startups. In 2020, French startups raised 4.4 billion euros ($5.2 billion) through 501 investment rounds, compared with 4.1 billion euros ($4.8 billion) raised through 289 rounds in Germany (as of October 2020). International brands and companies such as Uber, Google, and IBM now operate important R&D centers in the country. For Israeli companies, Paris now offers significant opportunities for investment, growth, and collaboration as part of a dynamic environment, and grants excellent access to the broader European market.

The groups established joint working teams between representatives of the Elysee Palace, the Ministries of Finance and Innovation, JVP members, the portfolio companies, and businesspeople who formulated plans between Israel and France in the field of fintech, AI, and foodtech.