20-Minute Leaders
"We managed to go through (quarantine). It kind of tells you that there is no thing that can break you."
Zviki Ben-Ishay, co-founder and CEO of Lightico, speaks to Michael Matias about Covid-19 and how it impacted the company.
Things were looking very positive for Lightico in late February 2020. The company had just opened a new, large office, and CEO Zviki Ben-Ishay had three term sheets on his desk. But suddenly, circumstances turned very difficult when COVID hit and the U.S. stock market dropped. Ben-Ishay says those are the kind of moments when CEOs can feel very alone as they try to do the heavy lifting themselves. But he credits everyone at Lightico with the way the company not only survived 2020 but actually saw an impressive increase. The company is stronger and employees are more united now, Ben-Ishay shares. Lightico helps other companies replace their manual, long, and unconnected processes with a digital platform to give consumers a fast, easy experience without a major infrastructure change. There is a great need for digital transformation as consumers expect instant results without using faxes, PCs, or even emails.

Click Here For More 20MinuteLeaders

Tell me about Lightico.

Lightico is a digital completion platform for businesses, essentially a B2C facing businesses such as financial services, insurance, telecommunication, lending. They have lots of different processes with customers, very clunky, old fashioned, heavily regulated. Lightico built a single platform to enable the building of any digital flow that replaces those manual, tedious journeys and gives every organization the ability to do rapid digital transformation, taking all those old processes and turning them into new and digital without any coding very fast.

The expectation from consumers is to have more front-facing technologies that enable us to have a smoother experience. A lot of these industries are working with massive infrastructure that just doesn't enable them to do that, right?

It's not a matter of the infrastructure. It's a matter of just how you perceive the problem. If you want to onboard a customer to a bank, as an example. You need to verify the customer's authenticity; you need to verify the identification document; you need to collect information with form technology; you need to sign documents, acknowledge the terms and conditions, collect payments -- all of those are being done with siloed systems. If you want to connect all of those together, you need lots of IT resources. What we've said is, "Let's build a platform that enables every person to build all of those without coding."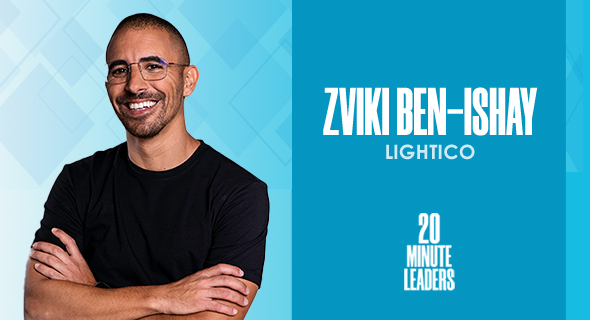 Zviki Ben-Ishay, co-founder and CEO of Lightico. Photo: Studio Melish
What have you learned about us consumers?
The consumers are much more demanding than what I expected them to be when we started Lightico. Myself and my co-founders can say that they've been spoiled. The customer that buys home insurance with Hippo in five minutes will not tolerate a three-day cycle for a life insurance policy. They want the fast and painless, the lightning experience.
That only becomes harder because kids that are turning 18 and getting their first insurance policy, joining college and opening a bank account, they do not understand fax. They don't have a PC or an email. It's a different type of customer that requires a different tool set. Because enterprises and midsize companies are not as fast as the consumers, we created a system that bridges the gap between them and the consumer to give them that experience that is the lightning without the need of overhauling your entire backend and new infrastructure.
Tell me about the founding of Lightico.
Lightico was a school project. I started my MBA and joined up with Omri (Braun). We heard there is a small accelerator that we can do like we're establishing a company. Building a deck, doing a demo day, presenting to potential investors. I told some other friends, "They will allow us to bring people from the outside. Let's build the company." When all the other kids were playing, we were kind of more crazy. We got out of that three months with the product, the customer, and lots of ambition moving forward.
From this school project to more than a hundred employees and millions of dollars of ARR. Interesting WFIO moments along the way?
Ben Horowitz said there were "We're F'ed, It's Over" moments. Sometimes you sit alone in those moments. I can't describe as a CEO how alone you feel when you understand something that everybody else doesn't really understand because you don't want to reflect your feelings outside.
We opened our new offices on February 25th, 2020, 1000 square meters. Three term sheets on the desk for the crazy B-round. A few days afterwards, the stock market in the US drops because of COVID. Offices are shut. Kids in quarantine at home. Myself with three term sheets that were pulled immediately, which is totally understandable. I think we had five months to end of cash with zero pipeline for investment. That was one of the toughest moments. But the amazing group of people at Lightico grew more than 130% during 2020 without increasing the head count even one person. That's the strength of a strong and small group of people, and I'm lucky to be leading them.
Take me back to that moment where you're getting those term sheets pulled and you have more than a hundred employees waiting for news. What do you do?
First of all, you call your friends, the board, because I have amazing investors. You need to extend the cash without dropping any person because Lightico, as a culture, we don't have any disposable person. There is no person that we can just let go. We did a few unpaid leaves for a very short period and 20% salary reduction from myself downward. I gave a speech to the entire company telling everybody very transparently what happened.
From that moment, we have a mission together. Everybody is okay with it. Employees are okay, very motivated. Not even one quit, and there were lots of opportunities to move between companies during COVID. I got amazing encouraging notes, and they got me through it. After everything we've been through up until 2020, our skin is thick. We know how to handle stress and uncertainty. That was a very high level of stress and uncertainty, but we got through tough times, and they only got us stronger and more united as a company. We're ready to conquer the world.
What is the communication with the leadership team? How do you work through them day-by-day through 50 VCs?
You're taking most of the evolution as a CEO. My first responsibility was to build the framework that takes all the data and build it with the executives within a two-to-three-week timeframe. Luckily for me, I was just at the end of the funding round with term sheets, so I had everything prepared. I gave them the ability to work and pull them only for specific discussions.
Every person that comes into the Lightico offices sees the people and falls in love. You can't really show it via Zoom, and that was one of the biggest struggles, but eventually we got a fantastic investor. I gave the team the space to work, and they did an amazing job while I'm taking most of the heavy lifting. It drives even more pressure because it feels like you're alone and it's all up to you. Actually, it was all up to each and every one of us. We got through it together.
What did you learn about yourself?
I'm an even more persistent crazy person than I thought. The amount of stress that the person has, not going out of work, no school, no kindergarten. Everything happens in the house. Everything boils up, and we managed to go through it. It tells you that there is no thing that can break you. I hope I'm right.
What really fascinated you as a kid?
I grew up in Bat Yam, a two minute walk from the beach, so the beach fascinated me. I love the quiet. I love the waves. Second thing, I like breaking things apart. I was very, very curious. Electronics, breaking my PC to pieces, connecting everything together.
What inspires you today?
Famous people that are doing amazing things, that's always inspiring. But every time I walk through our offices in Lightico, I'm inspired because what people can do when they have a smart infrastructure to work with and a good culture is just amazing, what a group of people can do is much more. The one plus one definitely is not two. My kids amaze me every time. They're so smart.
Three words you would use to describe yourself?
Crazy yet accountable.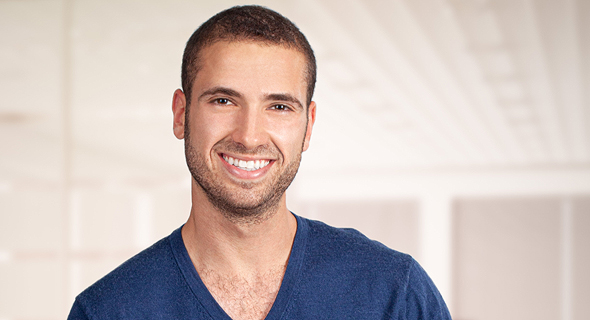 Michael Matias. Photo: Courtesy
Michael Matias, Forbes 30 Under 30, is the author of Age is Only an Int: Lessons I Learned as a Young Entrepreneur. He studies Artificial Intelligence at Stanford University, while working as a software engineer at Hippo Insurance and as a Senior Associate at J-Ventures. Matias previously served as an officer in the 8200 unit. 20MinuteLeaders is a tech entrepreneurship interview series featuring one-on-one interviews with fascinating founders, innovators and thought leaders sharing their journeys and experiences.
Contributing editors: Michael Matias, Megan Ryan