GoTo is spearheading the future of shared mobility
Commuters require multiple forms of transportation, and GoTo is addressing this need with its inclusive multimodal transportation app
Urban and suburbanites know all too well—multimodality is quickly becoming the new norm in transportation. It's a transition that generations prior would not have expected, yet here we are. Mono modes of transport hardly fit the bill for commuters, leading them to become multimodal by default.
Out with mono modes of transport, in with multimodality
The decline of mono modes of transport is seen in the drop in car ownership worldwide, following the COVID-19 recession. In the U.S alone, almost 40 percent of people who were going to buy cars have now put off their purchases. While rising costs do play a factor in this decline, there are additional factors that come into play that are less-talked about, such as concerns over urban air pollution, congestion, and the array of hidden costs and hassles associated with car ownership.
Multimodality is the solution to facilitate urban mobility. Consumers in different metropolitan areas often end up using multiple modalities for different use cases, flip-flopping between dozens of mobility apps—sometimes even combining them in one journey. It isn't uncommon for commuters that travel between cities to drive to a bus stop, park their car, then use the bus to get to a train station, and get off the train to use a shared bike or electric scooter to reach their destination.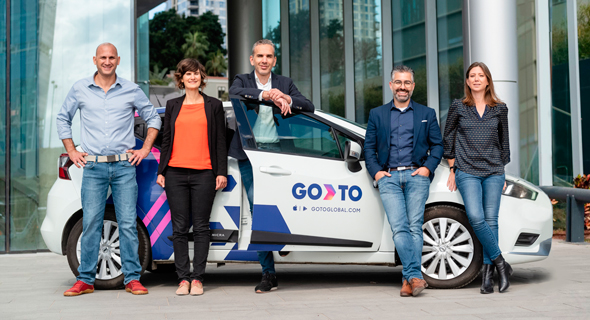 GoTo team - photo by Gilad bar-shalev
GoTo: driving the change with multimodal transportation
GoTo Global is fighting at the heart of the problems associated with transportation. The company is spearheading the future of multimodality in transportation by bringing all shared mobility options under one multimodal service and app. The company's mission is to reduce the number of privately-owned vehicles in cities, and it does so by offering people multiple ways of traveling from point A to point B including shared cars, mopeds, bicycles and kick-scooters. Gil Laser, the CEO of GoTo Global, states, "We are looking to deliver a solution that gives people real mobility confidence that convinces them to renounce their owned vehicle. GoTo users will know that they will always have access to a vehicle for their commute, with diverse modes that answer a variety of mobility needs. Multimodal shared mobility is going to change this game."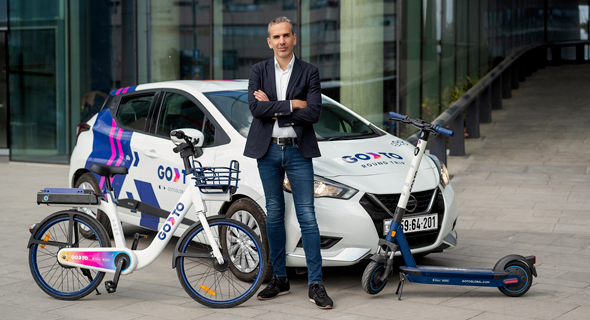 Gil Laser - photo by Gilad bar-shalev
As a young tech-driven company, GoTo is catering to the needs of commuters around the world. The company powers the largest multimodal shared mobility fleets in Israel, Spain, and Malta. These fleets include cars, mopeds, electric scooters, bikes for one-way trips (per-minute rental), round-trip cars and vans for rent by hours and days. "GoTo used to focus on single-mode solutions, starting with round trip car-sharing," says Laser. "With time, we added one-way cars and bikes. This was upon the realization that customers were using multiple modes of transportation for different use cases. For example, the same user would choose a moped to cut through traffic in the rush hour, then a car on their way for daycare pickup. It has become clear to us that the future holds in store multiple mobility modes. We are committed to making them available via a single service."
The current state of multimodality
The modern commuter alternates between up to nine different mobility apps. According to a 2021 multimodal study by GoTo, 84 percent of European commuters are already multimodal. Additionally, 89 percent of citizens in Madrid leverage several ways of transportation to commute between destinations. While large and bustling cities such as Madrid offer public transportation options, customer dissatisfaction is universal. This is why 88 percent of the respondents in the study strongly agree that multimodality is important to cover areas that public transport does not reach, and 84 percent emphasize that it would make trips faster and more comfortable.
Laser notes that multimodality is set to reach new heights in the near future. It is forecasted to expand even further to autonomous vehicles and other modes of self-driven mobility. He plans to bring GoTo's multimodal services to every major city in Europe by 2025, launching in Italy, the Netherlands, and Germany as early as next year.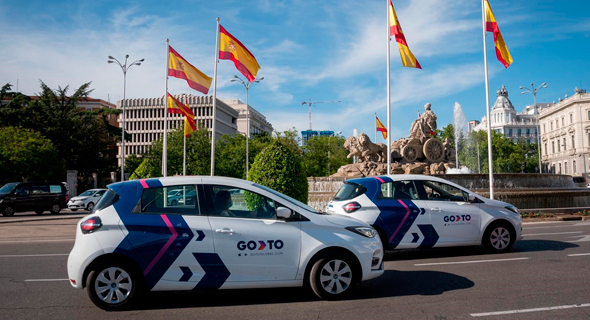 GoTo cars in Madrid Courtesy
GoTo is putting the user first
GoTo is taking on a user-centric approach that branches off of a simple concept—one app, mobility without limits. It is giving its users what they really want, which includes ease of access, multiple solutions available in one place, straightforward pricing, an innovative user experience, and a single sign-on. The perks of this approach include mobility confidence, and the flexibility to seamlessly switch between different mobility modes as needed
It's safe to say that the pandemic and its after-effects played a role in fueling the fire for multimodality, and driving the demand for a super shared mobility experience. This demand ultimately worked to the benefit of GoTo's service and solution.
Businesses can also benefit from multimodal transportation
Businesses are also able to enjoy the benefits of multimodality. As businesses are evolving, they are looking to attack the conventions of the way they move. Their options typically consist of fleets, taxi's, and reimbursements. B2B users are however looking for greater flexibility with less commitment. With environmental concerns in mind, their ideal solution would adapt to their changing needs, while operating in a greener manner. These needs collectively make multimodal shared mobility the way to go for businesses.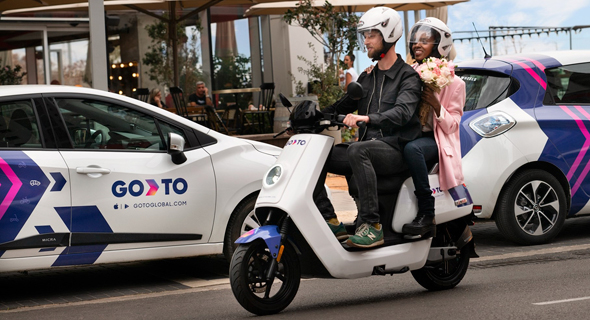 GoTo Global - Photo by Shay yechekel
Multimodal mobility puts power in the hands of the people
People's relationship with their vehicles is changing. Vehicle ownership is dying (it's a matter of when, not if,) and people are embracing diverse solutions and aggregating them into their daily commute. There are more than enough mobility apps out there, but there are hardly any solutions that cater to the multiple needs of the modern commuter. As such, GoTo puts power in the hands of the people- giving them what they need, not what others need them to need. "The world has no need for more scooters, faster scooters, or cheaper scooters," says Laser. "Users do not need to have countless mobility apps, when they can have one complete and flexible solution."
Own the journey, not the car
GoTo's multimodal solution is the most relevant solution for the modern commuter, which is why Laser says, "Let's own the journey, not the car." As technology continues to evolve, GoTo's multimodal DNA will make the company even stronger, thereby unlocking greater options and possibilities for its users by embracing autonomous vehicles and delivering ever more environmentally friendly solutions.
car rental Israel
To download the App in Europe
To download the App in Israel